Filner accuser heads San Diego school system
by Chris Reed | July 31, 2013 6:00 am
The Associated Press and the state media have done a good job on San Diego Mayor Bob Filner's pathetic sexual-harassment scandal, including the latest coverage of public accuser No. 8, who came forward Tuesday afternoon. This is in contrast with the national media, which have inexplicably conflated Filner's case with Anthony Weiner's and Elliot Spitzer's under the all-purpose and misleading label of "sex scandals," and which have done a terrible job of pointing out how long it's been known that Filner is simply a bad person[1] — the "Grand Canyon of [rectums]."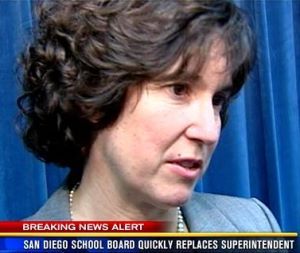 [2]But an interesting wrinkle that hasn't got much attention is that among those who have called out the mayor of California's second-largest city for sexual harassment is the superintendent of California's second-largest school district. Cindy Marten just hasn't gone after San Diego's dirty old man of a mayor publicly.
This detail came to light after Voice of San Diego wrote about an intern witnessing an apparent incident of some kind involving Filner and Marten in June[3].
This prompted former Assemblywoman Lori Saldaña, D-San Diego, to come forward with some more Filner-damning information:
"Update: After this story published, former Assemblywoman Lori Saldaña called to say Marten was one of the six prominent women she spoke with two years ago about Filner physically or verbally harassing them before Saldaña reported the issue to local Democratic Party leadership[4]. The intern's story, Saldaña said, 'matches up with something I heard from Cindy two years ago.' Saldaña declined to detail what Marten told her."
This is a juicy detail that hasn't gotten the play it deserves. It raises, um, questions about Filner's 2012 campaign promise to get the mayor's office much more involved with San Diego Unified. He may have wanted to personally consummate the partnership.
Sorry, didn't mean to gross you out.
Endnotes:
simply a bad person: http://voiceofsandiego.org/2012/07/30/the-politics-of-bob-filners-personality/
[Image]: http://calwatchdog.com/wp-content/uploads/2013/07/cindy.marten.jpg
involving Filner and Marten in June: http://voiceofsandiego.org/2013/07/26/whistleblower-account-of-filner-behavior-appears-to-involve-city-schools-chief/
reported the issue to local Democratic Party leadership: http://voiceofsandiego.org/2013/07/11/ex-legislator-i-warned-democratic-party-about-filner-two-years-ago/
Source URL: https://calwatchdog.com/2013/07/31/filner-accusers-include-head-of-san-diego-schools/
---