Bill targets 'shakedown' lawsuits
by Dave Roberts | August 6, 2013 9:05 am
Proposition 65, "The Safe Drinking Water and Toxic Enforcement Act of 1986," has morphed into "The Unsafe Doing Business in California and Toxic Lawsuit Act of 1986-2013."
It was intended to keep chemicals that cause cancer and birth defects out of drinking water, and to reduce exposure to those chemicals by requiring businesses to post warnings when those chemicals are present. But the chemicals are so ubiquitous — the current list[1] contains about 800 chemicals from acetaldehyde to zileuton — that it seems like nearly every business in California has a sign warning about toxic substances on the premises.
Failure to post a warning sign can result in a $2,500 per day fine. That requirement has turned into a lucrative industry for drive-by lawyers who threaten to sue businesses that fail to display the proper signage unless the businesses settle out of court.
16,000 lawsuits and counting
Since 1986 more than 16,000 lawsuits have been filed, resulting in more than $500 million in settlement payments, according to California Citizens Against Lawsuit Abuse[2]. In 2012 there were 437 settlements totaling $22.5 million, according to the state attorney general[3]. Sixty-nine percent of the settlement money ($15.5 million) went to attorneys, the rest to the state.
The most predatory litigant was the Center for Environmental Health[4], which pocketed $2.8 million from 80 settlements totaling $4.1 million. While CEH may have legitimate environmental interests, other Prop. 65 plaintiffs may be focused on another kind of green. Three people filed Prop. 65 complaints last year that resulted in 174 settlements costing businesses $7.4 million: John Moore ($2.3 million went to attorneys), Anthony Held ($2 million) and Russell Brimer ($1.7 million).
"When my business was sued under Proposition 65, it was clear that the lawyer was far more interested in collecting attorneys' fees rather than protecting the environment," Joe Derian, owner of Party Warehouse in Montebello, said in a CALA press release[5]. "When small business owners like me can so easily become the victims of shakedown lawsuits, it hurts California's business climate and makes it more difficult for our state to attract businesses and create jobs."
CALA Executive Director Tom Scott agreed, saying, "Each dollar extorted from businesses in shakedown Prop. 65 lawsuits is a dollar that can't be spent hiring new workers or otherwise growing California's economy."
Also concerned is Kim Stone, president of the Civil Justice Association of California, who said, "There once was a worthy goal behind Proposition 65, but it has ended up doing far more to enrich a small number of lawyers than to protect the public from toxic substances. Unfortunately, the Prop. 65 warning signs have become so commonplace that they are generally discounted. We have become so over-warned that the warnings have become meaningless."
The antidote to frivolous litigation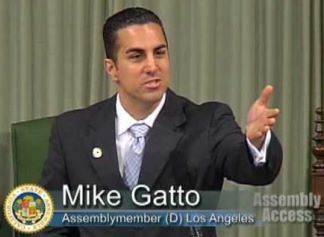 They support AB 227[6], which is designed to curb the frivolous litigation. It allows businesses two weeks to correct any violations, and assesses them just a $500 fine. Authored by Assemblyman Mike Gatto[7], D-Los Angeles, it is one of the rare pieces of California legislation with strong bipartisan support. It passed the Assembly 72-0 in May, and has been working its way without opposition through various Senate committees.
"Our industry has seen a significant increase in frivolous lawsuits over the last couple of years," Kara Bush, representing the California Restaurant Association[8], told the Senate Judiciary Committee on June 25. "Our members want to comply. And they try to comply. However, we had a member post a Prop. 65 notice in a restaurant that was 8½ by 11 and not 10 by 10. And a plaintiff came in and dropped a suit and said, 'Pay me $2,500 or I'll take you to court.'
"These are small businesses. They don't have the time or the resources to litigate the matter. And instead will end up just paying the $2,500, even though they believed they would have prevailed if they had litigated the issue. We believe this bill will help curb some of this frivolous litigation while still protecting the public with some of these warning requirements."
Gatto assured the Senate Environmental Quality Committee on June 19 that he's not trying to water down Prop. 65:
"Proposition 65 is a good and valid law. It's been on the books for quite some time. Like many laws that are on the books for quite some time, occasionally it needs some updating. I think our job as members of the Legislature is to be flexible enough to know when we need to update a law to meet current situations and things that are happening in the modern world. Recently there's been a lot of news stories about a number of meritless lawsuits that are filed against small business owners based on Prop 65. The simple goal in a lot of these lawsuits, of course, is to make sure that the business owners pay and pay up quickly, even though the business owners have done nothing wrong.
"AB 227 seeks to correct those unintended consequences of Proposition 65. It deals specifically with the requirement to post a sign to warn people about certain common substances. This measure will provide to businesses up and down the state certainty on the penalties that they could face for failing to warn their customers about a narrow list of chemicals in Prop. 65. These are chemicals for everyday substances like the cooking of a cheeseburger or the beers that we drink. I think it will really help small businesses and serve the purposes of Proposition 65, which is to make sure Californians get their warnings and get them promptly about these chemicals."
Prop. 65 author admits it 'created predators'
Also providing assurance to the committee was former assemblyman Art Torres[9], one of the authors of Prop. 65.
"I'm here to support 227 on the basis of the fact that this legislation really seeks to deal with the abuses that I never intended to occur," he said. "And that is basically to create predators of certain people on small businesses that could be handled much more effectively by a misdemeanor or a lesser account. Some of these small businesses have had to declare bankruptcy because of the lawsuits that were filed against them. Rather than having 'gotcha' lawsuits, we have to have a more reasonable approach for dealing with the issue."
Also on board is Gov. Jerry Brown[10]. He has proposed a variety of reforms that would:
— Cap or limit attorney fees in Prop. 65 cases.
— Require stronger demonstration by plaintiffs that they have information to support claims before litigation begins.
— Require greater disclosure of plaintiff's information.
— Set limits on the amount of money in an enforcement case that can go into settlement funds in lieu of penalties.
— Provide the state with the ability to adjust the level at which Prop. 65 warnings are needed for chemicals that cause reproductive harm.
— Require more useful information to the public on what they are being exposed to and how they can protect themselves.
"Proposition 65 is a good law that's helped many people, but it's being abused by unscrupulous lawyers," said Brown. "This is an effort to improve the law so it can do what it was intended to do – protect Californians from harmful chemicals."
Note of caution from a lawyer-turned-lawmaker
The only note of caution at the committee hearing was voiced by Sen. Hannah-Beth Jackson[11], D-Santa Barbara. A former lawyer, she was concerned that AB 227 might provide a way for businesses to get around the law.
"Is there some way we can know this is working?" she asked Gatto. "Obviously, there are predators out there. They give us all bad names. So this is a good thing. Is there some way we can be sure we are getting compliance and put an end to these sort of unnecessary efforts to generate litigation?"
Gatto responded, "I think the first line of defense is, quite frankly, us. I heard from one of my constituents who had a very popular coffee shop, and that was the genesis of this bill. He said, 'A guy came into my coffee shop and claimed he had eaten here every day for 14 years. I'm a small business owner, I'm here every day for 14 years, I've never seen the guy. And he's suing me because I didn't disclose that beer could cause cancer, even though I had my signs up.'
"I suppose if you gargle with beer, it could cause cancer after a long time. These things all filter to us. This is an example where having a healthy media presence really matters. As they report stories on this, it sparks people's sense of outrage. They get reported to their legislators. If the process works as it should, we provide legislation."
AB 227 is scheduled for consideration by the Senate Appropriations Committee on Aug. 12.
Endnotes:
the current list: http://www.oehha.ca.gov/prop65/prop65_list/files/P65single072613.pdf
California Citizens Against Lawsuit Abuse: http://www.cala.com/
state attorney general: http://oag.ca.gov/sites/all/files/agweb/pdfs/prop65/Alpert_Report2012.pdf?
Center for Environmental Health: http://www.ceh.org/
CALA press release: http://www.cala.com/news/releases/532-lawsuit-abuse-victims-legal-reform-advocates-announce-support-for-ab-227-to-stop-shakedown-prop-65-lawsuits
AB 227: http://www.leginfo.ca.gov/pub/13-14/bill/asm/ab_0201-0250/ab_227_bill_20130702_amended_sen_v95.htm
Mike Gatto: http://www.sfgate.com/?controllerName=search&action=search&channel=health&search=1&inlineLink=1&query=%22Mike+Gatto%22
California Restaurant Association: http://calrest.org/
Art Torres: http://en.wikipedia.org/wiki/Arthur_Torres
Gov. Jerry Brown: http://gov.ca.gov/news.php?id=18026
Sen. Hannah-Beth Jackson: http://sd19.senate.ca.gov/
Source URL: https://calwatchdog.com/2013/08/06/bill-targets-shakedown-lawsuits/
---