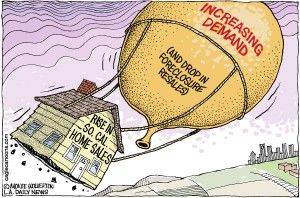 [1]Political theater isn't reserved for Tea Party and Occupy movement protesters.
Another example was on display Aug. 15 at Wells Fargo Bank headquarters in San Francisco. Richmond Mayor Gayle McLaughlin[2] and a group of supporters tried to enter the bank's headquarters unannounced to demand it drop its lawsuit to block the city's proposed use of eminent domain to seize over-mortgaged home loans[3].
The matter will be settled in court, not on the streets of San Francisco.
So far, Richmond has not ordered its city attorney to file a Resolution of Public Necessity in the Contra Costa County Superior Court to seize mortgages from banks under state eminent domain law.  But Wells Fargo sent a letter to the City of Richmond insisting the city does not have the authority to sell the loans, and neither does anyone else. This is because the loans are pooled to serve as collateral for bonds without guarantees from government mortgage banks Fannie Mae or Freddie Mac.  Thus, seizing the loans could trigger a house of cards falling, toppling not only the mortgage pool but also the bonds.  That is why you can't sell the mortgages: they are collateral for bonds.
Proponents of using eminent domain to seize mortgages claim that, because you can't sell the mortgages, they are not property.  Stephen Gluckstern,[4] who works for the City of Richmond's mortgage consultants, calls these private label loans "Frankenstein contracts or suicide pacts."  The city and its mortgage consultants claim that the unsalability of the mortgages justifies using eminent domain to acquire them.
But it is perfectly understandable that the loans have been pledged as collateral, and thus can't be sold at a discount. For mortgage eminent domain to work, the loans need to be acquired at a discount so that homeowners can have their loans reduced.  But reducing loans for over-mortgaged homeowners would stick bondholders with losses.  Eminent domain compensation would have to make everyone whole, including the bondholders. That is, the cost would be a lot higher than what the city is suggesting.
So the unsalability of the loans is not a valid legal reason to seize them. It is a reason the loans can not be taken at a discounted price by eminent domain.
Millionaire homeowners
No question Richmond has a lot of economic pain. Richmond has $712 million in negative equity in over-mortgaged homes[5]. That equates to $153,151 on average for each of the 4,649 over-mortgaged homes in the city. About 49 percent of all mortgages in Richmond are classified as "underwater" — meaning the amount of the mortgage on a home greatly exceeds its current market value.
But it came out that three of the 624 mortgages proposed for seizure are for million-dollar homes.[6]
Usually, homes are seized under eminent domain for "slum clearance" to remove "blight." But acquiring million-dollar homes obviously does not do that.
And should owners of million-dollar homes have their loans reduced?  Reducing loans for million-dollar homeowners is creating a negative image of the city's mortgage eminent domain proposal.
The median value of the outstanding balances due on all the mortgages reportedly is about $380,000. With the recent "echo bubble" in the residential real estate market, it is conceivable that the compensation being offered to mortgage banks for the loans might be less than what a homeowner could get if they were able to sell the home and the loan on the open market.
Indeed, Zillow.com[7] shows Richmond home values spiking sharply the past year.
[8]
Activist mayor who is fiscal conservative
On the City's website,  McLaughlin takes credit[9] for signing four consecutive balanced budgets.  She claims to have hired 18 percent more police officers during her term in office. And high crime rates have subsided during her tenure in office, although crime remains too high.
Perhaps more importantly, McLaughlin was the only vote on the city council against Richmond's Measure Q[10] in 2005 that would have raised sales taxes in Richmond. McLaughlin may embrace social justice.  But she apparently knows that adding higher taxes onto homeowners who are struggling to make mortgage payments on homes they can't sell or borrow against may backfire on the city.[11]
Unlike a small homeowner, Wells Fargo is one of the top five banks in America. It has the wherewithal  to rebuff Richmond's moves in court. McLaughlin's protest in San Francisco looks to be a political stunt unlikely to affect what goes on in court. But then, politicians are in the business of grabbing headlines.