Business bills reach Brown's desk
by Dave Roberts | September 25, 2013 4:32 pm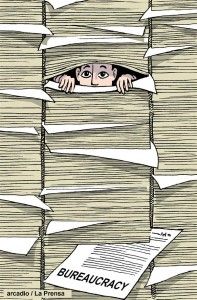 [1]While there has been much focus on the impacts to California businesses from Obamacare and the state minimum wage hike, less noticed are the smaller pieces of legislation regulating businesses.
Two of those bills, which passed the recent legislative session despite opposition from the California Chamber of Commerce[2], are Assembly Bill 729[3] and Assembly Bill 1165[4].
Privileged union communication
AB729 provides confidentiality in communications between employees and their union representatives similar to that between a lawyer and his client. This privileged communication would apply in court and before administrative boards and agencies as well as in arbitration and other civil proceedings.
"Most employees assume that confidential communications they make to their union representative are private and not subject to disclosure," the bill's author, Sen. Roger Hernandez[5], D-West Covina, told the Senate Judiciary Committee on July 2.
"Often these communications occur when an employee has been disciplined or terminated, and the employee is discussing the matter with their union representative regarding a possible grievance. These are often adversarial situations, very similar to a client talking to their lawyer in confidence. However, California law currently does not provide such a privilege. Therefore, this bill would establish such a privilege in the law and ensure that these confidential communications are protected from disclosure."
Sara Flocks, a policy coordinator for the bill's sponsor, the California Labor Federation[6], said it's important for employees' privacy to be protected.
"They might be talking about a medical condition that impacts their work, about a supervisor that they fear could retaliate against them or about sensitive personal issues," she said. "Existing law provides a privilege for confidential communications with lawyers, doctors and priests, among others, to ensure that those professionals can effectively do their jobs.
"This bill would provide that union agents and members have the same privilege of confidential communication to ensure that they get effective representation on the job. And also to resolve workplace disputes before they have to end up in court, which will avoid costly litigation."
Potential abuse
Eraina Ortega, legislative representative with the California State Association of Counties[7], told the committee that the counties don't have a problem with granting privileged communication rights to employees and their union representatives — provided that the union representatives are not also county employees.
"Our concern is having two county employees who have a privileged relationship with each other,"  she said. "The concern is that that would impede our ability to do an investigation of some sort of workplace incident if one of the employees is able to say that they can't speak about what has happened because the other employee told them in confidence."
A representative of the Los Angeles County Board of Supervisors[8] shared her concern, saying, "The bill does not require the union to identify who is a representative of the union. So we could have a situation where 75 percent or more of the people may claim to be union representatives."
Sen. Hannah-Beth Jackson[9], D-Santa Barbara, supports the bill. But she also shared the counties' concern that the communication privilege could be abused.
"My concern is that if there's a conversation and a realization that it isn't clearly a confidential one unless they are deemed to be a job steward, then they are identified as a job steward when they weren't a steward when that conversation occurred," she said. "It's like marriage [for convenience]. They get married and then assert the [confidentiality] privilege."
Hernandez responded that labor law requires union job stewards to be identified from the outset, and that their conversations would only be privileged when they are acting in that role.
Chamber urges veto
The Chamber of Commerce did not speak against the bill at the committee hearing, but it's asking its members to write letters to Gov. Jerry Brown[10] urging him to veto it.
"It is a one-sided proposed evidentiary privilege that can be unfairly invoked to preclude relevant information from being utilized during collective bargaining, arbitrations, or related proceedings," a Chamber letter[11] states. "Evidentiary privileges are limited and narrowly tailored in recognition of the fact that such privileges suppress relevant facts that may lead to an unjust decision.
"Notably, this privilege is only one-sided. Unlike other privileges that apply to both sides of the litigation/proceedings such as the attorney-client privilege, AB729 only protects the union agent and employee communication. It does not equally protect the management-employee communication, or communications between members of management regarding labor disputes or grievance issues. Accordingly, in labor related proceedings, an employer would be forced to disclose all related communications, while the union agent or employee could pick and choose which communications they wanted to disclose.  Such a lopsided proposal will result in the miscarriage of justice."
The letter adds that AB729 would be preempted by federal law because it "interferes with the disclosure requirements of the National Labor Relations Act."
Sentence first, verdict afterwards
As of Wednesday, Brown had not signed or vetoed AB729.
He also had yet to act on AB1165, which requires businesses that have been cited for a hazardous situation to fix that problem even while they are appealing the citation.
"AB1165's purpose is to make sure that a very hazardous condition that might injure a worker or threaten a community is fixed without interfering with the right to appeal on that violation or the appeals process itself," the bill's author, Assemblywoman Nancy Skinner[12], D-Berkeley, said on the Assembly Floor on May 16.
"Now why do we need this bill? I'll give you an example. In 2003 a worker at a large commercial bakery, Bimbo Bakeries[13], lost an arm in an accident. The condition, which caused the loss of the limb, was cited. Bimbos appealed the citation, not questioning the hazard, but questioning the characterization of the citation. The appeals process took three years. In the interim period five more people lost limbs at Bimbos Bakery facilities.
"The state of Washington has a law that says such a condition would be fixed even if the employer is appealing. And the employer still has the right to question the fine, the nature of the citation. But at least in that interim process neither a worker or a community member is put at any risk."
The Chamber of Commerce opposes the bill[14] chiefly because it "will increase costs and undermine due process for appealing workplace safety citations.… In other words, while the employer exercises its right to contest the existence of a violation, the Division of Occupational Safety and Health (Cal/OSHA) under AB1165 could order the employer to fix the alleged violative condition before the Cal/OSHA Appeals Board determines whether that condition even exists."
The Chamber and other business groups are also concerned that the bill creates a potential conflict of interest because it gives Cal/OSHA the authority to rule on whether to uphold or reverse its order to fix a hazard rather than restricting that power to the appeals board. The Chamber notes that an expedited appeals process has been adopted to avoid situations like the one that occurred at Bimbo Bakeries.
Brown has until Oct. 13 to act on these and the many other bills passed in the recent legislative session.
Endnotes:
[Image]: http://calwatchdog.com/wp-content/uploads/2013/09/Bureaucracy-Arcadio-Esquivel-Cagle-Sept.-25-2013.jpg
California Chamber of Commerce: http://www.calchamber.com/pages/default.aspx
Assembly Bill 729: http://www.leginfo.ca.gov/pub/13-14/bill/asm/ab_0701-0750/ab_729_cfa_20130905_163925_asm_floor.html
Assembly Bill 1165: http://www.leginfo.ca.gov/pub/13-14/bill/asm/ab_1151-1200/ab_1165_cfa_20130911_150418_asm_floor.html
Sen. Roger Hernandez: http://www.asmdc.org/members/a48/
California Labor Federation: http://www.calaborfed.org/
California State Association of Counties: http://www.csac.counties.org/
Los Angeles County Board of Supervisors: http://bos.co.la.ca.us/
Sen. Hannah-Beth Jackson: http://sd19.senate.ca.gov/
Gov. Jerry Brown: http://gov.ca.gov/home.php
Chamber letter: http://ctweb.capitoltrack.com/public/publishviewdoc.ashx?di=Oo%2fGY%2fFH6drdAR6fHlKbrMZ0%2fofZa%2fEDu4iVRhKVSWI%25
Assemblywoman Nancy Skinner: http://www.asmdc.org/members/a15/
Bimbo Bakeries: http://www.bimbobakeriesusa.com/
opposes the bill: http://www.calchamber.com/headlines/pages/09112013-calchamberopposesbillpresumingemployerguiltinsafetycitations.aspx
Source URL: https://calwatchdog.com/2013/09/25/business-bills-reach-browns-desk/
---