Gov. Brown axes 2013-14 school testing for K-12
by Katy Grimes | October 15, 2013 2:24 pm
Most California's K-12 public schools will go through the 2013-14 school year without standardized testing after Gov. Jerry Brown just signed Assembly Bill 484 into law. The following school year, 2014-15, less rigorous federal Common Core tests will begin.

[1]
AB484[2] is by Assemblywoman Susan Bonilla, D-Contra Costa, and coauthored by Senate President pro Tem Darrell Steinberg, D-Sacramento. The bill was sponsored and pushed hard by Superintendent of Public Instruction Tom Torlakson[3], also a Democrat. Torlekson claimed[4] AB484 would overhaul California's assessment system "to address the deeper learning called for by the Common Core State Standards."
AB484 authorizes new Common Core-aligned assessments known as the Measurement of Academic Performance and Progress[5] — MAPP Testing.
Additionally, AB484 would suspend the public release of student data performance for 2013, and possibly in years to come.
"This legislation will continue to be guided by what's right for California's children — moving forward with instruction and assessments reflecting the deeper learning and critical thinking our students need to compete and win in a changing world," Torlakson said[6]. "Our goals for 21st century learning, and the road ahead, are clear. We won't reach them by continuing to look in the rear-view mirror with outdated tests, no matter how it sits with officials in Washington."
No love of testing
"Brown never liked testing, or research data," Lance Izumi told me; he is the Senior Director of Education Studies at the Pacific Research Institute, CalWatchdog.com's parent think tank. He's also the author of "Not as good as you think: Why the Middle Class Needs School Choice," [7]"Obama's Education Takeover[8]," and "Short Circuited: The Challenges facing the Online Learning Revolution in California[9]."
[10]
California students had been tested once each year in math and English under the state's K-12 Standardized Testing and Reporting system[11], known as STAR testing.
Rather than waiting until the Common Core curriculum goes into effect in 2014, the governor saw this as an opportunity to rewrite state standards, and toss out STAR[12] testing, Izumi said.
Bonilla's bill now replaces the standardized testing with a system that has yet to be vetted, according to Izumi. Students will take field tests, and only be tested in math or English. Tests will no longer be given in both math and English.
"The MAPP testing program will be made up of assessments being designed by the Smarter Balanced Assessment Consortium, one of two multi-state organizations formed to create the next generation of assessments aligned to the Common Core," a press statement from Torlakson[13] [14]explained. "Field tests of the new assessments, set for the spring of 2014, are designed as 'tests of the tests.'"
Risking federal education funding
In addition to the disregard for the importance of standardized testing, the bill puts California at odds with the federal government's education requirements, and the upcoming Common Core curriculum[15].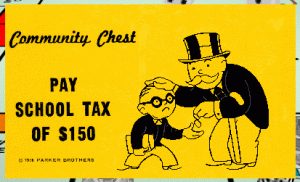 [16]
U.S. Secretary of Education, Arne Duncan, opposed AB484, and warned state officials that if AB484 passed, California could lose $1.5 billion in federal funding for the current school year.
And California schools will no longer have to report students' test scores to parents. "If you don't respect individual student outcome data, parents and students don't know how they are doing," Izumi said. "And you can't hold schools and teachers accountable."
Common Core vs. STAR
Izumi said administering STAR testing costs California $25 million a year. During the committee process, Torlekson and Bonilla advocated dumping STAR testing, ostensibly to save the cost, and said the state should instead put the money toward Common Core.
But according to Izumi, the governor has already allocated $1.25 billion for Common Core curriculum implementation and administration.
The state also will spend an additional $2.1 billion on schools to implement the Local Control Funding Formula[17], Brown's plan to spend more money on low-income school districts, minority and immigrant student populations, and non-English speaking students. To do that, Brown said he will take some of the current education funding from the better-performing schools.
I wrote about this in "Gov. Brown calls for redistribution of school funding[18]," when Brown cited a lack of civil rights and social inequities as what is wrong with California public schools.
Race to the bottom
According to Izumi, President Obama "strong-armed the states into adopting these Common Core standards through a number of devices, principally through the Race to the Top[19] competition for federal grants."
The Race to the Top $4 billion grant scheme was awarded to states "leading coherent, compelling, and comprehensive education reform." The grant was authorized under the federal "stimulus" program, the American Recovery and Reinvestment Act of 2009[20].
According to Izumi, the federal and state Departments of Education had developed numerous experimental educational programs promising to be reform breakthroughs in education. But the reforms were later discarded as failures, wasting large amounts of the taxpayers' money.
Not all schools can play
Izumi said all tests have to be given by computer. But not all schools districts will be able to participate in the new MAPP testing. And Torlekson's California Department of Education has no idea how many school districts don't have computer systems.
Izumi warned, "Some kids may not get any testing."
Endnotes:
[Image]: http://calwatchdog.com/wp-content/uploads/2013/09/education-pic1.gif
AB484: http://leginfo.legislature.ca.gov/faces/billNavClient.xhtml?bill_id=201320140AB484
Superintendent of Public Instruction Tom Torlakson: http://www.cde.ca.gov/eo/bo/tt/
claimed: http://www.cde.ca.gov/nr/ne/yr13/yr13rel85.asp
Measurement of Academic Performance and Progress: http://www.cde.ca.gov/nr/ne/yr13/yr13rel81.asp
Torlakson said: http://www.cde.ca.gov/nr/ne/yr13/yr13rel85.asp
Not as good as you think: Why the Middle Class Needs School Choice," : http://www.amazon.com/Not-As-Good-You-Think/dp/1934276065
Obama's Education Takeover: http://www.amazon.com/Obamas-Education-Takeover-Encounter-Broadsides/dp/1594036284
Short Circuited: The Challenges facing the Online Learning Revolution in California: http://www.amazon.com/Short-Circuited-Challenges-Revolution-California/dp/1934276162
[Image]: http://calwatchdog.com/wp-content/uploads/2013/10/Izumi.jpg
K-12 Standardized Testing and Reporting system: http://www.cde.ca.gov/ta/tg/sr/
STAR: http://www.cde.ca.gov/ta/tg/sr/
 press statement from Torlakson: http://www.cde.ca.gov/nr/ne/yr13/yr13rel89.asp
 : http://www.cde.ca.gov/nr/ne/yr13/yr13rel89.asp
Common Core curriculum: http://www.corestandards.org
[Image]: http://calwatchdog.com/wp-content/uploads/2013/09/Monopoly-game-school-tax-card.gif
Local Control Funding Formula: http://www.cde.ca.gov/fg/aa/lc/lcffoverview.asp
Gov. Brown calls for redistribution of school funding: http://calwatchdog.com/2013/04/24/gov-brown-calls-for-redistribution-of-school-funding/
Race to the Top: http://www2.ed.gov/programs/racetothetop/index.html
American Recovery and Reinvestment Act of 2009: http://www.recovery.gov/About/Pages/The_Act.aspx
Source URL: https://calwatchdog.com/2013/10/15/gov-brown-axes-2013-14-school-testing-for-k-12/
---