No Assembly video for Donnelly, but ok for Speaker Perez
by Katy Grimes | November 15, 2013 5:24 pm
Last week gubernatorial candidate Tim Donnelly was warned he was about to receive a cease and desist notice from Assembly administrator Jon Waldie, telling him he was not allowed to use Assembly video footage in his political campaign.
Yet the video footage in question, of Assembly floor sessions, is available to the public on the California Channel[1] online, and on Comcast cable television. It is in fact, paid for by the public.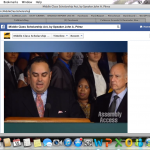 [2]
Donnelly's campaign has a video posted on YouTube.
"Patriot, Not Politician," [3]features many clips of the Assemblyman Donnelly speaking on the Assembly floor, which Waldie says is not allowed "for any political or commercial purpose."
However, Assembly Speaker John A. Perez has official Legislative video on his Facebook page[4] (captured in a screen shot to the right). And Perez himself is running for higher office, announcing in October he was running[5] for state controller.
So is the Democratic-controlled Assembly playing games with Donnelly, a Republican?
"State law prohibits the use of any 'television signal generated by the Assembly … for any political or commercial purpose,' and Waldie said he plans to issue the Donnelly campaign a cease and desist letter Friday," the Sacramento Bee reported[6].
"The floor shots are definitely ours," Waldie said.
Jennifer Kerns, Donnelly's campaign spokeswoman, said their interpretation is that Assembly proceedings footage is part of the public record, and can be used by the campaign.
"'It's our understanding that once that video is aired publicly that it's part of the public domain,' she said, adding that she was looking at the state Capitol at the moment and that 'the taxpayers pay for that building,'" the Sacramento Bee reported.
Perez's video footage was posted on his Facebook page July 1, the day Gov. Jerry Brown signed AB 1500. The bill will impose a $1 billion tax increase on businesses and employers who operate inside California, but are headquartered out-of-state, to pay for a "Middle-Class Scholarship" for California's public college students.
If the video rule doesn't apply to the Assembly Speaker, is Waldie's demand that Assemblyman Donnelly pull the campaign video footage legitimate?
What is right?
I received the following email message from Steven Maviglio, Communications Director for Speaker Perez:
"The Speaker's website is a state website, not a campaign website. And, of course, that's permissible.
Mr. Donnelly's video is a campaign video using state resources.
9026.5.  (a) No television signal generated by the Assembly shall be
used for any political or commercial purpose, including, but not
limited to, any campaign for elective public office or any campaign
supporting or opposing a ballot proposition submitted to the
electors.
As used in this section, "commercial purpose" does not include
either of the following:
   (1) The use of any television signal generated by the Assembly by
an accredited news organization or any nonprofit organization for
educational or public affairs programming.
   (2) As authorized by the Assembly, the transmission by a third
party to paid subscribers of an unedited video feed of the television
signal generated by the Assembly.
   (b) Any person or organization who violates this section is guilty
of a misdemeanor.
I'm not sure why the legislature thinks that a building owned by the public, used for crafting public policy and setting up the state budget, is somehow immune from transparency and public view, after the video is aired publicly?
This is an accountability issue. As long as no one is misshaping the message, then where's the harm?
Local governing bodies and Congress use footage from committees and the floor all the time in campaign commercials. Why should the California State legislature be any different?
Is there something the politicians are hiding on the Assembly floor that they don't want anyone to see?
Many members of the Legislature have used their Cal Channel speeches on their websites. Here are just a few:
Former Assemblyman Gil Cedillo, D-Los Angeles:
https://www.facebook.com/GilbertCedillo[7]
http://www.youtube.com/watch?v=ESMdW2HJ2XA[8]
http://www.youtube.com/watch?v=yhHpKnPnJxI[9]
Assemblyman Tom Ammiano, D-San Francisco:
http://www.youtube.com/watch?v=DA7r9bVpayQ[10]
Sen. Kevin de Leon, D-Los Angeles:
http://www.youtube.com/watch?v=rsRQdZLlqK8[11]
American National Committee, Assemblymen Paul Krekorian, and Kevin de Leon:
http://www.youtube.com/watch?v=4_m0WG5cNlk[12]
First Amendment
The First Amendment [13]of the U.S. Constitution ensures[14] that "if there is any fixed star in our constitutional constellation, it is that no official, high or petty, can prescribe what shall be orthodox in politics, nationalism, religion, or force citizens to confess by word or act their faith therein," as Justice Robert Jackson wrote in the 1943 case West Virginia v. Barnette.[15]
The First Amendment[16] to the U.S. Constitution reads:
Congress shall make no law respecting an establishment of religion, or prohibiting the free exercise thereof; or abridging the freedom of speech, or of the press; or the right of the people peaceably to assemble, and to petition the Government for a redress of grievances.
Endnotes:
California Channel: http://www.calchannel.com
[Image]: http://calwatchdog.com/wp-content/uploads/2013/11/Screen-Shot-2013-11-15-at-11.59.49-AM.png
Patriot, Not Politician," : https://www.youtube.com/watch?v=m_G9f-phSv8
his Facebook page: https://www.facebook.com/MiddleClassScholarship
he was running: http://articles.latimes.com/2013/oct/09/local/la-me-pc-perez-controller-run-20131009
reported: http://blogs.sacbee.com/capitolalertlatest/2013/11/assembly-administrator-preparing-cease-and-desist-letter-for-tim-donnelly-c.html#storylink=cpy
https://www.facebook.com/GilbertCedillo: https://www.facebook.com/GilbertCedillo
http://www.youtube.com/watch?v=ESMdW2HJ2XA: http://www.youtube.com/watch?v=ESMdW2HJ2XA
http://www.youtube.com/watch?v=yhHpKnPnJxI: http://www.youtube.com/watch?v=yhHpKnPnJxI
http://www.youtube.com/watch?v=DA7r9bVpayQ: http://www.youtube.com/watch?v=DA7r9bVpayQ
http://www.youtube.com/watch?v=rsRQdZLlqK8: http://www.youtube.com/watch?v=rsRQdZLlqK8
http://www.youtube.com/watch?v=4_m0WG5cNlk: http://www.youtube.com/watch?v=4_m0WG5cNlk
 First Amendment : http://www.archives.gov/exhibits/charters/bill_of_rights_transcript.html
ensures: http://www.firstamendmentcenter.org/about-the-first-amendment
West Virginia v. Barnette.: http://caselaw.lp.findlaw.com/scripts/getcase.pl?court=us&vol=319&invol=624
First Amendment: http://www.archives.gov/exhibits/charters/bill_of_rights_transcript.html
Source URL: https://calwatchdog.com/2013/11/15/no-assembly-video-for-donnelly-but-ok-for-speaker-perez/
---