San Diego mayoral election Tuesday; party-switcher Fletcher on ropes
by Chris Reed | November 17, 2013 9:00 am
San Diego has a special mayoral election Tuesday to fill the seat vacated by serial perv Bob Filner[1].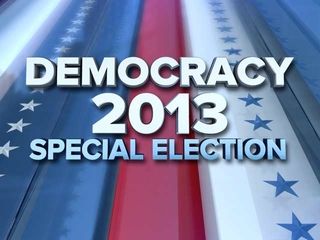 [2]The conventional wisdom has always been that it would be Republican Councilman Kevin Faulconer versus the versatile Nathan Fletcher, a Republican assemblyman turned independent assemblyman turned Qualcomm executive Democrat, in the runoff made necessary because no candidate in the multicandidate race would earn a majority of the first-round vote.
Democratic Councilman David Alvarez was seen as too inexperienced[3] and too uninspiring to beat Fletcher for second place, even though Fletcher has been a Democrat for all of six months. Why? Fletcher is handsome (undisputed), charismatic (somewhat disputed) and a gigantic political talent (spare me[4]), according to his admirers.
The latest poll suggests the conventional wisdom may be on the ropes — at least if ethnic solidarity comes to the fore in voting:
"San Diego's Latino voters may play a key role in determining whether David Alvarez or Nathan Fletcher advance to a runoff election against the almost certain winner of Tuesday's special election, Kevin Faulconer, according to SurveyUSA research conducted for KGTV-TV 10 News and the Union Tribune newspaper. Either Fletcher, who today is at 24%, or Alvarez, who today is at 22%, could be the candidate to face Faulconer, who today is at 40%, short of the 50% needed to avoid a runoff.
"Compared to an identical SurveyUSA poll conducted 2 weeks ago, Fletcher is down, Alvarez is up, and Faulconer is flat. In the battle for 2nd place, Fletcher had led Alvarez by 11 points 2 weeks ago; today Fletcher leads Alvarez by 2.
"Latinos today divide this way: 34%, a plurality, vote for Alvarez. 31% vote for Faulconer. 27% vote for Fletcher. A larger than expected Latino turnout favors Alvarez. A smaller than anticipated Latino turnout favors Fletcher. Whites and Asians both favor Faulconer. Among white voters, Fletcher's lead over Alvarez has gone from 15 points 2 weeks ago to 3 points today. Among the youngest voters, the contest is effectively a 3-way tie. Among the oldest (and most reliable) voters, Fletcher leads Alvarez by 10, but trails Faulconer by 23."
The poll's margin of error is 4.4 percent.
"SurveyUSA interviewed 700 city of San Diego adults 11/11/13 through 11/14/13. Of the adults, 577 are registered to vote. Of the registered, 510 were determined by SurveyUSA to be likely to vote before Tuesday's 11/19/13 deadline. This research was conducted using blended sample, mixed mode. Respondents reachable on home telephone (86% of likely voters were interviewed on their home telephone in the recorded voice of a professional announcer. Respondents not reachable on a home telephone (14%) of likely voters, were shown a questionnaire on their smartphone, tablet or other electronic.)"
I have never trusted polls of less than 900 people. But stat experts I've talked to say I'm a dope. Nevertheless, I still don't trust polls of less than 900 people. We'll see what happens Tuesday.
Endnotes:
serial perv Bob Filner: http://news.yahoo.com/san-diego-sets-special-election-replace-mayor-felled-204052411.html
[Image]: http://calwatchdog.com/wp-content/uploads/2013/11/DemocracyRaceFile_1380315770293_994469_ver1.0_320_240.jpg
inexperienced: http://www.utsandiego.com/news/2013/oct/06/experience-is-the-question-for-alvarez/all/?print
spare me: http://www.utsandiego.com/news/2013/Sep/21/fletcher-vs-fletcher-vs-fletcher/
Source URL: https://calwatchdog.com/2013/11/17/san-diego-mayoral-election-tuesday-party-switcher-on-ropes/
---