CA electric rate reform adjusts rates from 2001 crisis
by Wayne Lusvardi | December 9, 2013 1:41 pm
[1]Now that the $42 billion in debt from the 2001 Electricity Crisis[2] has been paid off, California is in the process of re-working electric power rates. It has mostly been high-volume electricity users who have been paying down that debt through higher power rates.
California's "tiered" electricity rate billing system is based on usage. Rates go up the more you use.
But that now has to be reformed to modestly raise electricity rates for the very bottom tier of usage.  To reform the rate system, earlier this year the California Legislature passed, and Gov. Jerry Brown signed into law, Assembly Bill 327[3], the Ratepayer Equity Act.
This change in the electricity rate structure is likely to create a perception problem that California is disproportionately dumping onto those who use the least amount of power the bill to pay for the higher costs of green power, decommissioning coastal power plants, and closing the San Onofre Nuclear Power Plant[4].  However, these higher costs are not part of the rate reform package under AB327.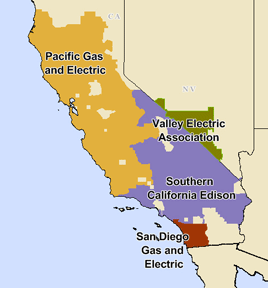 [5]AB327 was enacted on October 7, 2013. But the Legislature delegated the actual recommendations for setting new electric rates to the California Public Utilities Commission.  On Nov. 22, California's three investor-owned utilities  — Southern California Edison[6], Pacific Gas & Electric[7] and San Diego Gas & Electric[8] — submitted proposals to the PUC[9] to make their rates consistent with the new law.
Rates 
San Diego[10] pays the highest electric rates in the United States.  Its proposed rate adjustments[11] are likely to spark political controversy because the lowest tier of usage, Tier 1, would see a 2.31-cent per kilowatt-hour rate increase.
Conversely, the highest tier of usage, Tier 4, would see a 7.45 cent per kilowatt-hour rate decrease (see Table below).
The typical San Diego residential electric bill rate would go from 17.7-cents per kilowatt-hour to 18.6-cents, or from $88.92 to $93.25 per month[12]
However, low-usage ratepayers should not be confused with low-income ratepayers.
Under the California Alternate Rates for Energy program, qualified low-income households are not subject to the proposed rate adjustments. CARE ratepayers[13] get a 20 percent discount on electric bills in San Diego.  The typical San Diego CARE ratepayer would pay 11.2 cents to 11.4 cents per kilowatt-hour for power under the new rate-adjustment proposal.
San Diego Gas and Electric Company

Proposed Interim Residential Rate Changes Under Assembly Bill 327

 In cents per kilowatt hour –>
Current Rate
Proposed Rate
Change
Percent Change
TIER 1: Up to 100% of Baseline
14.64 cents
17.07 cents
+2.31 cents
+15.7%
TIER 2: 101% to 130% of Baseline
17.07 cents
17.07 cents
0.000 cents
0.0%
TIER 3: 131% to 200% of Baseline
34.59 cents
29.13 cents
-5.45 cents
-15.8%
TIER 4: Above 200% of Baseline
36.95 cents
29.13 cents
-7.45 cents
-20.4%
Shifting sunset hour high electricity costs
California's new restructured green power system also has brought about a problem of high electricity rates at sunset each day[14].  This is especially acute during the spring and fall seasons, rather than the hot summer months.
But California is trying to shift the burden of high sunset hour electricity prices to other states, mainly by buying cheap hydropower from dams in the Southwest and in the Pacific Northwest, largely from firms owned by billionaire Warren Buffett and the U.S. government (read here[15] and here[16]).  This cost-shifting plan may run into trouble if the regional power grid is congested during sunset hours, or the system lacks cheap hydropower available to bail out California's high power rates.
Rooftop solar shifted cost of subsidies onto other ratepayers
Additionally, AB327 allows electric utilities to tack an additional $10 per month surcharge to electricity bills for those who receive subsidized power rates for the installation of rooftop solar systems. According to Southern California Edison[17], the unsubsidized solar power rate would be 28.3 cents per kilowatt-hour.
However, the actual rate paid by rooftop solar households is 8.2 cents per kilowatt-hour.  This results in a whopping 20.1-cent per kilowatt-hour subsidy to rooftop solar households.  So some of the cost of the free power from rooftop solar systems must be rebated to other electricity customers.
Smart meters
AB327 also delays the impacts from time-of-use billing through smart meters until 2018.  Any rate reduction now for high-end electricity users would likely be lost when time-of-use metering begins.
Cost shifting won't solve the problem of high overall green power prices or the imbalancing of the electric grid at critical hours of the day without causing other problems as well.
When time-of-use metering is implemented, electricity ratepayers also are going to be able to get into the game of cost shifting.  But to do that, ratepayers are going to have to shift their lifestyles away from the "super peak hours" from 3 pm to 6 pm every day, when electricity usage — and rates — will be the highest.  Californians are going to have to understand that it isn't the hottest time of day, or necessarily the coldest part of a cold snap, when the rates are highest anymore. Instead, it is during the sunset hours that electricity rates are going to be the highest.
During those hours, for example, a family might postpone doing the laundry or using an electric stove until after the "super peak hours."
Eventually, it will mean lifestyle changes for Californians similar to those already in effect in Arizona[18].  Rates jump 22 cents per hour in Arizona during the June through August billing cycle, from $0.24477 per kilowatt-hour during "on-peak hours" to a whopping $0.46517 per kilowatt-hour during "super-peak hours."
This may affect when advertisers target ads on television and the scheduling of sports events. After-school sports practice under lights may become a thing of the past.
Ironically, one of the few ways to hold down electricity rates other than shutting off the lights would be to deregulate the power grid to allow "freebooters"[19] who don't own wires or even power plants to deliver lower power rates.  Alas, with California just recently paying off its $42 billion bill for botching deregulation last time, Californians can't look for relief from deregulation any time soon.
Endnotes:
[Image]: http://calwatchdog.com/wp-content/uploads/2013/12/PGE-electric-meter-wikimedia.jpg
$42 billion in debt from the 2001 Electricity Crisis: http://articles.latimes.com/2003/apr/28/business/fi-contracts28
Assembly Bill 327: http://www.leginfo.ca.gov/pub/13-14/bill/asm/ab_0301-0350/ab_327_bill_20131007_chaptered.html
higher costs of green power, decommissioning coastal power plants, and closing the San Onofre Nuclear Power Plant: http://www.10news.com/news/sdge-raising-rates-again-some-calling-it-a-san-onofre-bailout-06262013
[Image]: http://calwatchdog.com/wp-content/uploads/2013/12/Ferc-calif-electricity-map.gif
Southern California Edison: https://www.sce.com/wps/wcm/connect/d5afac7a-9c08-48d5-99b5-f7d38e11fe61/RateReformCustomerNotice_English.pdf?MOD=AJPERES
Pacific Gas & Electric: http://www.slideshare.net/michaelturnipseed/pge-presentation-to-kerntax-20130222
San Diego Gas & Electric: https://www.sdge.com/sites/default/files/documents/846548754/Rate_Reform.pdf
PUC: http://docs.cpuc.ca.gov/PublishedDocs/Efile/G000/M079/K020/79020832.PDF
San Diego: http://www.sandiegoreader.com/news/2013/apr/24/citylights1-electric-rates/
Its proposed rate adjustments: https://www.sdge.com/sites/default/files/documents/846548754/Rate_Reform.pdf
from 17.7-cents per kilowatt-hour to 18.6-cents, or from $88.92 to $93.25 per month: https://www.sdge.com/sites/default/files/documents/846548754/Rate_Reform.pdf
CARE ratepayers: http://www.liheap.ncat.org/Utility/CA/sdge.htm
high electricity rates at sunset each day: http://calwatchdog.com/2013/10/07/cas-green-energy-swan-turning-into-ugly-duckling/
here: http://calwatchdog.com/2013/11/08/will-warren-buffetts-hydro-prevent-ca-electricity-crisis-part-1/
here: http://calwatchdog.com/2013/11/11/will-warren-buffetts-hydro-prevent-ca-electricity-crisis-part-2/
Southern California Edison: http://www.edison.com/files/November_2013_Business_Update.pdf
in effect in Arizona: http://www.aps.com/en/residential/accountservices/serviceplans/Pages/time-advantage-super-peak.aspx
"freebooters": http://www.businessweek.com/stories/1996-12-01/electricity-the-power-shift-ahead
Source URL: https://calwatchdog.com/2013/12/09/ca-electric-rate-reform-adjusts-rates-from-2001-crisis/
---