An open letter to bullet-train board Chairman Dan Richard
by Chris Reed | December 15, 2013 8:00 am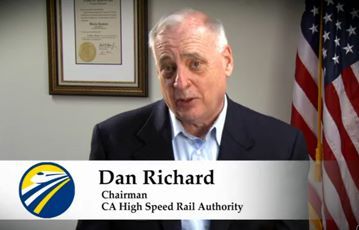 Dan Richard was at it again in Saturday's Los Angeles Times[1]. LAT's Ralph Vartabedian did a good job painting a downbeat picture of the bullet train's prospects after negative legal and regulatory rulings.
But he didn't ask the question that blows a gaping hole in the side of the Good Ship Baloney that blustery Dan is piloting to depict a project still on track and facing minor challenges.
So here goes: This is the email I have sent to him.
Dec. 14, 2013
Dear Dan:
In Saturday's Los Angeles Times, reporter Ralph Vartabedian wrote about Sacramento Superior Court Judge Michael Kenny's recent finding that the California High-Speed Rail Authority could not legally spend its state bond funds on construction of the bullet-train's initial link because it didn't have a legal business plan or sufficient environmental reviews. Vartabedian also wrote about a federal agency's refusal to expedite a permit sought by the rail authority. I would like to ask you about this part of the story:
"Dan Richard, chairman of the California High-Speed Rail Authority, countered that the recent setbacks to the bullet train — connecting Los Angeles and San Francisco with 220 mph trains — represent normal challenges encountered by giant, visionary public works projects.
"In a recent debate on public radio, he characterized the legal problems as largely procedural and suggested that 'crossing the Ts and dotting the I's' would resolve the issues.
"Claims of a 'major setback are wildly overstated,' he said."
My question is this: If the obstacles presented by Kenny's ruling are "largely procedural," then why was the rail authority unable to address and resolve them after Kenny's initial Aug. 16 ruling that the project didn't have adequate financing or complete environmental reviews for the $31 billion, 300-mile initial operating segment? From Aug. 16 to Kenny's release of his final ruling on Nov. 25, the rail authority had 101 days to take care of the judge's objections. It never did.
Now you describe these objections as "largely procedural."
I look forward to your explanation as to why these obstacles are all but trivial, yet the rail authority was unable to take care of them over the 14 weeks and three days from Kenny's initial ruling to his final ruling.
Sincerely,
Chris Reed
cc: Ralph Vartabedian; Mike Rosenberg
Endnotes:
Los Angeles Times: http://www.latimes.com/local/la-me-bullet-future-20131214,0,7798656.story#axzz2nRHeiUqr
Source URL: https://calwatchdog.com/2013/12/15/an-open-letter-to-bullet-train-board-chairman-dan-richard/
---