Shakedown street: Jesse Jackson targets Silicon Valley — again
by Chris Reed | February 22, 2014 6:30 am
However one feels about the growing fuss over white and Asian dominance of U.S. tech work forces, there are some fundamental facts to consider, starting with:
African-American students are less likely to graduate college with degrees in high-tech fields. This is not because of a lack of interest[1] in these fields. It appears to be due to  higher rates of attrition[2]:
"A new report from the U.S. Department of Education shows that more than one half of all African Americans who enter bachelor's degree programs in STEM-related disciplines either drop out of college or change majors and graduate with a degree in a non-STEM field."
The reasons for these facts can be endlessly debated. It's easy to see why someone would look at this and say it's a shame. It's also easy to see why people of a certain mind-set would look at this and say it's a failing of society.
But if you know these facts, it is preposterous to look at the paucity of African-Americans working in Silicon Valley tech jobs and cry "apartheid." That, of course, is just what Jesse Jackson is doing[3]:
"'This valley is driving the industrial growth of America – in fact, it's driving global growth,' Jackson said. But while people of color constitute a huge part of the marketplace for tech products and services, he said, they're woefully underrepresented in the sector's executive offices and boardrooms. …
"Jackson on Thursday contended minorities still are being shut out of many of Silicon Valley's opportunities. He scoffed at the idea that there aren't enough minorities entering the industry with appropriate training: 'It's almost insulting to suggest they can't be found.'"
That's from a Bay Area News Group political blog. It noted that the first time Jackson depicted Silicon Valley as a hotbed of racism for not hiring African-American techies, Cypress Semiconductors CEO T.J. Rodgers gave him grief.
The Silicon Valley CEO who stood up to Jackson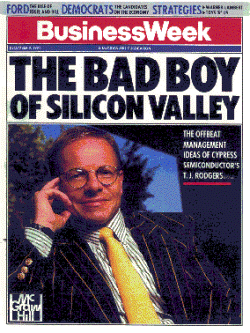 [4]I dug up some of the coverage. This is from an amazing L.A. Times article on March 13, 2001:
"T.J. Rodgers, president and CEO of Cypress Semiconductors in San Jose, has a different view after Jackson's recent efforts to promote diversity and raise money in Silicon Valley.
"'It's a shakedown,' Rodgers said. 'The basic shakedown mechanism is, he declares racism based on dubious statistics. Then he gives you a chance to repent–and the basic way is to give Jesse money. The threat is you'll be labeled a racist if you don't. That scares business leaders.'
"Rodgers and Jackson squared off last spring during Jackson's first concerted effort to promote minority hiring and raise money in Silicon Valley. Rodgers argued that the high-tech industry was much more racially diverse than Jackson was suggesting. After the two traded barbs in the local paper, Jackson's local office dubbed Rodgers a racist and Cypress Semiconductors a 'white supremacist hate group.'"
As the article chronicled, Rodgers had a far better case that Jackson was a shakedown artist than Jackson's case that the Silicon Valley was akin to the Jim Crow South.
"… corporations have paid handsomely to get Jackson off their backs.
"In February 1997, Viacom sought permission to sell 10 radio stations for $ 1.1 billion to two other companies. Rainbow/PUSH filed a petition to block the transfer, contending that Viacom had reneged on a prior commitment to sell some broadcast properties to minorities.
"Following negotiations with Rainbow/PUSH, Viacom and the two buyers donated $ 2 million to create a fund to promote minority ownership of broadcast properties. About a third of the money was overseen by a trustee, David Dinkins, former mayor of New York and a longtime Jackson associate. Dinkins later was replaced by the Washington lawyer and lobbyist Warner H. Session.
"None of the money went to Rainbow/PUSH, per se. Such a payment might have violated the FCC's 'greenmail' rule, which prohibits an opponent of a license transfer from receiving money, even indirectly, in exchange for withdrawing the complaint. Nevertheless, Session later awarded $ 680,000 to [Jackson's] Citizenship Education Fund to run two conferences.
"Jackson's group ended its opposition, and the FCC approved the deal. …"
Still more corporations who paid Jesse to quiet down
Wait, there's more!
"What concerns some critics is the appearance of a connection between corporate donations to Jackson's organizations and a change in Jackson's position.
"In February 1999, attorneys for about 13,000 minority Boeing employees had been trying for nearly a year to negotiate a settlement in a racial discrimination lawsuit. Jackson flew to Seattle, met with Boeing head Phil Condit and performed the task in a couple of days.
"But 1,700 of the plaintiffs later formally opposed the settlement as too soft, and some questioned the company's relationship with Jackson.
"Within days of the settlement Jackson negotiated, Boeing made the first of several contributions to the Citizenship Education Fund, a donation of $ 50,000. That was nothing compared with the hundreds of millions of dollars in pension funds that, a few months later, Boeing sent to be managed by a handful of minority investment banks, at least some of which have supported Jackson's charities."
Wait, there's even more!
"Later in 1999, Jackson criticized the merger of AT&T and TCI. Jackson reversed his position after the companies pledged to hire a minority investment bank to help handle a massive $ 8-billion bond offer. Blaylock & Partners, headed by Jackson friend Ronald Blaylock, got the contract.
"Soon after, AT&T donated $ 425,000 to Jackson's Citizenship Education Fund. Blaylock & Partners donated $ 30,000 to the same fund in 1999."
It's pretty amazing that Jesse Jackson's modus operandi is so flagrant, but that he's still taken seriously. Good for T.J. Rodgers for standing up to him.
And, no, Jesse didn't stop the shakedowns after the negative coverage in 2001. This is from two months ago[5]. When you've got a lucrative gig going, why stop?
Endnotes:
lack of interest: http://sciencecareers.sciencemag.org/career_magazine/previous_issues/articles/2008_05_16/caredit.a0800070
higher rates of attrition: http://www.jbhe.com/2013/12/a-huge-racial-gap-in-stem-degree-program-attrition-rates/
Jesse Jackson is doing: http://www.ibabuzz.com/politics/2014/02/21/jesse-jackson-on-silicon-valleys-apartheid/
[Image]: http://calwatchdog.com/wp-content/uploads/2014/02/t.j.rodgers.gif
two months ago: http://www.theamericanconservative.com/dreher/shakedown-king-jesse-jackson-quacks-up/
Source URL: https://calwatchdog.com/2014/02/22/shakedown-street-jesse-jackson-targets-silicon-valley-again/
---