Not a single Leland Yee gun-control bill was signed into law
by John | April 4, 2014 8:38 am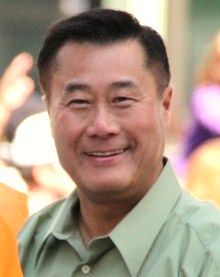 [1]Was alleged gun-runner and gun-control[2] advocate Leland Yee[3] all talk?
Before you answer, here's a surprising fact: The San Francisco Democrat, who has been called one of California's leading gun-control advocates[4], has never successfully authored a gun-control bill. Not a single gun bill authored by Yee [5]has been signed into law.
During his 11 years in the state Legislature, currently as a state senator, Yee authored 181 bills, of which 138 bills were eventually signed into law. Not a single one of these signed bills was related to gun control, according to an analysis of his legislative accomplishments.
It's true that Yee has repeatedly proposed gun-control bills, including a ban on assault weapons, 3-D printing of weapons and "bullet buttons." None of these proposals has been implemented.
2013: Yee failed to pass gun control "study bill"
Yee, who was arrested on March 26 on weapons trafficking and public corruption charges, has been surprisingly ineffective at turning his headline-making-gun-grabbing into law. He has even struggled to convince his colleagues to pass minor gun-control proposals.
In 2013, he authored a bill to require safe storage of firearms. When Senate Bill 108[6] failed to gain traction, it was turned into a study bill. Even that minor "study" bill died in the State Assembly[7].
And his legislative ineffectiveness with respect to gun control isn't the result of overall legislative ineffectiveness. Yee has a high overall success rate, having gotten 138 bills signed into law during his 11-year career in the Legislature.
Moreover, his legislative successes have included controversial proposals, such as an unconstitutional ban[8] on the sale of violent video games in 2005; and a 2012 law that grants juveniles sentenced to life without parole[9] an opportunity for a rehearing.
Gun-control group: Leland Yee California's "2nd most outspoken gun-control advocate"
Yee's surprising ineffectiveness with respect to gun-control legislation hasn't stopped gun-control groups from heralding him as a leader of the movement.
"Ironically, while he's being charged with gun trafficking, next to [U.S. Sen.] Dianne Feinstein he was probably the second most outspoken gun-control advocate," Paul Song, the executive chairman of Courage Campaign, told the Associated Press[10]. "This really leaves us scrambling for someone to pick up that mantle."
Throughout his career, Yee has been quick to grab the spotlight on gun control and use national tragedies for political gain. Shortly after the Newtown, Conn. shooting, he said[11], "The NRA's response is pathetic and completely unacceptable."
He also used the incident to push for two gun-control bills the following year.
"The horrors of Newtown, and countless other mass shootings are still with us," Yee said in a 2013 press release[12] on two of his gun-control bills. "With this in mind, it is our responsibility to make sure our laws protect the innocent from the threat of gun violence."
Does Yee's ineffectiveness spoil the irony?
Following Yee's arrest and indictment, media outlets have been quick to point out the irony of a gun-control politician[13] secretly running guns. The Huffington Post described Yee as the "California Senate's Top Gun-Control Advocate[14]."
"Trying to stop gun trafficking while trafficking guns," joked The Daily Show's Jon Stewart. "That's what's known in the business as a win-win!"
About the only people who have noticed Yee's ineffectiveness have been California's leading Second Amendment[15] advocacy group.
"It's quite possible that Senator Yee's civilian disarmament bills were really just a way to ensure the health and welfare of gangsters like Raymond 'Shrimp Boy' Chow," said Brandon Combs, president of the California Association of Federal Firearms Licensees[16], which closely monitors California gun-control legislation.
He added, referring to the indictment of Yee and two other state senators — each on different charges, "At this rate, so many Democrats in the Legislature will be prohibited from having firearms that the caucus will soon have to use toy guns and Photoshop to pitch their anti-gun bills." Convicted felons are banned from owning guns.
Referred to as "Uncle Leland" by those indicted as his co-conspirators, Yee allegedly offered to smuggle millions of dollars' worth of automatic weapons into the United States from a Muslim separatist group in the Philippines, according to the FBI affidavit[17].
Endnotes:
[Image]: http://calwatchdog.com/wp-content/uploads/2014/04/Leland_Yee-wikimedia.jpg
gun-control: http://www.calnewsroom.com/tag/gun-control/
Leland Yee: http://www.calnewsroom.com/tag/leland-yee/
one of California's leading gun-control advocates: http://calwatchdog.com/2014/03/27/sen-leland-yee-allegedly-brokered-arms-deals/
gun bill authored by Yee : http://www.calnewsroom.com/2014/04/03/none-of-state-senator-leland-yee-gun-control-bills-have-ever-been-signed-into-law/
Senate Bill 108: http://www.leginfo.ca.gov/pub/13-14/bill/sen/sb_0101-0150/sb_108_bill_20130814_amended_asm_v95.htm
died in the State Assembly: http://www.leginfo.ca.gov/pub/13-14/bill/sen/sb_0101-0150/sb_108_bill_20130829_status.html
unconstitutional ban: http://www.nytimes.com/2011/06/28/us/28scotus.html?pagewanted=all&_r=0
juveniles sentenced to life without parole: http://leginfo.legislature.ca.gov/faces/billNavClient.xhtml?bill_id=201120120SB9
Associated Press: http://www.sfgate.com/news/crime/article/Gun-control-advocates-Lawmaker-arrest-is-setback-5354951.php
said: http://sd08.senate.ca.gov/news/2012-12-21-senator-yee-nra-s-gun-proposal-pathetic-and-unacceptable
2013 press release: http://sd08.senate.ca.gov/news/2013-04-18-senate-public-safety-committee-stands-gun-violence
irony of a gun-control politician: http://calwatchdog.com/2014/03/28/10-quotes-from-indictment-against-sen-leland-yee/
California Senate's Top Gun-Control Advocate: http://www.huffingtonpost.com/2014/03/26/leland-yee-gun-traffickin_n_5038152.html
Second Amendment: http://www.calnewsroom.com/tag/second-amendment/
California Association of Federal Firearms Licensees: http://www.calnewsroom.com/tag/California-Association-of%20Federal-Firearms-Licensees/
FBI affidavit: http://www.calnewsroom.com/wp-content/uploads/2014/03/FBI-Leland-Yee-Complaint.pdf
Source URL: https://calwatchdog.com/2014/04/04/not-a-single-leland-yee-gun-control-bill-was-signed-into-law/
---