Santa Ana considers taxing … free Skype calls! Oh, the insanity
by Chris Reed | April 18, 2014 6:15 am
California is known as the world leader in lots of things — pop culture, technology and wacky lifestyles. Now the Santa Ana City Council is helping the Golden State be seen as the world leader in Maniacally Stupid, Excessive Taxation. This is from the Voice of OC[1]: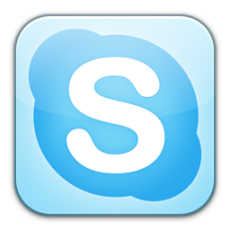 "The Santa Ana City Council Tuesday night approved a November ballot measure that calls for adding prepaid cellphones to the utility users tax rolls and reducing the overall rate by 0.5 percent.
"If voters approve the measure, the tax will be levied on all prepaid cellphone customers, which represent 40 percent of the city's population, according to a city staff report. Voice Over IP users, a phone technology that uses the Internet instead of traditional lines, would also be taxed."
Skype is the king of VOIP services. Google Voice, which I use, is also hugely popular. Hundreds of millions of people make billions of calls a day. Some premium VOIP services charge $5 to $25 a month and are subject to a 3 percent federal excise tax.
But by and large, the most popular VOIP services are free — of fees and taxes.
Here's a bit of background on VOIP from a CNET story:
"VoIP refers to voice calls that are routed over online networks using the Internet Protocol — the IP that serves as the backbone of the Internet and is used to ferry e-mails, instant messages and Web pages to millions of PCs or cell phones.
"VoIP calls are just another application riding over the Internet. And these calls are unregulated. So at their core, they are no different from e-mails, instant messages or Web pages, which all can be distributed for free between Internet-connected machines. Those include computers and wireless devices, such as cell phones and handhelds, that are set up to receive online information."
So, yes, the Santa Ana City Council wants to tax an Internet app that people have long used for free. I read the 32-page staff report available here[2] on the proposed utility tax, and it shows not the slightest bit of understanding as to what VOIP is and how it works.
If anyone did have a clue, then of course the question of how would it be possible to enforce a tax on a particular use of the Internet might have come to mind.
Instead, members of the Santa Ana City Council just followed their first instinct: If it moves, tax it!
Ronald Reagan saw this coming[3] long ago.
Endnotes:
Voice of OC: http://www.voiceofoc.org/oc_central/article_e96b1374-c582-11e3-904f-001a4bcf887a.html
available here: http://santaana.granicus.com/GeneratedAgendaViewer.php?view_id=2&clip_id=62
saw this coming: http://www.brainyquote.com/quotes/quotes/r/ronaldreag109938.html
Source URL: https://calwatchdog.com/2014/04/18/santa-ana-looking-at-taxing-skype-calls-oh-the-insanity/
---