Donnelly aide works with unions vs. GOP candidates
by John Hrabe | May 9, 2014 1:31 pm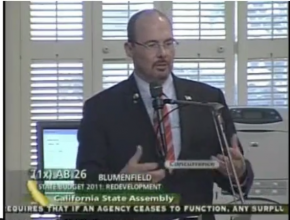 [1]A top aide to a Republican candidate for governor is working with public employee unions to defeat Republican candidates in local elections.
Asher Burke, who assists Assemblyman Tim Donnelly's gubernatorial campaign with "social media and online creative," is also a principal officer of Public Safety Advocates[2], a political campaign committee working to defeat Republican-endorsed candidates in San Diego County.
According to campaign reports filed with the County of San Diego Registrar of Voters[3], the campaign committee has accepted tens of thousands of dollars from public employee unions, including the Deputy Sheriffs Association of San Diego County, the San Diego Police Officers Association and the Peace Officers Research Association of California.
Those funds are going to support Bob Brewer, who is running for San Diego County District Attorney. The Republican Party of San Diego County has endorsed[4] Bonnie Dumanis, the incumbent, who has been outspent by Brewer[5].
"County records show Brewer also outraised Dumanis in the first six months of this year, bringing in more than $281,000," the Voice of San Diego [6]reported on the competitive race. "Dumanis received about $213,300 during the same period."
Brewer, a first-time candidate, has received support from "11 police unions – including, most recently, the statewide California Coalition of Law Enforcement Associations," according to the Voice of San Diego[7].
Union-funded Public Safety Advocates attack GOP candidates
Burke said the campaign committee welcomes the support of police and fire unions.
"Public Safety Advocates is a political expenditure committee for public safety organizations to support candidates they have determined will keep our local communities safer," Burke told CalWatchdog.com. "Almost every campaign, probably including Assemblyman Donnelly's, would welcome the support of police and fire. If you were a candidate, wouldn't you?"
He added, "As Jerry Brown continues to dump dangerous criminals on our streets, due to his early release boondoggle, I find my work with local groups like police and fire to be extremely important to maintaining the type of city and state I want to live in."
In addition to backing the union candidate for district attorney, the campaign committee has spent money to attack John McCann, a candidate for Chula Vista City Council who has also been endorsed by the Republican Party of San Diego County.
A recent mailer distributed by the Public Safety Advocates campaign committee attacks John McCann as "the man who CAN'T."
"John McCann is bad news for Chula Vista," the mailer warns. "Tell McCann you CAN'T support his failed management and incompetence." (A copy of the flyer is shown at the end of this article.)
Donnelly's anti-union rhetoric
Burke's work with public employee unions coincides with his work for Donnelly's campaign for governor, which has repeatedly attacked the unions for excessive salaries and benefits. Writing in an open letter to Brown in 2011[8], Donnelly accused the governor of submitting new contract agreements that "protect the well-paid public employee unions, even at the cost of students, public safety, and jobs."
According to state campaign finance records, Burke and his businesses, Burke Communications, Inc. and Campaign Services Group, Inc., have received $69,194 in payments from Donnelly's gubernatorial campaign committee, of which $38,500 was for campaign consulting. It easily makes Burke one of the highest-paid employees of Donnelly's low-budget campaign.
Donnelly's campaign did not respond to a request for comment. However, in the past, the GOP candidate has boasted that hard-core liberals also work on his campaign.
"I have hard-core liberal Democrats working on my campaign as well as libertarians," Donnelly told the Redding Tea Party in September 2013[9].
Payments to Asher Burke
| | | | |
| --- | --- | --- | --- |
| Date | Payee | Category | Amount |
| 1/4/1900 | CAMPAIGN SERVICES GROUP INC. | CAMPAIGN CONSULTANTS | $5,000.00 |
| 3/5/2013 | CAMPAIGN SERVICES GROUP INC. | CAMPAIGN CONSULTANTS | $3,500.00 |
| 10/11/2013 | CAMPAIGN SERVICES GROUP INC. | CAMPAIGN CONSULTANTS | $3,000.00 |
| 4/30/2013 | CAMPAIGN SERVICES GROUP INC. | CAMPAIGN CONSULTANTS | $2,500.00 |
| 8/21/2013 | CAMPAIGN SERVICES GROUP INC. | CAMPAIGN CONSULTANTS | $2,500.00 |
| 12/31/2013 | BURKE COMMUNICATIONS, INC. | CAMPAIGN CONSULTANTS | $17,500.00 |
| 10/30/2013 | BURKE COMMUNICATIONS, INC. | CAMPAIGN CONSULTANTS | $4,500.00 |
| 10/3/2013 | CAMPAIGN SERVICES GROUP INC. | CAMPAIGN LITERATURE AND MAILINGS | $2,878.20 |
| 5/15/2013 | CAMPAIGN SERVICES GROUP INC. | CAMPAIGN LITERATURE AND MAILINGS | $1,695.72 |
| 9/25/2013 | CAMPAIGN SERVICES GROUP INC. | CAMPAIGN LITERATURE AND MAILINGS | $1,274.40 |
| 4/1/2013 | CAMPAIGN SERVICES GROUP INC. | INFORMATION TECHNOLOGY COSTS (INTERNET, E-MAIL) | $5,000.00 |
| 7/19/2013 | CAMPAIGN SERVICES GROUP INC. | INFORMATION TECHNOLOGY COSTS (INTERNET, E-MAIL) | $4,000.00 |
| 9/26/2013 | CAMPAIGN SERVICES GROUP INC. | INFORMATION TECHNOLOGY COSTS (INTERNET, E-MAIL) | $3,000.00 |
| 12/31/2013 | CAMPAIGN SERVICES GROUP INC. | INFORMATION TECHNOLOGY COSTS (INTERNET, E-MAIL) | $3,000.00 |
| 12/31/2013 | CAMPAIGN SERVICES GROUP INC. | INFORMATION TECHNOLOGY COSTS (INTERNET, E-MAIL) | $3,000.00 |
| 8/27/2013 | BURKE, ASHER | OFFICE EXPENSES | $4,757.84 |
| 4/1/2013 | BURKE, ASHER | OFFICE EXPENSES | $2,088.24 |
| | | Total | $69,194.40 |
[10]
Endnotes:
[Image]: http://calwatchdog.com/wp-content/uploads/2014/05/Donnelly-Redevelopment.png
principal officer of Public Safety Advocates: http://www.calnewsroom.com/wp-content/uploads/2014/05/Asher-Burke-Principal-Officer.pdf
campaign reports filed with the County of San Diego Registrar of Voters: http://www.calnewsroom.com/wp-content/uploads/2014/05/San-Diego-Public-Safety-Advocates-IE.pdf
has endorsed: http://www.sandiegorepublicans.org/officially-endorsed-candidates.html
outspent by Brewer: http://www.utsandiego.com/news/2014/Apr/26/dumanis-district-attorney-brewer-wyatt-endorse/2/
Voice of San Diego : http://voiceofsandiego.org/2013/10/03/3-reasons-dumanis-faces-a-tough-2014/
Voice of San Diego: http://voiceofsandiego.org/2013/10/03/3-reasons-dumanis-faces-a-tough-2014/
open letter to Brown in 2011: http://arc.asm.ca.gov/member/AD33/?p=article&id=248515
Redding Tea Party in September 2013: https://www.youtube.com/watch?v=5MUVHKwLgBo
[Image]: http://www.calnewsroom.com/wp-content/uploads/2014/05/John-McCann-Union-Mailer.png
Source URL: https://calwatchdog.com/2014/05/09/donnelly-aide-works-with-unions-vs-gop-candidates/
---