Feinstein drought bill heads for House merger
by Wayne Lusvardi | May 27, 2014 12:02 pm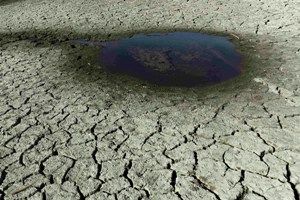 In the novel "A River Runs Through It,"[1] later made into a movie, Norman Maclean wrote, "Eventually all things merge into one, and a river runs through it. … I am haunted by waters."
Driven by the haunting reality of lack of California farm water, the Democratic and Republican drought relief bills in the U.S. Congress tentatively are starting to merge into one.
Back in 2009, U.S. Sen. Dianne Feinstein, D-Calif., got her San Joaquin River Settlement Act through Congress. But it has come back to haunt her because it created a foreseeable but unaddressed farm-water shortage in dry years, such as now. Feinstein has recently criticized the environmentalists who helped her design the bill as "never having been helpful to me in producing good water policy[2]."
Passed when Democrats controlled both the Senate and the U.S. House of Representatives, the bill appropriated $88 million[3] in planning funding for a proposed $2.2 billion[4] restoration project. In 2010, Republicans took back the U.S. House of Representatives and subsequently have blocked any additional funding to implement the project.
Feinstein is now backtracking and has revised and successfully pushed her S. 2198, the Emergency Drought Relief Act of 2014[5], through the Senate on May 23.  It now will be considered in the House for merger with a Republican drought bill, H.R. 3964[6], by Rep. David Valadao, R-Hanford (formerly named H.R. 1937 by Rep. Devin Nunes, R-Tulare).
Valadao[7] released a statement that Feinstein's bill "is a positive step in the right direction."
Neutered drought bill
To get her drought bill passed over stiff opposition from a large number of environmental organizations[8] and Northern California lawmakers[9], Feinstein neutered the bill of any provisions that would impede passage by either political party.  The new revised version of the bill[10] has dropped from her original bill provisions to:
Reauthorize the Delta restoration program provided under the CALFED[11] compact of 2002 (sought by Republicans).
Authorize several hundred million dollars for drought relief (sought by Democrats).
Soften the authorization of funding for expanding the capacity of Nevada's Lake Mead to appease Senate Majority Leader Harry Reid.
As presently worded, the bill would not authorize anything new that is not already being undertaken to relieve drought impacts on farms and rural areas before the onset of summer. But that made the bill palatable enough for senators in both parties unanimously to pass it.
River restoration goal: 500 fish at cost of $4.4 million per fish
The 2009 San Joaquin River Settlement Act authorized 10 physical restoration projects in the river to be completed by Dec. 31, 2013.  None of the projects even has started. And the projected cost now is $800 million[12]. What planning money has been available has been used physically to transport salmon across the dry reach of the river in tanker trucks.
This hasn't stopped the NRDC from forcing the U.S. Bureau of Reclamation to release 180 thousand acre-feet of water[13] from March 2013 to Feb. 2014 — with nothing completed that was called "necessary" by the NRDC for the success of the project. Success is defined as the return of 500 fish[14] in the dry reach of the river by 2019.
The water storage situation in California would be much different if the NRDC had not released flushed water to the ocean for fish during drought. Recently, Rep. Tom McClintock[15], R-Auburn, has criticized such releases of water as waste that could have been avoided if the Republican-backed drought bill, H.R. 3964, had been passed.
First ever water shipped from eastside to westside farmers
To relieve the drought, on May 15 for the first time ever, federal water managers conveyed 529,000 acre-feet of water[16] from the Eastside of the San Joaquin River Valley (from Millerton Lake) to Westside farmers in Patterson and Mendota. That increased the water allocation to Westside farmers, but also increased water to wildlife refuges in the South Delta from 40 percent to 65 percent.
In response, the Friant Water Authority[17] has filed suit in the U.S. District Court in Fresno to challenge the unprecedented release of federal water to state water contractors.
Ron Jacobsma[18], FWA's general manager, said that Eastside citrus-tree growers might have their water replenished later in the year. Then he warned, "But that may mean putting water on dead trees."
The San Joaquin River Restoration Project has been a contest between political parties. But farmers didn't take issue with it until the onset of the 2014 drought made them see how bad it is to release water for fish runs.
More water but greater water diversions for fish
Ironically, the table below[19] tells the story that there is more water than in the severe drought of 1977, but more outflow for fish flushes resulting in less net agricultural water in 2014.  
                         Central Valley Project 1977 vs. 2014 (October thru March)
                                                            (In million acre-feet)
| | | |
| --- | --- | --- |
| | 1977 | 2014 |
| Total Delta Inflow | 3,383 | 3,997 |
| Total Delta Outflow | 1,422 | 2,636 |
| Total Exports | 1,622 | 1,092 |
| Central Valley Project Settlement | 75% | 40% |
| Central Valley Project Agriculture Allocation | 25% | 0% |
Endnotes:
"A River Runs Through It,": https://www.goodreads.com/author/quotes/16943.Norman_Maclean
never having been helpful to me in producing good water policy: http://calwatchdog.com/2014/05/19/feinstein-attacks-environmentalists-on-drought/
$88 million: http://thomas.loc.gov/cgi-bin/query/F?c111:5:./temp/~c111Ku3iL7:e1137345:
$2.2 billion: http://calwater.ca.gov/content/Documents/library/DWS_CALFEDWaterBondDescription.pdf
Emergency Drought Relief Act of 2014: http://clerk.house.gov/floorsummary/floor.aspx
H.R. 3964: http://beta.congress.gov/bill/113th-congress/house-bill/3964
Valadao: http://www.bakersfieldnow.com/news/drought/Valadao-believes-Feinsteins-drought-bill-step-in-right-direction-260487431.html
environmental organizations: http://mavensnotebook.com/wp-content/uploads/2014/05/EnvironmentalCoalitionLetterFinal_5-16-14.pdf
Northern California lawmakers: http://mavensnotebook.com/wp-content/uploads/2014/05/NEWS_-Northern-California-Lawmakers-caution-against-harmful-drought-legislation.pdf
new revised version of the bill: http://www.mcclatchydc.com/2014/05/21/228090/feinsteins-anti-drought-bill-may.html
CALFED: http://calwater.ca.gov/content/Documents/library/DWS_CALFEDWaterBondDescription.pdf
$800 million: http://www.restoresjr.net/program_library/01-General_Outreach/Q&AlegFactSheet0409.pdf
180 thousand acre-feet of water: http://mavensnotebook.com/2014/04/01/guest-blogger-rebuttal-to-yesterdays-media-call-opportunities-lost/
500 fish: http://www.swrcb.ca.gov/waterrights/water_issues/programs/bay_delta/docs/prsntns111510/nrdc.pdf
Rep. Tom McClintock: http://online.wsj.com/news/articles/SB10001424052702304547704579565622649474370?mg=reno64-wsj
529,000 acre-feet of water: http://www.fresnobee.com/2014/05/13/3924756/dam-water-to-be-tapped-amid-california.html#storylink=cpy
Friant Water Authority: http://friantwaterline.org/friant-files-legal-challenge-over-how-exchange-contractors-water-is-being-supplied/?utm_source=rss&utm_medium=rss&utm_campaign=friant-files-legal-challenge-over-how-exchange-contractors-water-is-being-suppliedv
Ron Jacobsma: http://www.fresnobee.com/2014/05/13/3924756/dam-water-to-be-tapped-amid-california.html#storylink=cpy
table below: http://4.bp.blogspot.com/-mIPNUVeywhY/U3rlryh0tmI/AAAAAAABTAI/jbINGsmhsbU/s1600/image.png
Source URL: https://calwatchdog.com/2014/05/27/feinstein-drought-bill-heads-for-house-merger/
---