CEQA shakedowns and the mansion that Wal-Mart built
by Chris Reed | May 28, 2014 8:00 am
Liam Dillon in the Voice of San Diego has a sharp profile[1] of San Diego lawyer Cory Briggs, an unapologetic user of the California Environmental Quality Act as a self-enrichment tool:
"No attorney sues under the state's main environmental quality law more than him.
"These lawsuits all tend to follow a formula: A local City Council approves a big-box development, like a Wal-Mart. A nonprofit with a watchdoggy name sues, with Briggs as its attorney. The developer settles the case and pays Briggs for his trouble. It's often unclear who is against the project other than Briggs himself.
"To Briggs, a 45-year-old who grew up in San Bernardino County, this relentless string of court cases has made countless developments in California better for the environment. Solar panels gleam from the roofs of Wal-Marts and hundreds of new trees have been planted because of his lawsuits. …
"Briggs' $1.25 million home sits near the top of a hill in Sunset Cliffs. In the front, it has a big garden with a wide view of the Pacific Ocean. Briggs' friends jokingly refer to the place as 'The House That Wal-Mart Built.'"
The hunt for a proper plaintiff
The article dispassionately lays out how Briggs operates. I think most people will consider his approach to be' fundamentally corrupt:
"The nonprofits Briggs has represented over the years share some striking similarities. First, take their names. His clients have included[2]: Smart Growth Adelanto, Build Barstow Smart, Grow Victorville Smart, Concerned Citizens of Vista, Murrietans for Smart Growth, Blythe Citizens for Smart Growth, Indio Citizens for Smart Growth, Menifee Citizens for Smart Growth, Riverside Citizens for Smart Growth, Rialto Citizens for Responsible Growth and Redlands Good Neighbor Coalition.
"Then there's how the organizations are set up. The groups aren't what you typically think of when you hear the word nonprofit.
"Most don't receive donations. If they did, the money wouldn't be tax-exempt because the organizations haven't filed anything with the IRS. Those that have sent tax returns to the state attorney general's office often don't list any income, assets or expenses. Many are currently facing fines for not completing proper paperwork. All registered with the state through Briggs' law office in the Inland Empire."
There oughta be a law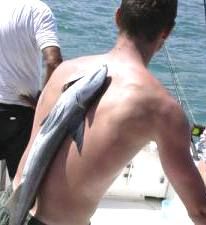 How Consumer Watchdog-y[3]. How Bill [4]Lerach-y[5]. It's amazing that there aren't state laws against being a legal remora.
But Briggs does have his good points. He was a sharp critic of then-San Diego Mayor Bob Filner's 2013 attempt to condition permit approvals[6] on donations to Filner's causes.
There's a right way and a wrong way, you see, to take money from developers.
Endnotes:
sharp profile: http://voiceofsandiego.org/2014/05/27/how-san-diegos-most-disruptive-lawyer-makes-his-money/
clients have included: http://cdn.knightlab.com/libs/storymapjs/latest/embed/?url=https://www.googledrive.com/host/0BxkHjhBDOUH0UHkwRHkwWVNCcEk/published.json
Consumer Watchdog-y: http://www.thestreet.com/story/11710877/1/new-irs-documents-reveal-consumer-watchdog-founder-harvey-rosenfields-secret-slush-fund-reports-consumerwatchdogwatchcom.html
Bill : http://members.calbar.ca.gov/fal/Member/Detail/68581
Lerach-y: http://www.bloomberg.com/news/2011-10-12/convicted-king-of-class-actions-bill-lerach-builds-aviary-regrets-nothing.html
condition permit approvals: http://www.utsandiego.com/news/2013/Jun/18/bob-filner-sunroad-donation/
Source URL: https://calwatchdog.com/2014/05/28/ceqa-shakedowns-and-the-mansion-that-wal-mart-built/
---