Chart warns of possible stock crash
by John Seiler | June 18, 2014 1:19 pm
We can't predict the future. But we prudently can make preparations for unfortunate events. That's why the California government and local governments should make sure they have budget surpluses.
Check out the following chart.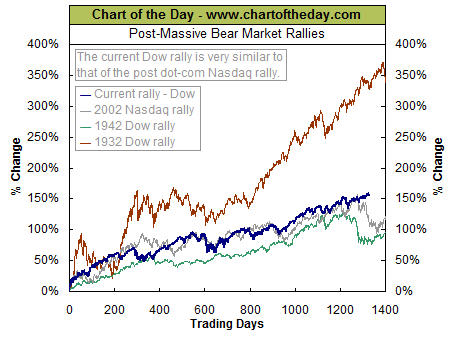 It shows that the current DJIA stock rally (blue line) is similar to the 2002 Nasdaq rally (grey line). If the pattern holds, a correction could be right around the corner.
Given that California's state revenues notoriously depend on taxing high incomes and capital gains — what's called "volatility" — a stock crash always slams revenues. So if a crash is coming, it could mean the return of the post-crash deficits of the early 2000s, which helped oust Gov. Gray Davis from office in the 2003 recall.
Again, I'm not predicting this. I'm only saying: Be prepared.
Source URL: https://calwatchdog.com/2014/06/18/chart-warns-of-possible-stock-crash/
---