More money, problems for CA high-speed rail
by James Poulos | June 18, 2014 5:12 pm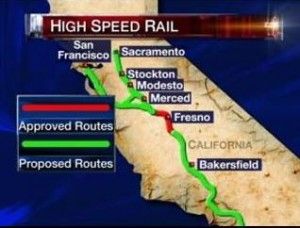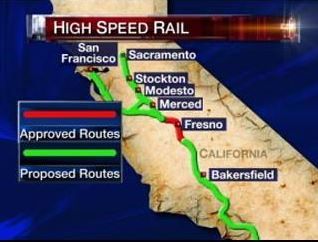 Proponents of California's much-ballyhooed high-speed rail got a big boost in the state's new budget. But in every other area where the struggle for its fate is playing out, the project is facing an array of daunting roadblocks.
Thanks to Gov. Jerry Brown's staunch support, Sacramento legislators agreed[1] to divert $250 million of cap-and-trade revenues toward train funding this year. For each subsequent year of the train's construction, fully 25 percent of cap-and-trade funds will be diverted. The sizable figure is actually a compromise — down from Brown's wished-for 33 percent, up from legislators' 15 percent.
It's a key victory for the train's future. To move forward in the absence of bond sales stalled in the courts, California needs to start matching federal funds to prevent even that relatively minor source of cash from drying up. Typically, state funds must be ponied up before federal dollars flow in. But since states' share of federal stimulus money must be spent by September 2017, California secured[2] permission from the Obama administration to allocate some $3 billion of stimulus toward high-speed rail.
Now, train planners are scrambling to demonstrate that the project can drum up enough cash flow to remain viable. From the courts to the Congress, however, opposition to their efforts is so strong that even frantic fundraising may be in vain.
Skepticism in Washington
Earlier this month, the House of Representatives voted[3] to strip California's train funding from its latest transportation bill. In an embarrassing development, the amendment removing the funds was advanced[4] by Jeff Denham, R-Turlock, who is chairman of the House Transportation Committee's Railroads, Pipelines and Hazardous Materials Subconmittee. The vote is, in fact, a replay of last year's congressional wrangling, which culminated in the Senate restoring the funding the House would have taken away.
Nevertheless, with time of the essence, even a substantial delay triggered by another round of maneuvers in Washington poses a serious threat to Brown's favored budget item. And in an election year, it's not just Republicans who are souring on high-speed rail. Republicans scored[5] votes against funding the train from four California Democrats up for re-election: Julia Brownley, D-Westlake Village; Raul Ruiz, D-Palm Desert; Scott Peters, D-San Diego; and Ami Bera, D-Elk Grove.
On top of that, the new presumptive House Majority Leader is Kevin McCarthy, R-Bakersfield, a longtime[6] train critic.
Competing objectives
Democrats' ambivalence toward the train isn't just rooted in the election-year imperative to play it safe with controversial issues. There are matters of principle at stake as well. The Sierra Club, among other environmentalist voices, has expressed concern[7] over diverting cap-and-trade revenue toward an infrastructure project that won't curb carbon emissions right away.
Rather than big-name environmental groups, it's large engineering and construction firms who are penning[8] letters supportive of the budget deal's funding.
Litigation heats up
Whatever the politics, attorneys and judges are likely to wield the decisive influence over the train's fate. For that, Californians have little to blame but the wording of Proposition 1A, the ballot measure voters approved in an effort to raise $9 billion of bonds for the train's construction. It's unusual for a proposition to include legalese as precise and restrictive as Prop. 1A. But key supporters of the measure deliberately used that kind of language. Rep. Alan Lowenthal, D-Long Beach, a former state senator involved in drafting the wording, told[9] the Los Angeles Times: "We didn't put them in as guidelines. … It was really clear what we wanted."
That leaves train advocates relying on high-concept legal arguments concerning the nature of voter intent. Californians, they suggest, may have simply wanted a high-speed rail system, ignoring the particulars of the measure itself. Such an interpretation of law is likely far more expansive than courts would wish to embrace.
California's 3rd District Court of Appeal may rebuff[10] a lawsuit designed to sink high-speed rail before any bonds authorized by Proposition 1A are offered. If Deputy Attorney General Ross Moody is correct, however, perhaps[11] six total suits could be brought against the train's construction.
Endnotes:
agreed: http://www.latimes.com/local/la-me-pol-state-budget-20140613-story.html
secured: http://www.ocregister.com/articles/federal-597373-state-project.html
voted: http://www.scpr.org/news/2014/06/10/44645/house-to-vote-on-halting-support-for-california-hi/
advanced: http://denham.house.gov/sites/denham.house.gov/files/HSR%20THUD%20Amendment%20Text.pdf
scored: http://www.scpr.org/news/2014/06/13/44705/does-kevin-mccarthy-s-rise-spell-trouble-for-calif/
longtime: http://www.latimes.com/local/political/la-me-pc-mccarthy-high-speed-rail-20140613-story.html
concern: http://nextcity.org/daily/entry/jerry-brown-wants-to-spend-california-cap-and-trade-money-high-speed-rail
penning: http://www.citylab.com/commute/2014/06/california-high-speed-rail-finally-finds-the-funding-it-needs/372976/
told: http://www.latimes.com/local/la-me-bullet-train-battle-20140609-story.html#page=1
rebuff: http://www.kcra.com/news/highspeed-rail-fight-lands-in-appeals-court/26144458#!0zVbB
perhaps: http://www.latimes.com/local/la-me-bullet-train-battle-20140609-story.html#page=2
Source URL: https://calwatchdog.com/2014/06/18/more-money-problems-for-ca-high-speed-rail/
---