CA hydropower advances
by Wayne Lusvardi | June 20, 2014 11:45 am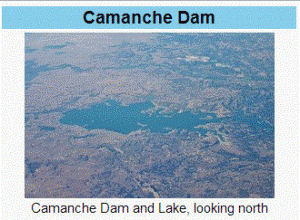 To service California's electricity market, hydropower finally is advancing. Currently, California needs to import cheap, water-based electricity hydropower from nearby states to bail out its power grid when solar power fades out at the sunset hours of each day.
So it's good news the Federal Energy Regulatory Commission[1] just gave approval for California's electric grid operator and Buffett's PacifiCorp to establish a western regional hydroelectric market.  PacifiCorp is the power authority over privately owned hydropower facilities in Washington, Oregon, Idaho, Utah and Wyoming[2].
But there's even better news: A new U.S. Department of Energy[3] study indicates California could generate 60 percent greater hydroelectricity from within its own borders without having to rely on Buffett's imported hydropower.
California is among six states with undeveloped hydroelectric resources under a new push by Congress to develop new hydropower capacity. The states with the greatest potential undeveloped hydropower[4] are:
Oregon, 8,920 megawatts (a megawatt is enough power to electrify 1,000 homes)
Idaho, 7,018 megawatts
Washington,  7,381 megawatts
California, 7,054 megawatts[5]
California's undeveloped power could come from: 4,029 megawatts (57 percent) from larger stream facilities and 3,025 megawatts (42 percent) from smaller stream facilities.
Potential
Historically, in a wet year such as 2011, large in-state hydropower facilities generated 36,583 gigawatt hours[6] of electricity, reflecting 18.2 percent of the state's total in-state electric power generation. (A gigawatt is 1,000 megawatts.)
Oak Ridge Labs estimates California has 22,108 gigawatt hours of undeveloped large hydroelectric power.
So California could generate 60 percent more hydropower in a wet year.  (Small stream hydroelectric production is not estimated here because it is too variable to make forecasts.)
Hydroelectric power is the largest source of renewable energy in California.  Unlike solar and wind power, which cease producing at night or when there's no wind, hydroelectric power can provide "base load" power day and night, as well as peaker power in an instant when backup power is needed.
However — and strangely — hydropower is not considered renewable energy under the California Global Warming Solutions Act of 2006.
U.S. Energy Secretary Ernest Monitz[7] has stated expanding hydropower doesn't necessarily mean "new dams," but could entail the expansion of existing dams.
However, California's new compromise $10.5 billion water bond[8] in the state Legislature, which would have to be approved by voters, calls for $3 billion for reservoirs that could include hydropower.
The most likely candidates mentioned for dam sites would be the proposed Sites Reservoir located upstream from the Delta along the Sacramento River; the proposed Temperance Flat Reservoir in the Sierras east of Fresno; and the raising of the Los Vaqueros Reservoir in Contra Costa County south of the San Francisco Bay.
Market
Beginning in 2015 California's Independent System Operator for electricity is planning an "Energy Imbalancing Market"[9] to buy cheap hydropower from other states during the sunset hours rather than buy natural-gas power. But federal hydropower dams are subject to demands by many other states. The ongoing drought also could call into question whether there's enough water in the Colorado River to turn hydro turbines.
California could "beat Buffett" by building its own new hydropower. But California doesn't have time to build new dams by 2015.  And inevitable environmental lawsuits against any new dams are driving California once again to be dependent on imported electric power.
It's also possible that, without competition from hydropower in Washington and Oregon, Buffett's PacifiCorp could stand to reap higher hydropower prices.
The bottom line is that at least there's action on using hydropower to meet California's increasing energy needs.
Endnotes:
Federal Energy Regulatory Commission: http://www.latimes.com/business/la-fi-western-energy-authorties-realtime-trading-market-20140619-story.html
Washington, Oregon, Idaho, Utah and Wyoming: http://www.berkshirehathawayenergyco.com/assets/img/our-businesses/pacificorp/map.png
U.S. Department of Energy: http://nhaap.ornl.gov/nsd
greatest potential undeveloped hydropower: http://www.waterpowermagazine.com/news/newsus-has-potential-for-65gw-of-new-hydro-capacity-4255317
California, 7,054 megawatts: http://nhaap.ornl.gov/nsd
36,583 gigawatt hours: http://energyalmanac.ca.gov/electricity/system_power/2011_total_system_power.html
U.S. Energy Secretary Ernest Monitz: http://texaspolitica.com/?p=53554
compromise $10.5 billion water bond: http://capitolweekly.net/lawmakers-float-water-bond-november/
"Energy Imbalancing Market": http://www.caiso.com/informed/Pages/StakeholderProcesses/EnergyImbalanceMarket.aspx
Source URL: https://calwatchdog.com/2014/06/20/ca-hydropower-advances/
---