Water bond drowns in Legislature
by Wayne Lusvardi | June 30, 2014 11:54 am
A $10.5 billion water bond apparently drowned in the California Senate this past week for the third time since 2010, even though the Central Valley faces a dire drought this summer. But the Legislature still might perform mouth-to-mouth resuscitation and waive[1] the June 26 deadline for putting the bond on the November ballot. The official name is Senate Bill 848, The Safe Drinking Water Quality and Water Supply Act of 2014.[2]
The Senate vote on the bond was 22 in favor and 9 opposed, mainly with Democrats favoring the bond and Republicans opposed.  But several Democrats abstained from voting and a couple of Republicans voted for the bond.
The main issue raised was whether the $15 billion Twin Tunnels[3] should have been included or not. The Twin Tunnels would send water under the Delta to Southern California.
State Sens. Darrell Steinberg, D-Sacramento, and Lois Wolk, D-Davis, opposed including the tunnels for fear it would trigger a North-South water war at the ballot box. Late in the water bond negotiations, Gov. Jerry Brown said he wanted a smaller $6 billion bond that was "tunnel neutral" (no tunnels).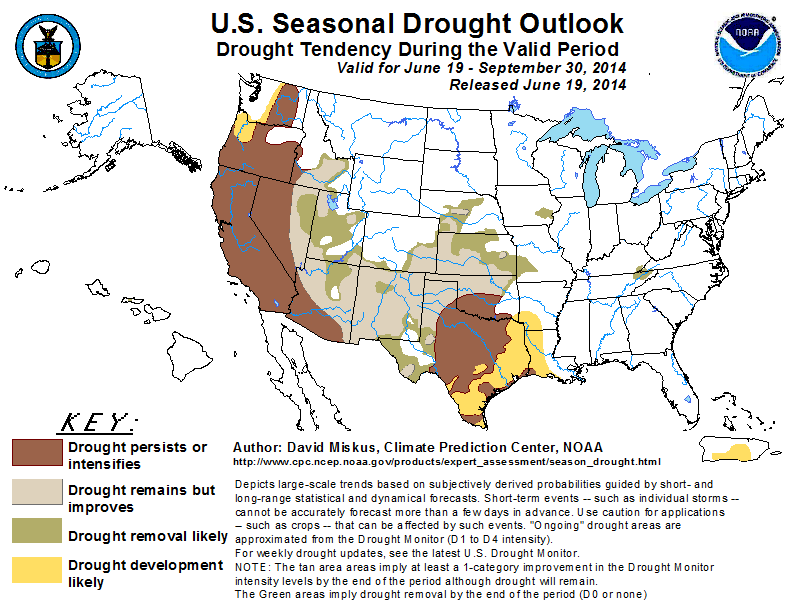 But SB848 contained almost nothing for Central Valley farmers with junior water rights who during droughts are asked to fallow their fields and plow under citrus trees so cities and fish can have enough water. The California water system now can only operate in a prolonged drought by having some farmers get wiped out, while cities remain untouched and other farmers have priority to water. This is because there has been no effective water storage added since the mid-1960s.
'Conservancy, Delta-Centric Water Bond'
Brown, Steinberg and Wolk did not mention that a "tunnel neutral" water bond also meant "farmer neutral," containing very little for Central Valley farmers hard hit by drought.  As Republican Senate Leader Bob Huff[4], R-Diamond Bar, put it, "The main issue was it was a conservancy, Delta-centric bond.  When we look at our constituencies, most of them are flatly opposed to it."
As written, the water bond would fund a large number of state environmental agencies, boards and nonprofit agencies and projects having nothing to do with drought or the title of the bond.  Only a pittance of funding would go for Central Valley farmers facing a scorching drought and high unemployment rates.
Democratic legislators were perhaps only following their constituencies. Only 36 percent of respondents in a recent poll[5] responded: "Water supply issues should be addressed even if it costs taxpayer dollars" (Question 43). And only 46 percent responded, "I would be willing to pay a higher water bill now to ensure a reliable, long-term water supply" (Question 44).
In addition, 82 percent said climate change was responsible for California's water supply problems, including 85 percent of Latinos (Question 32).
Bond details
The bond[6], as currently written, would allocate:
$3.02 billion for scattered water supply projects in different small communities all over the state that lacked safe drinking water mainly due to illegal land subdivisions in unincorporated Central Valley areas. $500 million for outright grants to disadvantaged communities that lacked the capability of paying for bonds on water projects. This would include a pooled reserve fund for several small disadvantaged communities water systems. $1.4 million for grants for groundwater cleanups, water conservation projects, repair of old water systems, recycling projects, groundwater management plans, and small water conveyance projects to link to larger water systems. Only 1.9 percent of the $10.5 billion would go to the drought-stricken Central Valley.
$3.18 billion for water quality projects including urban storm water capture and reuse projects, $460 million for the Wildlife Conservation Board, $100 million for the Wildlife Conservation Board for wildlife refuges and habitat areas, $100 million for restoration of the Salton Sea, $50 million for the Tahoe Regional Planning Compact, $100 million for the San Joaquin River Settlement Act, $1.175 billion for land conservancies to buy open space in various areas, $50 million for the Ocean Protection Council, $15 million for park land acquisition in Baldwin Hills area of Los Angeles, $65 million for buying land in the Santa Monica Mountains, $165 million for the State Coastal Conservancy, $15 million for coastal wetlands restoration, and $200 million for public agencies and nonprofit agencies. And $150 million vaguely for projects proximate to "major metropolitan cities for a river that has an adopted revitalization plan" (the Los Angeles River?).
 $1.3 billion for Delta ecosystem water quality and cultural and recreational improvements, including $900 million for habitat restoration, infrastructure to mitigate impacts of conversion of agricultural land to habitat, as well as $400 million for flood protection and levee improvement projects.
$3 billion for water storage projects dedicated only to provide improvements to the Delta ecosystem, including groundwater storage projects that improve the Delta ecosystem, Delta recreational projects, and funding for the Department of Fish and Game for prioritizing the environmental value of water quality.  Ecosystem improvements are defined as contributing "to the restoration of aquatic ecosystems and native fish and wildlife."
Endnotes:
waive: http://www.sacbee.com/2014/06/23/6506430/delta-tunnels-conservancy-in-spotlight.html
Senate Bill 848, The Safe Drinking Water Quality and Water Supply Act of 2014.: http://www.leginfo.ca.gov/pub/13-14/bill/sen/sb_0801-0850/sb_848_bill_20140623_amended_sen_v95.html
Twin Tunnels: http://www.aquapedia.com/sacramento-san-joaquin-delta-canaltunnels-proposals/
Bob Huff: http://www.sacbee.com/2014/06/23/6506430/delta-tunnels-conservancy-in-spotlight.html
recent poll: http://gqrr.com/images/Blog_posts/documents/USC-LAT/060514_USC_LA_Times_fq.pdf
bond: http://www.leginfo.ca.gov/pub/13-14/bill/sen/sb_0801-0850/sb_848_bill_20140623_amended_sen_v95.html
Source URL: https://calwatchdog.com/2014/06/30/water-bond-drowns-in-legislature/
---