Arnold still driving Hummer
by John Seiler | July 9, 2014 11:58 am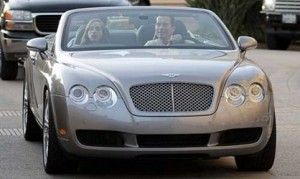 Despite its motto, "Advancing Policy, Not Politics" — as if the two could be separated — the USC Schwarzenegger Institute[1] still promotes the former governor's policies on global warming/climate change. A recent press release reads:
Arnold Schwarzenegger Issues Statement on President Obama's Plan to Use the Clean Air Act to Cut Carbon Pollution from Existing Power Plants
Former Governor of California Arnold Schwarzenegger today issued the following statement after Environmental Protection Agency (EPA) Administrator Gina McCarthy's announcement that the EPA will use the Clean Air Act to carry out President Obama's Climate Action Plan to cut carbon pollution from existing power plants:
"You only need to look at the decades of scientific research and at the epic droughts and superstorms to know that we can't wait any longer to take action on climate change."
And of course Arnold still supports imposing AB 32[2], the Global Warming Solutions Act of 2006, which he signed into law to reduce global warming that now clearly is known not to exist[3].
Yet Arnold himself, personally, still tools around in gigantic cars. Most recently he was photographed in a massive Hummer[4]. It's not clear if this was the hygdrogen-powered Hummer Arnold once shared with GM[5] before it went bankrupt and canceled the marque.
And as I have noted,[6] Arnold also drives massive, gas-buzzing Mercedes and Bentleys.
To sum up:
Arnold cheers on Obama's destruction of good, middle-class coal miner jobs in Appalachia supposedly to reduce pollution.
Yet he drives gas-guzzling dinosaurs, while jetsetting around the globe promoting his global warming/climate change schtick to make him feel important among the rich and famous.
Endnotes:
the USC Schwarzenegger Institute: http://schwarzenegger.usc.edu/
AB 32: http://www.arb.ca.gov/cc/docs/ab32text.pdf
now clearly is known not to exist: http://www.breitbart.com/Breitbart-London/2014/06/23/Hank-Paulson-as-wrong-about-climate-change-as-he-was-about-the-crash
photographed in a massive Hummer: http://www.dailymail.co.uk/tvshowbiz/article-2680376/Arnold-Scharzengger-kisses-daughter-Christina-goodbye-treating-breakfast-Los-Angeles.html
Arnold once shared with GM: http://www.forbes.com/2005/01/04/cx_dl_0104vow.html
as I have noted,: http://calwatchdog.com/2013/02/02/chameleon-arnold-now-says-simple-ways-of-austria-made-him-a-green-fanatic/
Source URL: https://calwatchdog.com/2014/07/09/arnold-still-driving-hummer/
---