High-speed rail goes for second segment
by Kathy Hamilton | July 11, 2014 2:40 pm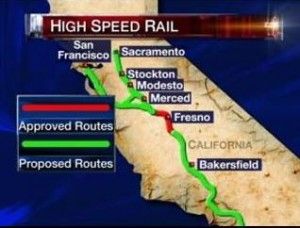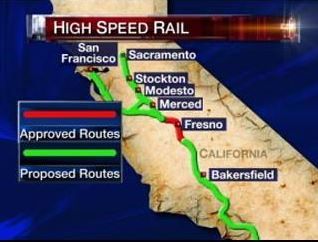 The California High-Speed Rail Authority is floating a new idea: Start a second high-speed rail segment, but this time fund it using cap-and-trade dollars. The project would stretch from Burbank to Palmdale in the northeast section of the Los Angeles basin.
The money would come from the cap-and-trade program[1] that effectively charges industries for excessive greenhouse gas emissions, as set up two years ago by the California Air Resources Board. In the California budget for fiscal year 2014-15, which began on July 1, the Legislature and Gov. Jerry Brown authorized $250 million of cap-and-trade funds for high-speed rail this coming year and 25 percent of anticipated revenues in future years.
The new leadership in the Legislature, Assembly Speaker Toni Atkins, D-San Diego, and Senate President Pro Tem Kevin de Leon, D-Los Angeles, both hail from Southern California. So it makes political sense to build the second segment in the Southland while the Initial Construction Segment is being completed from Bakersfield to Madera.
But there are problems with the second segment:
It doesn't connect to the Bakersfield-to-Madera section
There still isn't money for that Initial Construction Segment, let alone a second segment.
Each segment must stand on its own and be approved by the Legislature after the CHSRA submits a funding plan, as explained by CHSRA Chairman Dan Richard at the 34 minute mark of his testimony on this YouTube[2] of his March 13, 2012 testimony.
So while cap-and-trade funds are a possible source to fund this new segment, it's a shaky one as $250 million a year is only a fraction of what could easily exceed $7 billion for this segment, let alone the $68 billion needed for the full CHSRA project, at least according to official estimates.
Bottom line: There just isn't enough money to do anything big, quickly.  
Legislature
Given that the CHSRA first has to submit a plan for the second segment that the Legislature must approve, here's the question: Will the Legislature feel this funding source is adequate to approve the segment? All environmental work on the second segment won't be finished until summer of 2015.
Even if that happens, there are more problems.
Normally, $2.7 billion in state bond funds from Proposition 1A[3] would be used for this project, but they are currently frozen due to a court actions, as CalWatchdog.com has reported[4].
Court actions are unpredictable. But until they are resolved, the bond money cannot be used.
Until then, cap-and-trade is all the CHSRA has, as no federal dollars or private investments have come forward. (See page 15 in the Legislative Update[5] for approximate costs for each segment.)
Before the CHSRA can spend a dime of cap-and-trade auction revenue, the state first must fulfill a federal obligation to match federal spending in the Central Valley segment.
Originally, those matching funds were supposed to come primarily from bond money – which is frozen in court, at least for now.  So cap and trade, considered a backstop after Prop. 1A passed in 2008, has become the only game in town.
Finally, in addition to the $250 million from cap and trade, the state's fiscal year 2013-14 budget loaned $500 million of cap-and-trade auction revenues to the general fund.
Senate Bill 862 required that, when the loan is repaid, $400 million would go to the high-speed rail project. If that happens, the CHSRA will have no trouble meeting its obligations.
---
Kathy Hamilton is the Ralph Nader of high-speed rail, continually uncovering hidden aspects of the project and revealing them to the public.  She started writing in order to tell local communities how the project affects them and her reach grew statewide.  She has written more than 225 articles on high-speed rail and attended hundreds of state and local meetings. She is a board member of the Community Coalition on High-Speed Rail; has testified at government hearings; has provided public testimony and court declarations on public records act requests; has given public testimony; and has provided transcripts for the validation of court cases. 
Endnotes:
cap-and-trade program: http://www.arb.ca.gov/cc/capandtrade/capandtrade.htm
YouTube: https://www.youtube.com/watch?v=0jzFu1X8vLU
Proposition 1A: http://ballotpedia.org/California_Proposition_1A,_High-Speed_Rail_Act_(2008)
CalWatchdog.com has reported: http://calwatchdog.com/2014/06/24/new-suit-filed-against-high-speed-rail/
Legislative Update: http://www.hsr.ca.gov/docs/about/legislative_affairs/SB1029_Project_Update_Report_March_Final_022814.pdf
Source URL: https://calwatchdog.com/2014/07/11/high-speed-rail-goes-for-second-segment/
---