CA fossil-fuel foes want to ban more than just fracking
by Chris Reed | July 17, 2014 11:00 am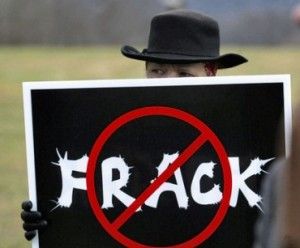 California foes of hydraulic fracturing, or fracking, have been surprised and disappointed at their inability to get Gov. Jerry Brown or the Legislature to ban the practice. Brown's support for a law regulating but permitting the newly improved drilling technique barely seemed to discomfit the oil industry.
But now frack phobes are borrowing a tactic from anti-fracking activists in Colorado and New York state and focusing on county-level moratoriums. This is from KQED[1], the San Francisco PBS station and website:
In May, Santa Cruz County supervisors voted to pass a fracking ban. Voters in San Benito and Santa Barbara counties will vote on bans in November. Activists in Butte and Mendocino counties are still working to qualify ballot measures.
But activists don't just want to ban fracking, which uses underground water cannons to blast through rocks and access oil and natural gas reserves. They're also targeting another drilling technique, KQED notes. Armen Nahabedian of Citadel Exploration says that his company …
… doesn't use fracking, but it does use another oil extraction technique that the initiatives would ban, called cyclic steam injection. Oil in California is heavy, so producers inject steam underground to loosen it up.
"Steam injection is an old technique," he says. "We've been using it in the industry since the early 1960s. It's not much different than cleaning a dirty engine block."
About 60 percent of oil produced in California is extracted with steam injection and similar methods, making it more common than fracking. Nahabedian says banning steam injection would mean the state's refineries would have to look at importing oil from outside the state.
The inclusion of steam injection in the fracking ban is awfully telling. It shows that the real goal of anti-fracking activists is shutting down fossil fuels in general, not just allegedly protecting the environment.
KQED's story helps foster this movement, as do the California media in general, by never noting that the Obama administration — the greenest administration in history — considers fracking safe.
What few [Californians] seem to understand, and what the media have rarely emphasized, is that the Obama administration dismisses [environmentalists'] alarmism about fracking … .
This is why the president's first energy secretary, Steven Chu, said: '"We believe it's possible to extract shale gas in a way that protects the water, that protects people's health. We can do this safely."
This is why the MIT physicist the White House recently nominated to succeed Chu, Ernest Moniz, described the risks to water posed by fracking as "challenging but manageable."
This is why the president's first Environmental Protection Agency director, Lisa Jackson, told a House committee that she was "not aware of any proven case where the fracking process itself has affected water."
More on this angle here[2].
Endnotes:
from KQED: http://blogs.kqed.org/science/2014/07/14/anti-fracking-activists-in-california-take-fight-to-county-ballots/
here: http://calwatchdog.com/2013/03/12/pathetic-media-never-report-obama-support-for-fracking/
Source URL: https://calwatchdog.com/2014/07/17/ca-fossil-fues-foes-want-to-ban-more-than-just-fracking/
---