CA, feds struggle with — and spar over — pot regulation
by James Poulos | July 18, 2014 5:24 pm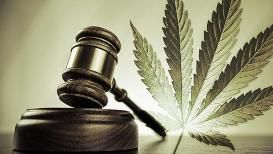 As California muddles ahead with its disorganized decriminalization of marijuana, local and federal lawmakers are adopting distinctly different approaches to the prospect of pot-related crime.
City councils are apt to worry about different kinds of drug crime than Congress. But the new attention from both ends of the political pecking order comes from a single source: the legal and regulatory uncertainty surrounding the burgeoning marijuana economy.
City power struggles
It's a phenomenon playing out conspicuously in the county of San Luis Obispo. There, cities have moved to keep out pot dispensaries. Arroyo Grande, which passed its ban in 2008, added[1] a supplementary ban four years later on so-called "mobile dispensaries," the door-to-door marijuana delivery services that frequently, but not always, operate in compliance with California's medical marijuana rules.
Mobile dispensaries are undeterred, however, provoking a fresh pot controversy in nearby Paso Robles. The Paso Robles City Council deadlocked[2], killing[3] a plan to ratchet up from brick-and-mortal prohibitions on dispensaries to a ban like Arroyo Grande's.
Proponents of the measure invoked a staff report to argue[4] that delivery services posed a "current and immediate threat" to the health and safety of city residents on account of violent crimes seen linked to medical marijuana, according to the San Luis Obispo Tribune.
Angry residents, however, lambasted[5] the City Council for what they characterized as the summary and one-sided nature of the report. At least one resident found it bitterly ironic that the mobile dispensary ban arose from the city's surprise when a delivery operator sought to apply for a business license.
The ordeal marks the second time the City Council attempted to stamp out pot delivery, with Paso Robles Mayor Duane Picanco citing[6] the federal illegality of marijuana as the reason for his support.
Federal changes also playing out
Yet marijuana law is also plagued by uncertainty, confusion and concern at the federal level. While California localities struggle to agree on mobile dispensaries, an influential California legislator is pushing forward on rules meant to reduce drug crime in a different way.
Earlier this year, the Treasury and Justice Departments issued[7] guidelines meant to calm bank fears of criminal prosecution for working with marijuana-related businesses legalized by state law. But, as the Wall Street Journal reported, the quasi-regulatory guidance left lenders even more uncertain; banks worried the federal government didn't really guarantee legal safety instead adding "burdensome new requirements that they screen customers for marijuana ties." As a result, the Journal concluded, "banks have become even more uneasy about accepting marijuana money, pushing state-licensed pot businesses deeper into a financial netherworld."

Into that bureaucratic morass stepped Rep. Dana Rohrabacher, the Huntington Beach Republican with a strong libertarian streak on drugs and other civil liberties issues. Just last month, Rohrabacher led[8] enough Republicans to help pass a House bill that would bar federal pot prosecutions in excess of state law. This month, the congressman advanced a new piece of legislation — an amendment devised to defund any action by Treasury to penalize banks serving state-legal marijuana businesses.
On July 16, Rorhabacher helped muster[9] enough votes to pass that bill, too. He was joined in sponsoring the legislation by Representatives Barbara Lee, an Oakland Demcrat; Denny Heck, D-Wash.; and Ed Perlmutter, D-Colo.
Bipartisan push to protect state pot laws
The vote is not just a landmark in federal drug legislation. It also confirms the instrumental role of bipartisan California legislators in successfully driving bipartisan votes on marijuana law.
Despite the dramatic changes, the Senate must still adopt a similar approach to drug reform in order for Rohrabacher and Lee's agenda to advance. Bipartisan efforts along those lines are afoot, but wrangling behind closed doors has sidelined one proposed bill. Last month, Senators Rand Paul, R-Ky., and Cory Booker, D-N.J., introduced[10] an amendment that would block the Department of Justice and the Drug Enforcement Administration from investigating Americans complying with their state's marijuana laws.
Endnotes:
added: http://www.sanluisobispo.com/2012/10/10/2257964/mobile-medicinal-marijuana-ag.html
deadlocked: http://kcbx.org/post/paso-robles-city-council-deadlocks-over-mobile-medical-marijuana-dispensary-ban
killing: http://www.sanluisobispo.com/2014/07/16/3156055/medical-marijuana-paso-robles.html
argue: http://www.sanluisobispo.com/2014/07/14/3153569/paso-robles-to-consider-ban-on.html
lambasted: http://www.sanluisobispo.com/2014/07/16/3156055/medical-marijuana-paso-robles.html
citing: http://www.newtimesslo.com/news/11195/paso-robles-city-council-kills-proposed-ban-on-mobile-medical-marijuana-dispensaries/
issued: http://online.wsj.com/news/articles/SB10001424052702304049904579515911975177756
led: http://calwatchdog.com/2014/06/23/ca-congressman-changes-gop-pot-game/
muster: http://www.drugpolicy.org/news/2014/07/us-house-votes-allow-banks-accept-deposits-marijuana-stores-and-dispensaries
introduced: http://www.politico.com/story/2014/07/cory-booker-rand-paul-team-up-108640.html
Source URL: https://calwatchdog.com/2014/07/18/ca-feds-struggle-with-and-spar-over-pot-regulation/
---