Summary details high-speed rail problems
by Kathy Hamilton | August 6, 2014 10:58 am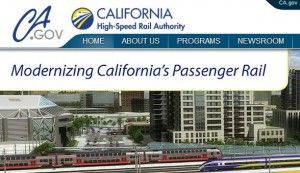 As construction is going forward, now would be a good time to clear the air a little and summarize California's high-speed rail project. And why not with a little humor?
This month the Santa Clarita Valley Signal published a tongue-in-cheek editorial[1] on the project. It referenced the mandate in Proposition 1A[2], the 2008 bond initiative voters approved that launched the project, for a short high-speed rail trip between Los Angeles and San Francisco.
"The two-hour-and-40-minute ride now can be achieved only with a straight-line tunnel from Bakersfield to Pacoima — and no potty breaks in Sand Canyon," the Signal quipped. "Truth be told, we like the Bakersfield-to-Pacoima tunnel idea. It bypasses the Santa Clarita Valley, certainly saving many pedestrian deaths, and provides a nice conduit to move much-needed water when the whole bullet train idea swirls down the big porcelain throne."
The levity was not appreciated by Michelle Boehm, the Southern California Regional Director for the California High-Speed Rail Authority, which is in charge of constructing the project. But her comments are worth analysis.
"I am writing today to correct the record so that readers in the Santa Clarita and Antelope valleys will get an accurate picture of the High-Speed Rail Program," she said in her rebuttal[3] in the Signal.
Project costs
Boehm wrote:
"The Phase I Blended System, or travel from San Francisco to Los Angeles/Anaheim, is currently estimated to cost  $67.6 billion. 
"In fact, this number was recently updated for the California High-Speed Rail Authority's 2014 business plan, and the cost actually went down slightly." 
But the newest number is not realistic at all.
A member of the CHSRA's construction team, URS Corp., has steadfastly insisted project costs are $1 billion more than reported by the CHSRA. The Los Angeles Times[4] reported:
"The estimate, prepared for the state by a team led by San Francisco-based engineering firm URS Corp., includes higher costs for tracks, structures, land purchases, signals and electrical systems in a segment that would run from Fresno to Bakersfield.
"The lowest cost estimate for the 114-mile segment in a 2011 environmental report was $6.19 billion. The comparable figure increased 15 percent to $7.13 billion in the new report."
The CHSRA denies URS' allegations. URS has not backed down.
Yes, the CHSRA is building "something" in the Central Valley. But it won't be ready for high-speed rail because it won't have electricity. In a nutshell, the CHSRA doesn't yet have permission from the California Public Utilities Commission, which wrote in its analysis of the CHSRA proposal:[5]
"The bottom line is that transmission and electrical infrastructure proposals require complex
environmental analysis (prior to Commission approval) and construction monitoring (after Commission approval). The CPUC relies on consultants to perform environmental assessments, prepare environmental documents, and conduct construction monitoring. This BCP [Budget Change Proposal for fiscal year 2014-15] requests the CPUC staff resources to hire and manage the technical consultants from a technical point of view (our PURA [Public Utilities Regulatory Analyst] staff), to utilize the consultant resources in our formal decision making process (our ALJ [Administrative Law Judge] staff), and administer our consulting contracts (our Contracts Office staff)."
Trip time 
Boehm wrote:
"The system under design is fully capable of achieving the trip time required by Proposition 1A, passed by California voters in 2008. The independent Peer Review Group stated during a recent legislative hearing that the Authority's 'pure run time for nonstop trains from San Francisco Trans Bay Terminal to L.A. Union Station has thus been designed to be 2 hours, 32 minutes.'"
But time and speed go hand and hand.  You need a certain speed to make the time requirements.   The CHSRA had no proof at all about whether or not they could make the times when their April 2012 business plan was published. See author Kathy Hamilton's declaration[6] used for the Tos/Fukuda/Kings County lawsuit, which shows the proof.
In a response to a public records request for proof, the CHSRA returned this response to CalWatchdog.com:
"Ms. Hamilton – The answer is that no document exists. These were verbal assertions based on skill, experience, and optimism and so [CHSRA Chair] Dan Richard went with the expertise of the engineers offering these assertions. I have been informed that a memo is in the process of being drafted on this very issue and I will provide that to you as soon as it's complete. Their best guess is that by end of next week it may be ready. I apologize for the inconvenience in waiting so long only to find no documents existed."
But people who voted for this bond measure thought the train would make it from Los Angeles to San Francisco in two hours and 40 minutes. Promised the Secretary of State's Voter Guide[7], in the "Official Title and Summary,"Prop. 1A "establishes a clean, efficient 220 MPH transportation system." Nothing is in there about optimism.
The blended system now being constructed, which uses existing infrastructure, does not allow for high-speed and frequent high-speed rail service, as it would if high-speed rail operated on independent tracks.
Space between trains
According to Assembly Bill 3034[8], the 2008 law that put Prop. 1A on the ballot, the system was supposed to be capable of a five-minute space between trains, going up to 12 trains per hour. This is called "headway."
But the blended system only allows for three or four trains per hour because other, slower rail lines, using the same tracks, have to be coordinated.  It is a known fact that sharing tracks will not allow for a high-speed rail service.
Prop. 1A's requirements can't be met with a blended system, as shown in Quentin Kopp's[9] court declaration. A former state senator, Kopp long has been a major backer of high-speed rail, and was the first chairman of the CHSRA. But he came to oppose the current project because it won't meet the requirements Prop. 1A promised to voters.
The Peer Review Group that examined the project earlier this year said the CHSRA must include extra time for stops and starts and delays. The group said it was more realistic to run an express train that takes three hours and eight minutes.  See the March 27 Senate Transportation Committee hearing on high-speed rail (it's at 21:18 minutes here[10]).
Time requirements
The Reason Foundation's Updated Due Diligence Report[11] predicted the train will go way beyond the required times mandated in Prop. 1A; and would make it in a range of between three hours and 30 minutes (optimistic) and four hours and 30 minutes (pessimistic). This is found in chart ES2. Such times do not compete well with airlines flying from LAX to SFO.
It is true the CHSRA always planned a lesser speed through more populated areas, originally 125 mph from former business plans.
However, the Bay Area has 40 grade crossings that are currently not properly separated by grade. So the CHSRA would not be able to get the 125 mph city speed approved from the California Public Utilities Commission because the CHSRA doesn't have adequate grade separations for safe running.
In sum, and all kidding aside, the high-speed rail project still doesn't come near meeting the Prop. 1A mandates.
---
Kathy Hamilton is the Ralph Nader of high-speed rail, continually uncovering hidden aspects of the project and revealing them to the public.  She started writing in order to tell local communities how the project affects them and her reach grew statewide.  She has written more than 225 articles on high-speed rail and attended hundreds of state and local meetings. She is a board member of the Community Coalition on High-Speed Rail; has testified at government hearings; has provided public testimony and court declarations on public records act requests; has given public testimony; and has provided transcripts for the validation of court cases. 
Endnotes:
tongue-in-cheek editorial: http://www.signalscv.com/section/32/article/123644/
Proposition 1A: http://ballotpedia.org/California_Proposition_1A,_High-Speed_Rail_Act_(2008)
her rebuttal: http://www.signalscv.com/m/section/33/article/124226/
Los Angeles Times: http://www.latimes.com/local/la-me-bullet-train-costs-20140508-story.html
its analysis of the CHSRA proposal:: http://www.cpuc.ca.gov/NR/rdonlyres/BF95706A-50B5-46CD-877F-BFDA85F6DC89/0/BCP_6ElectricalInfrastructurePlanngforHSRInitiative.pdf
declaration: http://transdef.org/HSR/Taxpayer_assets/Hamilton%20Supp%20Dec.pdf
Secretary of State's Voter Guide: http://voterguide.sos.ca.gov/past/2008/general/pdf-guide/suppl-complete-guide.pdf
Assembly Bill 3034: http://www.leginfo.ca.gov/pub/07-08/bill/asm/ab_3001-3050/ab_3034_bill_20080826_chaptered.html
Quentin Kopp's: http://transdef.org/HSR/Taxpayer_assets/HSR%20Declarations%20of%20Experts.pdf
here: https://www.youtube.com/watch?v=hZKFTptL1Ls
Reason Foundation's Updated Due Diligence Report: http://reason.org/files/california_high_speed_rail_report.pdf
Source URL: https://calwatchdog.com/2014/08/06/summary-details-high-speed-rail-problems/
---