High-speed rail without federal money?
by John Seiler | August 10, 2014 8:45 am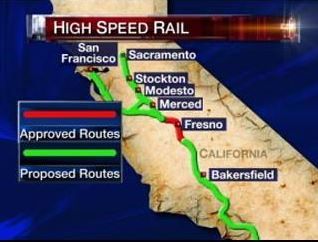 Last week Gov. Jerry Brown said he would continue building the high-speed rail project[1] without federal money. It's commendable he doesn't want to burden U.S. taxpayers.
But it's hard to see how the project can be built without federal money, which has funded[2] every recent major mass-transit project in America. That means the feds only would fund $3.5 billion of the project, money already allocated, with Californians taking the burden for the rest of the estimated $68 billion.
It's also reality that the Republican U.S. House of Representatives, especially now that Kevin McCarthy is the majority leader, will not spend a penny on the project. McCarthy strongly opposes[3] it for his home state.
It's also highly unlikely Republicans will lose control of the House in November, and probably even in 2016. So, realistically, the earliest Democrats could take over the House would be in 2018, perhaps as a reaction against a Republican president elected in 2016, as happened when Democrats took over the House in 2006 when George W. Bush was president.
So — also assuming Democrats control the Senate — it would be 2019 before Democrats could pass a high-speed rail subsidy bill in Congress — five years from now.
But — stay with me here — that would assume a Republican president, who probably would not be keen on spending billions on California, a state the GOP no longer comes close to carrying.
And if a Democrat is elected president in 2016, that means the GOP still would win the House in 2018 — again on the historical data that sitting presidents usually lose mid-term elections.
So now we move to 2020, when Democrats realistically could win the presidency and both houses of Congress in circumstances we can't possibly predict. They would take office in 2021, seven years from now.
Today we also can't possibly predict the technological, economic and other realities of 2021 in California, America and the world.
Meanwhile, assuming he is re-elected in November, Brown finally will leave office as his fourth term as governor ends in Jan. 2019. It's unlikely his successor, facing money pressures we can't imagine today, especially on pensions, would continue the project.
So high-speed rail remains what I have said about it from the beginning: a way to spend $3.5 billion in federal money and $9.9 billion in state bond funds already allocated. To that, the train is incidental.
Endnotes:
would continue building the high-speed rail project: http://www.latimes.com/local/political/la-me-pc-mccarthy-high-speed-rail-20140613-story.html
has funded: http://www.fta.dot.gov/grants.html
strongly opposes: http://www.latimes.com/local/political/la-me-pc-mccarthy-high-speed-rail-20140613-story.html
Source URL: https://calwatchdog.com/2014/08/10/high-speed-rail-without-federal-money/
---