Unlike Brown, Hawaii gov took on teachers — and paid
by Chris Reed | August 11, 2014 8:00 am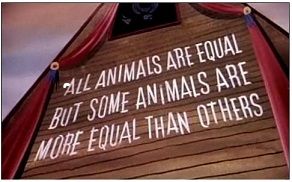 As someone who went to college in Hawaii and spent eight years there as a journalist, I know the state's politics pretty well. It is so solidly Democrat that it only has one Republican in its state senate. This monolithic hold on state government in turn empowers the party's base of public employee unions, which expect deference.
Some expect it even more than others. Which brings us to the media's conventional theories[1] as to why Hawaii Gov. Neil Abercrombie was defeated in the Democratic primary on Saturday in a landslide by state Sen. David Ige. Yes, Abercrombie angered many Democrats when he refused the request of dying, beloved Sen. Daniel Inouye to appoint Congresswoman Colleen Hanabusa as his successor. Yes, Abercrombie wasn't particularly skilled in selling a positive image.
But if he hadn't taken on the powerful Hawaii State Teachers Association (HSTA) in 2011 and forced teachers to take a 5 percent pay cut to make the state budget balance, he probably wouldn't have faced Ige or a serious challenger in the primary. A Honolulu Star-Advertiser analysis from July 31, 2011, notes that Abercrombie only wanted teachers to share the same pain as other public employees:
Abercrombie imposed a "last, best and final offer" that roughly matches the pay cuts taken by the state's largest public employee union, the Hawaii Government Employees Association.
This led the HSTA to seek out Ige to run for governor. In February, the union formalized its support[2], giving a huge boost to the obscure lawmaker.
And now Abercrombie is only the second Hawaii governor to ever lose a re-election bid.
CA teachers spared the pension pain facing other public employees
The contrast with Jerry Brown could not be more instructive.
In 2011, the California governor unveiled a pension reform proposal that was unusually ambitious. In an approach similar to Abercrombie's on the 2011 Hawaii state budget, Brown's plan held that there should be shared pain to address  a fiscal problem — in this case, the long-term underfunding of the California Public Employees' Retirement System and some local government pension funds. That translated into legislation under which affected employees eventually will have to roughly split the total cost of their pensions with taxpayers.
But this year's law to shore up the California State Teachers' Retirement System ignores that framework. Instead, taxpayers will foot 90 percent of the cost[3] of new CalSTRS funding and teachers only 10 percent.
More $ meant for struggling students heads to CA teachers
In California, some public employees are more equal than others. Jerry Brown figured that out long ago.
In Hawaii, the governor only figured that out Saturday.
Meanwhile, there's more evidence that the Local Control Funding Formula education reform approved last year was a ruse cooked up by Brown, the CTA and CFT to free up more funds for teacher compensation — not primarily a way to help target funds for struggling students. This is from the Sac Bee[4]:
Sacramento-area school districts have begun giving teachers pay raises and bonuses, often retroactively, as they receive more funding from the state.
Twin Rivers Unified, Elk Grove Unified and El Dorado Union High are among the many local school districts that have negotiated raises with their unions that reach back to last year or beyond. The pay hikes are on top of the "step-and-column" increases traditionally given to educators annually based on their years of service and level of education.
The raises come after a 2012 voter-approve tax hike and a multiyear state plan to increase school funding through a new formula intended to direct money to low-income students and English-language learners.
As Cal Watchdog noted last week, this same scenario[5] is unfolding in Los Angeles Unified.
It is not what voters were promised when they backed tax hikes in 2012. It is not what the media were told would happen when the Local Control Funding Formula was enacted in 2013.
But it's par for the course. In California, as in Hawaii, unions dominate government — especially teacher unions. Mess with their compensation, and you'll pay a price. And if that means other unions play the role of second-class citizens in Democratic Party politics, so be it.
Endnotes:
conventional theories: http://abcnews.go.com/Politics/wireStory/ige-beats-gov-abercrombie-hawaii-primary-race-24917166
formalized its support: http://www.huffingtonpost.com/2014/02/17/david-ige-neil-abercrombie_n_4803650.html
90 percent of the cost: http://calwatchdog.com/2014/05/27/calstrs-bailout-will-be-equivalent-of-sequester-on-other-ca-spending/
Sac Bee: http://www.sacbee.com/2014/08/09/6616099/the-public-eye-sacrament-area.html#mi_rss=Latest%20News
scenario: http://calwatchdog.com/2014/08/08/l-a-teachers-union-exposes-truth-about-local-contral-funding-formula/
Source URL: https://calwatchdog.com/2014/08/11/unlike-brown-hawaii-gov-took-on-teachers-and-paid/
---