Fed bills could be key to CA water storage
by Wayne Lusvardi | August 21, 2014 4:14 pm
There was a lot of hoopla[1] last week over the California Legislature and Gov. Jerry Brown putting a bipartisan water bond on the Nov. 4 ballot that, for the first time in nearly 50 years, actually includes storage. Proposition 1 would spend $7.5 billion[2], including $2.7 billion on storage.
However, despite the bipartisan support and the ongoing drought, the passage of Proposition 1 is by no means certain. For one thing, annual payments of half a billion dollars per year[3] might turn off voters. The money would have to come from reduced funding from the state general fund for other things, or from tax increases.
If the bond fails at the ballot box, a compromise water bill pending in U.S. Congress may be the last and only hope for future water storage funding in 2014. It is a bipartisan effort by Sen. Dianne Feinstein, D-Calif., and Rep. David Valadao, R-Central Valley.
On Aug. 18, Feinstein[4] renewed her push for congressional compromise on her Emergency Drought Relief Act, S. 2198[5].  Feinstein's bill has been sitting dormant in the U.S. Senate since February 2014. Also dormant has been Valadao's H.R. 3964, the Sacramento-San Joaquin Valley Emergency Water Delivery Act[6].
What is being confidentially hashed out is compromise language between California House Republicans, including Valdao and powerful new House Majority Leader Kevin McCarthy of Bakersfield, and California's two Democratic U.S. Senators, Feinstein and Barbara Boxer.
Because of the time constraints before November, the U.S. Senate may have to consider a "unanimous consent vote"[7] to expedite approval. The Bureau of National Affairs[8] reported that Boxer has been reluctant to proceed, as she is waiting for the Obama Administration to provide its position on the matter at her request.
Hitches
A hitch in the negotiations is a provision to relax the National Endangered Species Act and the Clean Water Act contained in the Republican-backed House bill to avoid redundant environmental clearances with the California Environmental Quality Act, as described on pp. 23-24 of H.R. 3964[9].
So far water storage has not merited any relaxation of environmental laws by the governor or legislature. Yet Brown[10] has attempted without success to reduce the number of circumstances a court could block the construction of California's high-speed rail project under CEQA.  And Brown was successful in qualifying centralized solar power plants in the Mojave Desert as "leadership projects"[11] that qualified for fast tracking under CEQA.
Another potential hitch in the negotiations not mentioned by the BNA report is the flexibility of federal partnering for a water storage project. As H.R. 3964 reads on p. 15:
"The Secretary [of the Interior] is authorized to enter into contracts pursuant to Federal reclamation law and this title with any Federal agency, California water user or water agency, State agency, or private organization for the exchange, impoundment, storage, carriage, and delivery of nonproject water for domestic, municipal, industrial, fish and wildlife and any other beneficial purpose."
What such flexibility could involve is a joint venture[12] of the federal government with, say, a large sub-regional water district that could use property taxes to pay for the construction of a local water storage project, such as the one proposed at Temperance Flat[13], rather than a state bond requiring a statewide vote.
The new 2014 State Water Bond has no privatization provision.
Odds
California water economist Rodney T. Smith[14] has statistically estimated the share of voters in November for the new $7.5 billion bond would be about 42 to 43 percent, which would fall under threshold for majority passage.
Much depends on whether Brown makes a full-court press to pass the bond, as he did the Proposition 30 tax increase in 2012.
If Prop. 1 fails, then the Feinstein-Valadao legislation could be California's last hope for more needed water storage.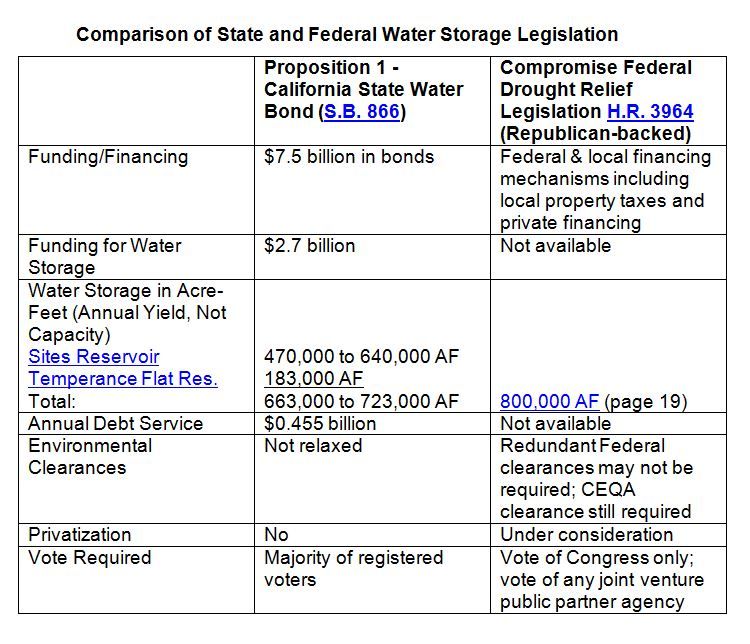 Endnotes:
hoopla: http://www.breitbart.com/Breitbart-California/2014/08/14/CA-Government-Passes-New-Water-Bill
7.5 billion: http://www.leginfo.ca.gov/pub/13-14/bill/sen/sb_0851-0900/sb_866_cfa_20140812_183947_asm_floor.html
half a billion dollars per year: http://www.leginfo.ca.gov/pub/13-14/bill/sen/sb_0851-0900/sb_866_cfa_20140812_183947_asm_floor.html
Feinstein: http://www.bna.com/california-lawmakers-staff-n17179893869/
Emergency Drought Relief Act, S. 2198: http://op.bna.com/env.nsf/r?Open=akoi-9mzs72
H.R. 3964, the Sacramento-San Joaquin Valley Emergency Water Delivery Act: http://1.usa.gov/1ibYHoj
"unanimous consent vote": http://www.senate.gov/reference/glossary_term/unanimous_consent.htm
Bureau of National Affairs: http://www.bna.com/california-lawmakers-staff-n17179893869/
H.R. 3964: http://www.gpo.gov/fdsys/pkg/BILLS-113hr3964pcs/pdf/BILLS-113hr3964pcs.pdf
Brown: http://blogs.sacbee.com/capitolalertlatest/2012/06/jerry-brown-abandons-bid-to-protect-high-speed-rail-from-ceqa.html
"leadership projects": http://blogs.sacbee.com/capitolalertlatest/2013/02/jerry-brown-fast-tracks-review-of-riverside-county-solar-plant.html
joint venture: http://www.mercurynews.com/science/ci_26198239/property-taxes-could-pay-25-billion-delta-tunnels
Temperance Flat: http://en.wikipedia.org/wiki/Temperance_Flat_Dam
Rodney T. Smith: http://hydrowonk.com/blog/2014/08/15/of-ca-water-bondage/#more-1369
Source URL: https://calwatchdog.com/2014/08/21/fed-bills-could-be-key-to-ca-water-storage/
---