Groups try to quash cap-and-trade debate
by Joel Fox | August 21, 2014 3:43 pm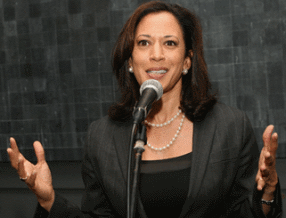 In the war of words over an attempt to stall the extension of AB 32's cap-and-trade[1] to transportation fuels, liberal groups sent a public letter to Attorney General Kamala Harris asking her to keep an eye out for collusion by oil companies in price fixing. This premature advisory (the law doesn't take effect until January) is part of the political debate, yet it is designed to quash political debate.
Unfortunately, there has been a move in this country to use the courts and criminal prosecution to undermine political opponents. That can be seen most recently in the truly strange indictment of Texas Gov. Rick Perry for vetoing the budget of the Public Integrity Unit in Travis County around Austin.
The Wall Street Journal's Monday editorial [2]pointed to prosecutorial actions in both Texas and Wisconsin as political lowball. Harvard law professor Alan Dershowitz said the Perry prosecution "is another example of the criminalization of party differences. This idea of an indictment is an extremely dangerous trend in America."
The letter to Harris[3] asks the attorney general to look out for oil companies "unlawfully colluding to manipulate prices and manufacturing political dissent." (Emphasis added.)
Dissent
Given the political attack through the courts in other areas of the country, asking the attorney general to keep an eye on political dissent is disturbing. Casting a shadow of potential criminal legal action is intended to put a pall on robust political debate.
Let's be clear that Harris is merely the recipient of this letter.  She has taken no action. Citizens should expect her to do her job if, indeed, companies go beyond the law, whether by collusion or any other means. It is even legitimate for the supporters of the cap-and-trade extension to raise a concern about potential price-fixing – although some evidence would be appropriate and none was offered in the letter.
However, by sending a letter to the attorney general, which brings the specter of prosecutorial actions into a legitimate debate over the effects of cap-and-trade – a debate that has legislators from both major political parties asking important questions about the effects on oil prices to consumers – that changes the nature of the debate. It brings up the concerns of using the courts for political purposes that have been on display in other states.
The signers of the letter do not have a sole right to claim themselves guardians of the state's consumers. The question of what is best for the state's consumers is central to the debate over the extension of cap-and-trade and it should be played out in the political arena, not in a courtroom.
Endnotes:
attempt to stall the extension of AB 32's cap-and-trade: http://www.scpr.org/programs/airtalk/2014/08/19/38931/california-business-groups-warn-of-impending-hidde/

Monday

 editorial 

: http://online.wsj.com/articles/texas-chainsaw-prosecution-1408318131?
letter to Harris: http://www.scribd.com/doc/237234597/Letter-to-Attorney-General-Kamala-Harris-from-supporters-of-AB-32-vehicle-fuel-expansion
Source URL: https://calwatchdog.com/2014/08/21/groups-try-to-quash-cap-and-trade-debate/
---