Super PAC $ floods Peters vs. DeMaio congressional race
by Chris Reed | September 12, 2014 11:00 am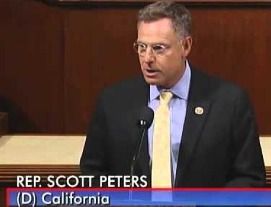 San Diego residents can't watch a major sporting event without seeing repeated ads paid for by national super PACs trashing congressman Scott Peters, a moderate Democrat, or his Republican opponent, former City Councilman Carl DeMaio, an outspoken libertarian. The flood began in August and seems likely to only intensify before November's vote. The national media are paying close attention[1].
Peters was elected in 2012 despite running in an affluent district ranging from Coronado to Rancho Bernardo[2] that voted for Mitt Romney. He benefited from having a rough-edged GOP incumbent, Brian Bilbray, who had rubbed a lot of people the wrong way over his years in Congress and as a local politician.
DeMaio has also rubbed a lot of people[3] the wrong way. Though he helped bring major reforms and efficiencies to San Diego during his four years on the City Council, his hard-charging style offended even some Republicans, including then-Mayor Jerry Sanders. This may have led to the out-of-left-field decision last month of the U.S. Chamber of Commerce to endorse Peters[4] over DeMaio[5]; Sanders now leads the San Diego chamber.
An architect of 'Enron by the Sea'
But what's peculiar and disheartening about the campaign is that Peters' history[6] isn't coming back to haunt him. In 2002, he was part of a City Council majority that made the disastrous decision to underfund pensions while increasing benefits. It doesn't get much dumber than that. This decision so undermined city finances that it led to national embarrassment — San Diego was dubbed "Enron by the Sea" — and to the 2005 resignation of Mayor Dick Murphy.
Incredibly, Peters didn't think contrition was appropriate for his role in this debacle. At times, he's depicted himself as a victim in the scandal. At other times, he's suggested it was much ado about nothing. Here's what I wrote in 2006 after an independent report by the Kroll firm blasted the 2002 City Council for negligence and malfeasance:
I've watched the City Council's reaction to the Kroll report and its fallout with a steadily escalating sense of disbelief and fury. It's obvious the five still-serving council members named as culpable in the 2002 pension scam hope that Kroll's particulars will be forgotten and that their political careers will not suffer as a result. If that happens, that will be a disgrace.
The five should be running scared for their political lives. Recall petitions should be making the rounds. Instead, incredibly enough, Toni Atkins, Donna Frye, Jim Madaffer, Brian Maienschein and Scott Peters are all reportedly interested in seeking higher office.
All but Frye offer a weird variant of the Nuremberg Defense for their malfeasance. Instead of saying they were only following orders and were therefore not responsible, they say they were only following staff advice and were therefore not responsible.
Guilty pols advance to Congress — and Assembly leadership
But some of the City Council members didn't just blame staff.
Even more ridiculously, Peters and Maienschein imply they are victims.
"People are really tired of looking backward and they really want to see some progress," Peters told the U-T in a story in which he said "his lawyer advised him to be critical of the report." Got that? He's just too noble to point out the flaws in a report that makes a slam-dunk case he did such a horrible job as councilman in 2002 that it will haunt San Diego for decades to come.
Maienschein is much worse. In a published letter responding to a critical editorial, first he grossly misrepresented what the Kroll report said about his culpability, then he whined about those whose superior reading-comprehension skills led them to conclude the report said he and his colleagues were rotten public servants:
"[To] consistently attack the very people who make personal and professional sacrifices in order to serve their city on the City Council only does a disservice to our city by keeping honest, community-oriented people out of politics," he wrote.
So much for my assumption that incompetence compounded with blame-ducking would hurt the careers of those involved. Atkins is now Assembly speaker. Maienschein holds a safe seat in the Assembly. And while Peters is in a difficult re-election fight, the super PAC ads targeting him don't mention his 2002 fiasco and bizarre subsequent comments on it. They focus on his votes in Congress.
In San Diego, political karma is nowhere to be found.
Endnotes:
paying close attention: http://www.nationaljournal.com/magazine/yes-carl-demaio-is-a-gay-republican-20140711
Coronado to Rancho Bernardo: http://files.speters2014.gethifi.com/52nd-district/52nd_map.jpg
rubbed a lot of people: http://voiceofsandiego.org/2014/09/11/the-case-for-carl-demaio-is-not-that-hes-a-peacemaker/?utm_source=feedburner&utm_medium=feed&utm_campaign=Feed%3A%20voice-of-san-diego-all-articles%20%28All%20articles%20voiceofsandiego.org%20--%20full%20feed%29
endorse Peters: http://www.utsandiego.com/news/2014/sep/03/scott-peters-us-chamber-commerce-demaio-congress/
over DeMaio: http://www.huffingtonpost.com/2014/09/05/carl-demaio_n_5772174.html?utm_hp_ref=tw
Peters' history: http://www.utsandiego.com/news/2012/oct/15/scott-peters-pension-problems/
Source URL: https://calwatchdog.com/2014/09/12/super-pac-floods-peters-vs-demaio-congressional-race/
---