Statewide seats surprisingly close
by John Seiler | November 4, 2014 10:58 pm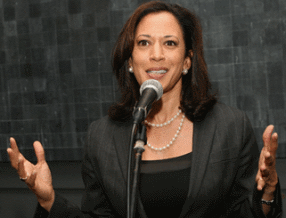 Aside from Gov. Jerry Brown's victory, 58 to 42[1], which I wrote about earlier[2], the other statewide races are surprisingly close in early returns, with 31.1 percent counted. Democrats probably will win them in the end. The national GOP tide has had some effect in California, albeit not enough for victory.
But the state GOP can take some encouragement from the results. In four years, Brown is barred from re-election, so that Democratic advantage will be gone.
Lt. Gov.[3]: Incumbent Newsom over Ron Nehring, 55 to 45. Surprisingly close. Not good a good sign for a future Newsom bid for governor or U.S senator.
Attorney General[4]: Incumbent Kamala Harris is up, 55 to 45, over Ronald Gold. Also surprisingly close, casting a shadow over her potential bid for governor or U.S. senator.
Secretary of state[5]: A close one so far, with Alex Padilla up 51 to 49 over Pete Peterson.
Controller[6]: Also close, with Betty Yee ahead of Ashley Swearengin, 52 to 48.
Treasurer[7]: John Chiang, currently the popular and competent controller, is doing well, 57 to 43, against Greg Conlon. Might be a harbinger of a dark-horse Chiang gubernatorial bid.
Insurance commissioner[8]: Incumbent Dave Jones is ahead of Ted Gaines, 55 to 45.
Endnotes:
58 to 42: http://vote.sos.ca.gov/returns/governor/
wrote about earlier: http://calwatchdog.com/2014/11/04/brown-wins-4th-term-as-gov/
Lt. Gov.: http://vote.sos.ca.gov/returns/lieutenant-governor/
Attorney General: http://vote.sos.ca.gov/returns/maps/attorney-general/
Secretary of state: http://vote.sos.ca.gov/returns/maps/secretary-of-state/
Controller: http://vote.sos.ca.gov/returns/maps/controller/
Treasurer: http://vote.sos.ca.gov/returns/maps/treasurer/
Insurance commissioner: http://vote.sos.ca.gov/returns/maps/insurance-commissioner/
Source URL: https://calwatchdog.com/2014/11/04/statewide-seats-surprisingly-close/
---