Obama's Thanksgiving turkey: 3,145 new regulations
by John Seiler | November 27, 2014 6:12 am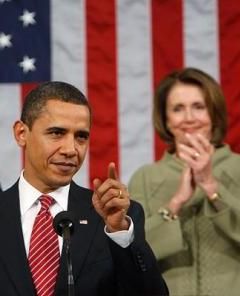 As if the California Legislature passing nearly 1,000 new bills [1]a year were not enough.
President Obama's White House just released 3,415 new regulations, making 330 millions Americans into turkeys just before Thanksgiving. The Daily Caller reported[2]:
While Americans are focused on what delicious foods they're going to eat for Thanksgiving, the White House is focused on releasing its massive regulatory agenda — marking the fifth time the Obama administration has released its regulatory road map on the eve of a major holiday.
The federal Unified Agenda is the Obama administration's regulatory road map, and it lays out thousands of regulations being finalized in the coming months. Under President Barack Obama, there has been a tradition of releasing the agenda late on Friday — and right before a major holiday.
Remember, if you violate even one of these intricate, indecipherable regulations, you can land in a federal prison for a long, long time.
It's also rather sadistic for the Obama administration to release these regulations just as we settle down with friends and family for a good holiday dinner.
Among the regulations are more assaults on the coal industry, supposedly to fight a "global warming" that doesn't exist — as shown by the record cold and snow blanketing much of the country.
But the alternative-energy profits must continue to be shoveled to enviro-billionaires such as Al Gore[3].
It doesn't matter that Congress didn't approve the new regulations; nor that American voters dumped Obama's fellow Democrats from power in the U.S. Senate less than a month ago.
As we saw with his immigration amnesty edict, he just does what he wants, the Constitution be damned — just like any autocrat.
Anyway … Happy Thanksgiving!
Endnotes:
1,000 new bills : http://bigstory.ap.org/article/5-highlights-californias-legislative-session
reported: http://dailycaller.com/2014/11/24/white-house-quietly-releases-plans-for-3415-regulations-ahead-of-thanksgiving-holiday/
Al Gore: http://www.forbes.com/sites/larrybell/2013/11/03/blood-and-gore-making-a-killing-on-anti-carbon-investment-hype/
Source URL: https://calwatchdog.com/2014/11/27/obamas-thanksgiving-turkey-3145-new-regulations/
---