Democrats push back against new GOP water bill
by Wayne Lusvardi | December 11, 2014 12:08 pm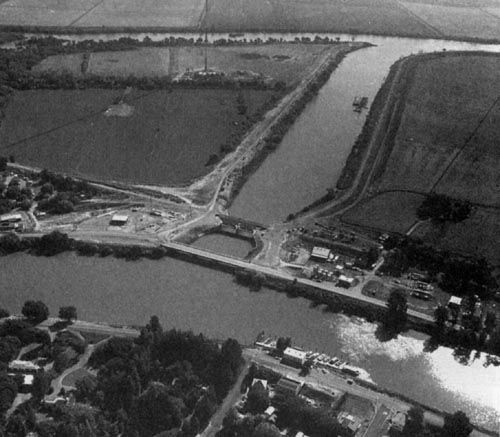 In California, not all rainwater is equal.
"Two different water years may have identical precipitation and runoff amounts, yet result in significantly different export amounts," Eric Alvarez told CalWatchdog.com; he's the Public Information Officer for the Delta Stewardship Council, the state body that provides water to much of California.
For example, autumn rainfall brings greater water exports from the Delta than spring showers.  This understanding of how seasonal water flows affect man-made water shortages is crucial in evaluating a newly proposed Republican drought relief bill introduced last week in the U.S. House of Representatives. It's H.R. 5781, the California Emergency Drought Relief Act[1], by Rep.  David Valadao, R-Central Valley.
It includes a key provision for increasing pumping from the Delta during early storms[2] of the water year[3], which starts on Oct. 1. This measure would bring drought relief to farmers in the next 18 months[4]. That's different from the 10 years or more timeframe of [5]the $7.5 billion water bond Proposition 1[6] voters approved on Nov. 4.
Democratic pushback
Some Democrats have been accusing Sen. Dianne Feinstein, D-Calif., and House Republicans of holding secret negotiations[7] for a compromise drought relief bill.  However, now with the new GOP drought relief bill being printed, the public can see what was tentatively agreed to by both parties.
On Dec. 3, KPCC reported[8]:
"Both the House and Senate have already passed individual drought measures[9], but there are rivers of differences between them. It appeared that an agreement had been reached on a compromise bill before Thanksgiving, but the deal dried up. [Riverside Republican Rep. Ken] Calvert says this new bill includes 'negotiated text from those sessions between House members and Senator Dianne Feinstein."  
That was a reference to the drought bill Feinstein introduced [10]earlier this year with the state's junior senator, Barbara Boxer, the California Emergency Drought Relief Act of 2014[11]. It would keep the Delta Cross Channel open[12] between the State Water Project and the Federal Central Valley Project (shown in above photo).
Although the two Democrats will go into minority status in January when Republicans take over the Senate, they will remain powerful players in California's water game.
So it was puzzling when Boxer[13] said of the new GOP bill, "This measure could reignite the water wars overriding critical state and federal protections for California."
The Republican bill also received quick pushback from Democrats in the House of Representatives. Charged Rep. John Garamendi[14], D-Calif., "The bill makes it more difficult for state and federal agencies to make real-time water decisions, undermines state water rights priorities, misstates current law, and explicitly overrides the Endangered Species Act."
Rep. Doris Matsui branded [15]the bill "nothing more than a water grab."
Rep. Jim Costa[16], D-Central Valley, was the only member of his party to support the GOP bill.
SoCal would get 100 percent of the water they pay for
Another provision of the bill is that the Metropolitan Water District of Southern California would get 100 percent of the drought water it purchases to make up for any curtailments of its allocation from the State Water Project.  MWD often buys supplemental water from Northern California rice farmers, but only ends up with 25 percent or less of that water for environmental and legal reasons. The new GOP drought relief bill would put an end to the policy[17] of paying for water MWD doesn't get.
Nonetheless, Rep. Grace Napolitano[18], D-Los Angeles, said of the GOP bill, "There's nothing there for Southern California."
Likewise, Patricia Schifferie[19], an environmental activist[20], said the GOP bill "clearly alters how environmental protection statutes are implemented and enforced."
However, the bill also contains provision for reducing[21] the flow of water through the California Aqueduct to Southern California in order to balance water deliveries to Central Valley farmers with environmental protections.
One potential glitch in the GOP bill is the uncertainty[22] of whether the State Water Project would have to backfill federal water diverted to farmers in the fall through the Delta Cross Channel with state water.
Environment
But water allocated to the environment already takes first claim to State Water Project flows anyway under the Public Trust Doctrine[23] of the California Constitution.  Environmental water takes 64 percent[24] of all system water in wet years when it is critical to store up water for future dry years.
Alvarez explained:
"In wet years, less water is normally exported because of less demand by the water contractors (people who use the exported water) even though there is enough water to export. In average years, the maximum amount of water can be diverted because of higher demand is coupled with available water. In dry years, demand is high, but available water is not.
"However the relationship between water year type and amount of water exported is not necessarily that straight forward. The amount of water exported is also dependent on timing of the available flows. Greater amounts of the Delta inflow can be exported if the inflow occurs in the fall than if the same amount of Delta inflow occurs in the spring. This has to do with how the State Water Project and the Central Valley Project are operated to protect fish and meet salinity standards set by the State Water Resources Control Board."
"The operation of the California federal water projects referred to above involves the closure of the Delta Cross Channel[25] on the Sacramento River from Oct. 1 to November 30[26] to protect fish. This policy, not just drought, affects whether farmers will have sufficient water deliveries in the summer."
Endnotes:
H.R. 5781, the California Emergency Drought Relief Act: https://www.congress.gov/bill/113th-congress/house-bill/5781/text
early storms: http://www.fresnobee.com/2014/12/03/4267695/latest-california-drought-bill.html?rh=1#storylink=cpy
water year: http://www.dailytidings.com/article/20140908/News/140909910
18 months: http://www.scpr.org/news/2014/12/03/48439/california-s-gop-congressmen-flex-muscles-with-new/
10 years or more timeframe of : http://www.sfgate.com/news/article/Proposition-1-Voters-to-decide-on-7-5-billion-5771242.php
Proposition 1: http://www.voterguide.sos.ca.gov/en/propositions/1/
secret negotiations: http://www.motherjones.com/tom-philpott/2014/11/feinstein-secret-water-deal-drought-california
KPCC reported: http://www.scpr.org/news/2014/12/03/48439/california-s-gop-congressmen-flex-muscles-with-new/
passed individual drought measures: http://www.scpr.org/blogs/politics/2014/05/22/16687/senator-feinstein-s-revised-drought-bill-still-has/
introduced : http://www.feinstein.senate.gov/public/index.cfm/press-releases?ID=e7668832-d0be-4329-a30f-d1e5e47863aa
California Emergency Drought Relief Act of 2014: http://www.feinstein.senate.gov/public/index.cfm/files/serve/?File_id=43ccd5c3-6b5c-4485-9883-2373d6bcef4c
Delta Cross Channel open: https://www.congress.gov/bill/113th-congress/senate-bill/2198
Boxer: http://www.scpr.org/news/2014/12/03/48439/california-s-gop-congressmen-flex-muscles-with-new/
John Garamendi: http://yubanet.com/regional/Northern-California-Delegation-Statement-on-Flawed-Discriminatory-House-Republican-Water-Bill.php#.VIAQPWTF--o
branded : http://www.fresnobee.com/2014/12/03/4267695/latest-california-drought-bill.html?rh=1
Rep. Jim Costa: http://mavensnotebook.com/2014/12/02/this-just-in-rep-valadao-california-republicans-introduce-bipartisan-emergency-water-legislation/
policy: http://www.scpr.org/news/2014/12/03/48439/california-s-gop-congressmen-flex-muscles-with-new/
Grace Napolitano: http://www.scpr.org/news/2014/12/03/48439/california-s-gop-congressmen-flex-muscles-with-new/
Patricia Schifferie: http://www.fresnobee.com/2014/12/03/4267695/latest-california-drought-bill.html?rh=1#storylink=cpy
environmental activist: http://theforcesofnature.com/movies/patricia-schifferle/
reducing: http://www.scpr.org/news/2014/12/03/48439/california-s-gop-congressmen-flex-muscles-with-new/
uncertainty: http://www.scpr.org/news/2014/12/03/48439/california-s-gop-congressmen-flex-muscles-with-new/
Public Trust Doctrine: http://californiawaterblog.com/2014/10/16/modernizing-drought-water-allocations/
64 percent: http://www.water.ca.gov/swp/watersupply.cfm
Delta Cross Channel: http://www.usbr.gov/mp/PA/docs/fact_sheets/Delta_Cross_Channel_Canal.pdf
Oct. 1 to November 30: http://www.usbr.gov/mp/nepa/documentShow.cfm?Doc_ID=10711
Source URL: https://calwatchdog.com/2014/12/11/democrats-say-new-gop-water-bill-is-all-wet/
---