Should U.C. be 'independent'?
by John Seiler | December 13, 2014 7:45 am
As I've noted in two recent posts, here [1]and here[2], 50 years after the Berkeley Free Speech Movement, there's no more academic freedom or free speech at California universities. Only politically correct repression.
Meanwhile, costs are soaring for students and parents. U.C. President Janet Napolitano, whose main "qualification" for the job is heading the repressive U.S. Department of Homeland Security, is boosting tuition 25 percent over five years.
So it makes sense to take away UC's vaunted "independence." KQED News reported[3]:
two state senators — one Democrat, one Republican — introduced a constitutional amendment this week to strip the UC system of that hallowed independence.
"It behooves us, and ultimately the voters, to revisit the concentrated power and autonomy of the UC Board of Regents which appears to be out of touch with average working-class families," said state Sen. Ricardo Lara (D-Bell Gardens) in a statement on Thursday[4].
The proposal comes after a vote by UC regents last month to approve a plan that could boost tuition by 5 percent a year for the next five years[5] if the university system doesn't get the money it says it needs from state lawmakers.
Once it took over the system, one thing the Legislature could do would be to cut the incredible waste in the system, beginning with the administrative bloat. UC now employs more administrators than professors[6].
If U.C. didn't like being supervised, and forced to cut waste, then it would have an option: Go private.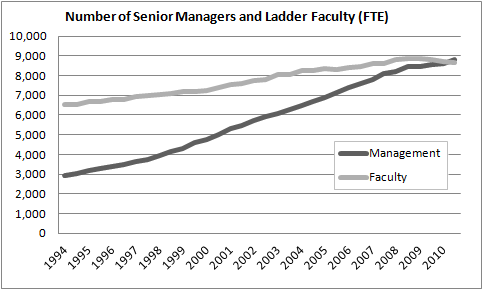 Endnotes:
here : http://calwatchdog.com/2014/12/02/50-years-after-the-berkeley-free-speech-movement/
here: http://calwatchdog.com/2014/12/11/berkeley-shuts-down-thiels-free-speech/
reported: http://ww2.kqed.org/news/2014/12/05/should-UC-independent-status-be-revoked/
in a statement on Thursday: http://sd33.senate.ca.gov/news/2014-12-04-bipartisan-constitutional-amendment-introduced-hold-uc-accountable-increase-transpar
vote by UC regents last month to approve a plan that could boost tuition by 5 percent a year for the next five years: http://dailybruin.com/2014/11/19/uc-regents-committee-approves-five-year-tuition-increase-plan-despite-protests/
more administrators than professors: http://reclaimuc.blogspot.com/2011/09/senior-administrators-now-officially.html
Source URL: https://calwatchdog.com/2014/12/13/should-u-c-be-independent/
---