CA media finds de Leon guilty of not being Steinberg
by Chris Reed | December 22, 2014 7:15 am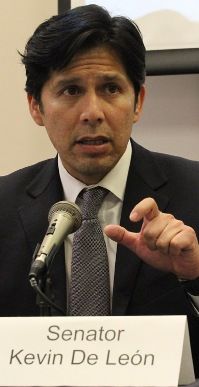 There has been steady turnover in the leadership of the state Assembly every few years, so there is plenty of evidence that most new speakers get the equivalent of a honeymoon. Certainly that's been true of current Speaker Toni Atkins, D-San Diego, and the two Los Angeles Democrats who preceded her, John Perez and Karen Bass.
But the state Senate has had only Darrell Steinberg, D-Sacramento, as president from 2008 until a few weeks ago. Steinberg left to media accolades this fall. Note this long Q&A[1] in which the Bee reporter's framing is consistently favorable to the former teacher.
Yet his successor, Sen. Kevin de Leon, D-Los Angeles, is off to the roughest start of any Californian assuming a high-profile office since Lane Kiffin took over as coach of the Oakland Raiders.
De Leon has gotten skeptical to scathing media responses for a relatively long list of things in a relatively short time.
More perceived screw-ups since Walters tore him up
On Dec. 4, Sacramento Bee columnist Dan Walters blasted him for a "series of blunders[2]."
Walters ripped de Leon for verbal gaffes that proved hugely damaging to a Central Valley Assembly Democratic hopeful; for a self-important, pompous "inaugural" ceremony in Los Angeles; and for gutting many of the Senate's most experienced policy analysts because of murky budget problems. Insiders said if the Senate really were hurting, the logical thing to do was lay off the political apparatchiks on all Senate staffs, not the people with the institutional memory.
The knocks have kept coming since Dec. 4.
De Leon's announcement last week that he would pressure CalPERS and CalSTRS to disinvest from coal-affiliated companies[3] — but not those in oil or natural gas — struck a chord in the wrong way with just about everyone.
I talked to one insider who said there was disbelief among lawmakers that 1) this symbolic, hollow gesture was highlighted as an early priority of de Leon's and 2) that de Leon wouldn't realize this would seem insubstantial and not worthy of his time. Another Sacramento watcher told me he couldn't believe de Leon would focus on this trivia instead of grabbing a chance to be enviros' hero by talking up a fracking ban. New York state's passage of such a ban last week shows how much it's where greens want to go.
Oversight office abruptly scrapped
Then de Leon was pulverized last week by editorials in both the Bay Area[4] Newspaper Group and its sister Los Angeles[5] News Group over other actions as well. This is from the Vallejo Times-Herald's version:
"De León has eliminated a team of Senate aides dedicated to evaluating state government institutions and programs. He declined to renew the Senate's Office of Oversight and Outcomes, established in 2008 by then-Senate President Darrell Steinberg with a goal "to ensure taxpayer dollars are being spent wisely and productively.
"The four-person staff's combined salaries of about $379,000 seemed a small price for the good it did.
"Among the reports the office produced just last year were ones on the misuse of student meal funds by school districts, including $158 million in misappropriations and unallowable charges by Los Angeles Unified; about how the state's system for overseeing substance-abuse counselors failed to flag sex offenders; and assigning blame for problems with the $373 million state payroll system. Among earlier reports was one looking at 10 tax breaks that, over a decade, cost state coffers $6.3 billion more than anticipated."
Accused of wide range of political sins
What's interesting is that these criticisms of de Leon don't just focus on money-grubbing or another particular sin that politicians sometime specialize in. Implicitly, they make quite a sweeping case.
In possibly costing an Assembly candidate a chance at victory, de Leon is accused of poor political acumen.
In staging a showy unofficial "inaugural," de Leon is accused of grandiosity.
In his Senate shakeups, de Leon is accused in one of a power grab and, in the other, of showing ignorance of the importance of a new but respected Sacramento institution.
In thinking that going after coal while ignoring fracking would make him look good, de Leon is accused of — to be blunt — stupidity.
The Sacramento version of the Stockholm syndrome
That is a pretty sweeping bill of particulars. What's going on here?
The most obvious problem is that de Leon is politically tone-deaf in a way that's striking for someone who's made such a rapid ascent.
But the less obvious problem is that a lot of times it's not fun to cover politics. It feels sleazy, disheartening, transactional, petty and repetitive. Steinberg made it feel more principled and sincerely, earnestly progressive.
That mattered to a bigger chunk of the Sacramento media-political establishment than people far from the state Capitol might imagine. This establishment didn't miss Steinberg's, er, colorful predecessor[6] Don Perata at all.
Endnotes:
long Q&A: http://www.sacbee.com/news/politics-government/article4205043.html
series of blunders: http://www.sacbee.com/news/politics-government/dan-walters/article4286094.html
coal-affiliated companies: http://www.sfgate.com/news/article/Top-state-Democrat-pushes-coal-divestment-to-5959147.php
Bay Area: http://www.timesheraldonline.com/opinion/20141218/senate-leader-not-exactly-off-to-a-good-start
Los Angeles: http://www.desertsun.com/story/opinion/contributors/2014/12/21/state-senate-leader-errs-oversight-move/20742629/
colorful predecessor: http://articles.latimes.com/2009/may/28/local/me-perata28
Source URL: https://calwatchdog.com/2014/12/22/ca-media-finds-de-leon-guilty-of-not-being-steinberg/
---