Pension reformer Chuck Reed will fight on
by John Seiler | January 1, 2015 9:08 am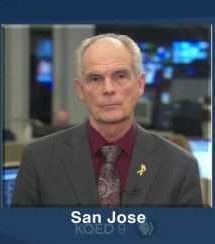 San Jose is in the center of the world's economic pulse, Silicon Valley. By all rights, its city treasury ought to be overflowing with digital wealth.
Instead it has flirted with bankruptcy because of its burgeoning pension problem — a problem that already was the major cause of the bankruptcies of Vallejo, San Bernardino and Stockton. The pension problem, as everywhere, was caused by the irresponsible pension spiking of 1999-01.
Enter Mayor Chuck Reed. A Democrat, he valiantly struggled with the problem, passing the Measure B in 2012 with 69 percent of the vote. It is being challenged in court[1] by grasping unions.
Term limits are forcing Reed to leave. But Sam Liccardo, who backs Reed's reforms, just was elected to succeed him — in the teeth of vicious union opposition[2].
Reed failed to place a pension reform initiative[3] on the statewide ballot this November after Attorney General Kamala Harris forced on the initiative an incredibly biased[4] title and summary. He says he's going to keep pushing reform[5], including a possible 2016 initiative.
It wouldn't surprise me if he ran for governor in 2018. After all, the problem only is going to get worse. And Harris' anti-reform stance could come back to haunt her in her own bid for the higher office.
Endnotes:
challenged in court: http://dailycaller.com/2014/10/14/unions-try-to-replace-san-jose-mayor-over-pension-reform/
vicious union opposition: http://www.mercurynews.com/bay-area-news/ci_26910369/san-jose-mayor-sam-liccardo-wins-close-battle
pension reform initiative: http://ballotpedia.org/California_Pension_Reform_Initiative_%282014%29
incredibly biased: http://www.publicsectorinc.org/2014/01/reed-blasts-ag-harris-description-of-pension-reform-ballot-initiative/
keep pushing reform: http://pension360.org/outgoing-san-jose-mayor-chuck-reed-will-continue-pushing-for-pension-reform-after-leaving-office/
Source URL: https://calwatchdog.com/2015/01/01/pension-reformer-chuck-reed-will-fight-on/
---