State in use-it-or-lose-it mode with $4B in bullet-train funds
by Chris Reed | January 10, 2015 7:15 am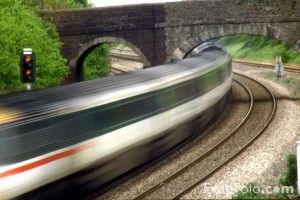 The California bullet-train project — stalled for years by legal fights over land acquisition and the state's business plan, uneven progress in planning and Gov. Jerry Brown's abrupt downsizing of the scale of the project in 2013 — had its symbolic groundbreaking on Tuesday in Fresno.
The 1,000-plus invitees heard several speeches hailing the vision of the project and the smarts of those overseeing it. Brown won kudos for bringing in veteran transportation executive Dan Richard as chair of the California High-Speed Rail Authority board. Both men were praised for shifting from a $98 billion project to a $68 billion "blended" plan in which high-speed rail would link with regular rail at Fresno in Northern California and in northern Los Angeles to the south. Previous plans had a bullet train going from downtown San Francisco to downtown L.A.
But now Brown, Richard and the rail authority face a daunting challenge if they want to sustain the plausibility of their narrative of a well-managed project making steady, smart progress: a use-it-or-lose-it scenario for a majority of the estimated $6 billion the state has in hand for its completion.
The groundbreaking came two years after state officials first promised to begin construction. Under federal law, about $2 billion of grants and $2 billion of matching state funds must be spent by the end of September 2017. That means an average of $3 million to $4 million of work will need to be completed every calendar day to avoid forfeiting unused federal money.
That's from the Los Angeles Times[1].
$3 million-plus a day for 1,000 straight days
It might not seem difficult for overseers of a $68 billion project to spend $3 million-plus a day for 1,000 days straight. But the rail authority's latest update on its progress in obtaining the 526 parcels necessary for building the project's initial 29-mile link between downtown Fresno and Avenue 17 in Madera shows why that could be a problem. As of the end of 2014, only 101 parcels had been obtained — less than 20 percent.
Construction can't proceed without land to build on.
This August 2014 Fresno Bee story[2] illustrates why the state has struggled to move more quickly. A key takeaway from the piece is that holdout landowners have done better by refusing all initial offers from the state in eminent domain proceedings.
This practice is likely to become the norm. The closer the September 2017 federal deadline gets, the more leverage holdout landowners will have to demand more than the state is offering.
This doesn't bode well for the budget projections of the rail authority, much less the project's construction schedule.
Will federal bureaucrats delay CA deadline?
But the state may have an ace in the hole. The Federal Railroad Administration has repeatedly established deadlines for California's use of $3 billion-plus in stimulus funds for its project and then delayed them[3]. While media coverage of the groundbreaking repeatedly depicted the September 2017 as firm and unwavering, that view is undercut by the FRA's previous actions on the project.
It's also undercut by the Obama administration's precedent of using executive orders to reshape existing domestic laws in a way without modern precedent. Both the Affordable Care Act and the No Child Left Behind Act have been unilaterally modified by the White House without congressional assent.
If the president were willing to act unilaterally to revamp the two biggest domestic policy initiatives passed by Congress in the 21st century, his successor might be willing to go it alone on a less significant federal initiative.
Endnotes:
Los Angeles Times: http://www.latimes.com/local/politics/la-me-bullet-groundbreaking-20150107-story.html#page=1
Fresno Bee story: http://www.fresnobee.com/2014/08/23/4084847/land-deals-slowing-rail-plan.html
delayed them: http://sacramento.cbslocal.com/2014/02/23/california-high-speed-rail-given-funding-extension/
Source URL: https://calwatchdog.com/2015/01/10/state-in-use-it-or-lose-it-mode-with-4b-in-bullet-train-funds/
---