Feds, CA clash over funding private water projects
by Wayne Lusvardi | January 19, 2015 7:20 pm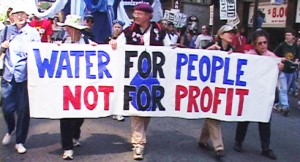 Last week, President Obama dumped a bucket of cold water over his fellow Democrats in California on water policy. He's emphasizing private investment, while they're trying to ban it.
His Environmental Protection Agency announced on its website[1]:
"WASHINGTON — The U.S. Environmental Protection Agency launched the Water Infrastructure and Resiliency Finance Center today to help communities across the country improve their wastewater, drinking water and stormwater systems, particularly through innovative financing and by building resilience to climate change."
This new program emphasized private investment as part of "a government-wide effort to increase infrastructure investment and promote economic growth by creating opportunities for state and local governments and the private sector to collaborate, expand public-private partnerships, and increase the use of federal credit programs."
However, the Proposition 1 [2]water bond past last November by California voters specifically stipulated "the joint powers agencies described … shall not include in their membership any for‑profit corporation or any mutual water company whose shareholders and members include a for‑profit corporation or any other private entity" (Section 79759(b)).
Although Prop. 1 was supported by some Republicans, it was placed on the ballot by the Democratic Legislature and strongly pushed by Gov. Jerry Brown.
But how long will this statewide ban on public investments hold up when the president is emphasizing just such investments at the federal level, and private water companies already receive bond funding in California?
CA already has a public-private integrated water system 
Witness the new Poseidon ocean water Desalination Project in Carlsbad[3]. It's financed by $840 million in bonds authorized by the State of California Pollution Control Financing Authority[4].
But Poseidon is a private, investor-owned company that develops water and wastewater infrastructure. For example, Wells Fargo Bank's Municipal Bond Fund Portfolio[5] includes Poseidon's Carlsbad project. Poseidon will own and operate the Carlsbad Desalination Plant.
Environmentalists incorrectly claim the Kern Water Bank[6] (which is made up of underground water) was privatized in 1995 to serve a "handful of corporate interests." Actually, the bank is operated by the Kern Water Bank Authority[7]. And according to the KWBA's website FAQ[8]:
"The Kern Water Bank is operated by the Kern Water Bank Authority, which is a public agency known as a Joint Powers Authority (JPA). The JPA includes six member entities, including several water districts, a water agency, and a mutual water company. The JPA is governed by a board of directors which oversee operation of the Kern Water Bank." 
Yes, the KWB serves corporate farmers. But so do the Metropolitan Water District of Southern California and the East Bay Municipal Utility District[9] serve private corporate farms and thousands of urban corporate customers.
Attorney Wes Strickland is with Jackson Walker LLP in Austin, Tex. He has pointed [10]to California Water Code Section 78712[11], which reads:
"79712. (a) Eligible applicants under this division are public agencies, nonprofit organizations, public utilities, federally recognized Indian tribes, state Indian tribes listed on the Native American Heritage Commission's California Tribal Consultation List, and mutual water companies." 
"Public utilities" means regulated, investor-owned utilities like Pacific Gas and Electric and Southern California Edison that both run dams and hydropower projects; and such private water retailers as the California Water Service Company and the Golden State Water Company[12]. All these are stockholder-controlled companies.
As Strickland[13] explained:
"If public utility projects were not eligible for bond funding, it would mean that the 20 percent of California citizens who are served by pubic utilities would be paying taxes to the State of California to pay for water infrastructure for the exclusive use of the other 80 percent who are served by public agencies. The unfairness of such an outcome seems obvious."
Additionally, the retail water provider for the city of San Jose is San Jose Water Company[14], a private, investor-owned water company, which is part of the Texas Water Alliance. Fifty percent[15] of San Jose's water supply comes from the Santa Clara Valley Water District, which originates with the state and federal water projects.
Cadiz, Inc., in the Mojave Desert, is the first private company to reverse the traditional relationship between public water wholesalers and municipal and private water retailers. Cadiz[16] is a privately owned, common stock company[17] that provides wholesale water to Central Valley irrigation districts, Southern California municipal water departments and private water companies.
Projects
Some dilemmas: How long can opponents continue to attack "privatization," when the funding of such private entities already exists in California?
Will large water projects elect to undertake public-private water projects with federal and local municipal bonds and avoid bond financing from Prop. 1?  This is a plausible scenario that could be self-defeating for the $2.7 billion[18] set aside in the Prop. 1 for water storage projects.
As Strickland[19] summed up the situation:
"It has started to seem like every criticism of a water project or initiative leads inevitably to a claim of 'privatization, even when as here that concept has no real application. I suspect in [the] future we will see other arguments against the California water bond, and numerous other water projects that also use the 'privatization' bogeyman to instill fear and loathing in the public.  I also wonder how long it will take for the 'privatization' argument trend to move on, and what spurious argument will replace it?"  
Those who favor public control don't like the private involvement. And libertarians have proposed getting rid of the public part and have proposed [20]privatizing the entire system.
Yet the fact is the state already is saturated with public-private partnerships in water, something that somehow will remain as surely as the state some day will suffer another drought.
Endnotes:
announced on its website: http://yosemite.epa.gov/OPA/ADMPRESS.NSF/d0cf6618525a9efb85257359003fb69d/28ce3f2fe7f9df5285257dcf00577798!OpenDocument
Proposition 1 : http://vig.cdn.sos.ca.gov/2014/general/en/pdf/text-of-proposed-law-prop1.pdf
Desalination Project in Carlsbad: http://carlsbaddesal.com/
$840 million in bonds authorized by the State of California Pollution Control Financing Authority: http://carlsbaddesal.com/two-more-favorable-decisions
Wells Fargo Bank's Municipal Bond Fund Portfolio: http://www.wellsfargoadvantagefunds.com/pdf/commentary/muni_bond.pdf
Kern Water Bank: http://exiledonline.com/water-wars-billionaire-farmers-scheming-to-privatize-californias-water-are-under-attack/
Kern Water Bank Authority: http://www.kwb.org/
KWBA's website FAQ: http://www.kwb.org/index.cfm/fuseaction/Pages.Page/id/352
Metropolitan Water District of Southern California and the East Bay Municipal Utility District: http://www.cuwa.org/members.html
pointed : http://privatewaterlaw.com/2010/01/04/the-california-water-bond-private-profit-and-public-benefit/
Section 78712: http://www.leginfo.ca.gov/cgi-bin/displaycode?section=wat&group=79001-80000&file=79703-79716
California Water Service Company and the Golden State Water Company: http://www.calwaterassn.com/about-cwa/regulated-water-utilities-in-california/
Strickland: http://privatewaterlaw.com/2010/01/04/the-california-water-bond-private-profit-and-public-benefit/
San Jose Water Company: http://www.sjwcorp.com/
Fifty percent: http://www.sjwater.com/for_your_information/education_safety/water_supply/
Cadiz: http://cadizinc.com/newsroom/
common stock company: http://cadizinc.com/2014/11/10/news-cadiz-inc-conducts-public-offering-of-common-stock/
$2.7 billion: http://ballotpedia.org/California_Proposition_1,_Water_Bond_%282014%29
Strickland: http://privatewaterlaw.com/2010/01/30/more-mythical-privatization-in-the-california-water-bond/
have proposed : http://www.amatecon.com/etext/lpls/lpls-ch4.html
Source URL: https://calwatchdog.com/2015/01/19/feds-ca-clash-over-funding-private-water-projects/
---