Veteran lawmakers embrace new committee assignments
by John | February 3, 2015 11:05 am
As the new class of state lawmakers[1] settles in to their jobs, Sacramento's old hands are getting a jump start on the 2015-16 legislative session.
Each session brings a biennial reshuffling of committee assignments. But some lawmakers aren't waiting to get acquainted with their new perches.
New committee chairs have already introduced legislative proposals to increase privacy rights, change the way transportation projects are funded and dramatically alter the state's tax structure.
Gatto tapped for new privacy committee
In December, Assembly Speaker Toni Atkins, D-San Diego, announced the 2015-16 committee assignments[2] and, in the process, rolled out a new committee, the Assembly Committee on Privacy and Consumer Protection. To lead the new committee, Atkins tapped former Appropriations Committee[3] Chairman Mike Gatto, D-Los Angeles.
"I created the committee because California consumers need a strong driving force to help ensure our privacy remains a right and not a luxury," the speaker said at a January press conference[4].
The committee is expected to be one of the most closely watched of the legislative session. Steven Greenhut, the U-T San Diego's California columnist, described it[5] as "one of the most significant committees in the Assembly given myriad and growing threats to our privacy and civil liberties."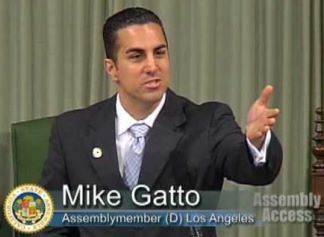 Gatto has already seized on his new role by introducing legislation to enhance privacy protections for blood donors. Assembly Bill 170[6] would strengthen notification requirements and allow patients to destroy blood samples. Gatto says many parents aren't aware that screening samples from newborns are often stored by large biobanks, which allow outside researchers to conduct tests on those donated samples.
"Whenever data is stored, data can fall into the wrong hands," explained Gatto[7], a Loyola Law School graduate. "Parents should have the right to protect their children and people should have the right to control how their personal medical records are used once they reach adulthood."
Hernandez's monopoly on health legislation
State senators benefit from longer terms, generally have more legislative experience and retain top staff members. Consequently, they have found it easier to advance their new committees.
Senate President Pro Tem Kevin de Leon, D-Los Angeles, announced committee[8] chairmanships in December. By the time the full roster of committee members was released on Jan. 7[9], state Sen. Ed Hernandez, the new chair of the Senate Health Committee, had four health-related bills in print.
To date, the West Covina Democrat has introduced a total of eight bills, all related to public health issues. The most high-profile, Senate Bill 151[10], would raise the smoking age in California from 18 to 21 years old.
"Tobacco companies know that people are more likely to become addicted to smoking if they start at a young age," said Hernandez[11], who also works as an optometrist. "We can no longer afford to sit on the sidelines while big tobacco markets to our kids and gets another generation of young people hooked on a product that will ultimately kill them. That is why I believe we need legislation like SB151."
Beall tackles transportation projects, greenhouse gas reduction
In his 2015 Inaugural Address[12], Gov. Jerry Brown called for the state to reduce petroleum use in cars and trucks by 50 percent. If he's to achieve that goal, he'll need the help of state Sen. Jim Beall, D-San Jose, the new chair of the Senate Transportation Committee.
"It's an honor to be assigned to oversee the Senate Transportation and Housing Committee," Beall said in December[13] when committee assignments were announced. "California faces many challenges in improving highway maintenance and removing litter and graffiti from our roads. Equally important is linking mass transit with affordable housing to reduce urban sprawl, traffic congestion and greenhouse gas emissions."
Beall's first bill of the new term, Senate Bill 9[14], would make changes to how large mass transit projects in the Transit and Intercity Rail Capital Program[15] are funded. Under existing law, 10 percent of the annual proceeds of the Greenhouse Gas Reduction Fund goes towards capital and operating expenditures for intercity, commuter and urban rail services. Beall says [16]he intends the bill to secure "funding certainty for projects, such as the BART extension to San Jose."
The San Jose lawmaker has also introduced a spot bill that would affect the administration of the Department of Transportation[17]. Spot bills act as a placeholder for language to be added at a later date.
Hertzberg focuses on tax reform
State Sen. Bob Herzberg, D-Van Nuys, is expected to turn his chairmanship of the Committee on Governance and Finance into a substantive conversation about tax reform. He proposed a $10 billion sales tax on services[18] that would include everything from accounting to yoga classes.
"I am honored Senate Pro Tem Kevin de León appointed me to chair the Committee on Governance and Finance during this crucial time in our state's financial history," Hertzberg said. "California has many challenges, not the least of which is how government is financed and operates. I look forward to working with the Pro Tem and Gov. Brown to find ways to improve financing for higher education and K-12 education and to help local government with the goal of ensuring upward mobility for all Californians."
The former Speaker of the Assembly says his Senate Bill 8[19], which among other things would impose a new sales tax on services, would level out "the state's boom-and-bust tax structure."
Endnotes:
class of state lawmakers: http://calwatchdog.com/2014/11/14/assembly-gop-leader-kristin-olsen-introduces-new-stars/
committee assignments: http://www.calnewsroom.com/2014/12/19/did-speaker-toni-atkins-assign-juice-committees-alphabetically-achadjian-bonilla-get-best-assignments/
Appropriations Committee: http://capitolweekly.net/assembly-committee-appoints-speaker-power-lineup/
said at a January press conference: http://asmdc.org/speaker/news-room/press-releases/speaker-atkins-assemblyman-gatto-discuss-newly-formed-committee-on-privacy
described it: http://www.utsandiego.com/news/2015/jan/26/dna-privacy-bill-balance-civil-liberties-coalition/2
Assembly Bill 170: http://www.leginfo.ca.gov/pub/15-16/bill/asm/ab_0151-0200/ab_170_bill_20150122_introduced.htm
explained Gatto: http://asmdc.org/members/a43/news-room/press-releases/assemblyman-mike-gatto-introduces-dna-privacy-bill
announced committee: http://sd24.senate.ca.gov/news/2014-12-17-release-president-pro-tempore-de-le%C3%B3n-announces-committee-chairs-2015-16-regular
Jan. 7: http://sd24.senate.ca.gov/news/2015-01-06-release-president-pro-tempore-de-le%C3%B3n-announces-committee-membership-2015-16-regular
Senate Bill 151: http://leginfo.ca.gov/pub/15-16/bill/sen/sb_0151-0200/sb_151_bill_20150129_introduced.htm
said Hernandez: http://sd22.senate.ca.gov/news/2015-01-29-senator-hernandez-introduces-legislation-raise-smoking-age
2015 Inaugural Address: http://www.calnewsroom.com/2015/01/06/gov-jerry-browns-2015-inaugural-and-state-of-the-state-address-full-text/
said in December: http://sd15.senate.ca.gov/news/2014-12-17-beall-named-chairman-senate-transportation-and-housing-committee
Senate Bill 9: http://leginfo.ca.gov/pub/15-16/bill/sen/sb_0001-0050/sb_9_bill_20141201_introduced.htm
Transit and Intercity Rail Capital Program: http://calsta.ca.gov/res/docs/pdfs/2014/TIRCP%20Fact%20Sheet.pdf
says : http://sd15.senate.ca.gov/news/2014-12-17-beall-named-chairman-senate-transportation-and-housing-committee
Department of Transportation: http://leginfo.ca.gov/pub/15-16/bill/sen/sb_0001-0050/sb_16_bill_20141201_introduced.htm
proposed a $10 billion sales tax on services: http://calwatchdog.com/2015/01/21/hertzberg-proposes-10-billion-sales-tax-on-services/
Senate Bill 8: http://www.leginfo.ca.gov/pub/15-16/bill/sen/sb_0001-0050/sb_8_bill_20141201_introduced.htm
Source URL: https://calwatchdog.com/2015/02/03/veteran-lawmakers-embrace-new-committee-assignments/
---