Gov. Brown breaks drought funds dry spell
by James Poulos | February 10, 2015 10:50 am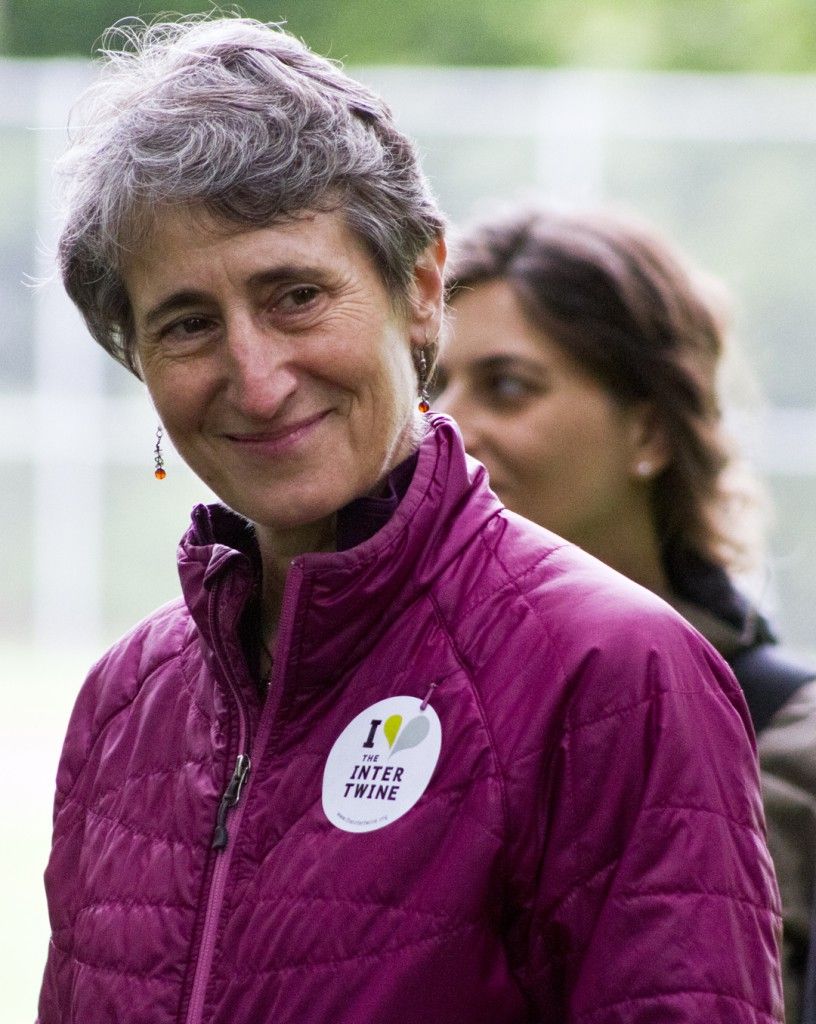 Flanked by U.S. Interior Secretary Sally Jewell, Gov. Jerry Brown recently announced[1] a combined $50 million in drought relief funds, much of it headed the Golden State's way. But Jewell and Brown tamped down criticism, suggesting the crisis was far from over, but not as bad as it could be.
Thanks in part to Sen. Dianne Feinstein, D-Calif., Congress approved the outflow of funds, roughly half of which is intended to assist California's parched Central Valley. As the Los Angeles Times reported[2], $22.6 million in federal dollars will go to "water projects throughout the western states, and California may be able to get some of that funding through a competitive grant program." All told, the money represents a ratcheting up of support, but hardly a silver bullet.
Jewell and Brown set expectations accordingly. Jewell admitted the sum would make a difference but was "not going to fix things." Brown called it "an important indicator that California and the federal government are good partners."
In fact, the competitive grant program was not designed to furnish direct drought relief. Instead, the Silicon Valley Business Journal reported[3], it will fund "a so-called water smart program, which gives farmers and other residents information on personal water use and education on recycling and reduction practices. Jewell said California has a strong chance of obtaining the grants due to the state's dire water situation."
Left unsaid was how quickly the water smart program would actually make an impact on that situation.
A light touch
The relatively weak federal response reflected a belief among policymakers, including Brown, that California's drought may be lengthy, but it is not a full-blown catastrophe. Calling himself "reluctant to expand the coercive power of state authority," Brown claimed voluntary conservation had helped California manage the problem "pretty well," according[4] to the Sacramento Bee.
At the start of last year, the Bee observed, Brown called for Californians to cut their water use by a combined 20 percent statewide, a goal met in Dec. 2014.
As for the federal funds going directly to the state of California, those resources also have been allocated toward projects that will benefit the state more over the long term than the immediate term. Brown explained the funds, like those approved by voters last November in the $7.5 billion Proposition 1[5] water bond, "were important for conservation projects, which include the building of dams and groundwater management," according[6] to the Business Journal.
Building on bonds
As CalWatchdog.com reported[7], Brown has put long-term conservation projects at the center of his final term in office. During the run-up to last year's election, he did next to no campaigning on his own behalf, leading[8] instead with ads for the water bond that Prop. 1 created and the rainy-day fund set up by Proposition 2[9].
In the month of October alone, Brown spent[10] some $13.5 million promoting the two propositions, both of which voters approved.
Standing beside Jewell, Brown took the opportunity to reinforce his message. "We have to use water more efficiently," he said[11]. "We can't waste, we have to recycle, we have to store and save and deliver our water very carefully."
Brown emphasized there are few short-term solutions beside conservation. "Everybody is running around saying, 'Build a dam here, eliminate an endangered species there,'" he said[11]. "It's not going to produce any more water this year. The only person who can produce water is Mother Nature."
Endnotes:
recently announced: http://abcnews.go.com/US/wireStory/federal-government-boost-drought-funding-50-million-28779977
reported: http://www.latimes.com/local/political/la-me-pc-california-drought-federal-money-20150206-story.html
reported: http://www.bizjournals.com/sanjose/news/2015/02/09/on-29m-in-federal-funding-for-water-projects.html
according: http://www.sacbee.com/news/politics-government/capitol-alert/article9406694.html
Proposition 1: http://www.voterguide.sos.ca.gov/en/propositions/1/
according: http://www.bizjournals.com/sanjose/news/2015/02/09/on-29m-in-federal-funding-for-water-projects.html
reported: http://calwatchdog.com/2014/10/10/brown-steers-clear-of-dems-as-election-nears/
leading: http://calwatchdog.com/2014/10/10/brown-steers-clear-of-dems-as-election-nears/
Proposition 2: http://www.voterguide.sos.ca.gov/en/propositions/2/
spent: http://www.nbclosangeles.com/news/politics/Governor-Jerry-Brown-Neel-Kashkari-Spending-Election-Ballot-Measures-280298222.html
said: http://www.breitbart.com/california/2015/02/08/california-to-get-50m-from-congress-for-drought-research/
Source URL: https://calwatchdog.com/2015/02/10/gov-brown-breaks-drought-funds-dry-spell/
---