Schools signing up families for Covered CA
by John Seiler | February 13, 2015 9:02 am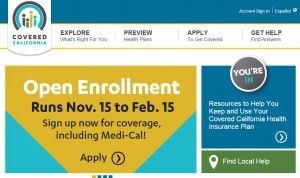 Critics of anti-poverty programs long have warned about what's called the Welfare State or "Cradle-to-Grave" government programs. The late Sen. Daniel Patrick Moynihan, a liberal Democrat from New York, worked [1]for decades to try to avoid that. He helped craft the 1996 Welfare Reform Act[2] with Democratic President Clinton and Republicans in Congress.
The idea was that welfare would go back to being temporary to get families back on their feet, not a permanent lifestyle.
In recent years, including under the Republican-controlled House of Representatives, things have returned more to the Welfare State model. This is especially true in California, once one of America's wealthiest states, but now the one with the highest level of poverty[3], at about a quarter of our people.
According to the Lucille Packard Foundation[4], 58 percent of California kids now are eligible to receive free or reduced-price school meals.
Now, California schools even are becoming centers for signing families up for Covered California, the state's implementation of Obamacare. Reported EdSource[5]:
In school libraries and courtyards from Sacramento to Los Angeles and beyond, trained enrollment counselors have been invited to set up folding tables, commandeer desk space and corral parents before the Feb. 15 sign-up deadline for Covered California, the state's online health insurance marketplace created under the federal Affordable Care Act.
And the outreach will increase. Under a new state law, all California schools must include in their 2015-16 enrollment packets information about options for health care coverage and how to get help with the sign-up process. The law, Assembly Bill 2706, authored by Roger Hernández, D-West Covina, is intended to reduce the number of children who are eligible for health insurance subsidies but remain uninsured.
For perspective, here's an excerpt from a 1987 interview [6]with Moynihan, still relevant today:
There is a lot of vigorous research on welfare being done again, and it has really told us things we didn't know. One of the most important things is that people who receive welfare cannot be regarded as one undifferentiated mass of people, and you can't treat them all alike.
For instance, about a quarter of mothers who receive Aid to Families with Dependent Children do so for less than one year. These are self-sustaining, capable people who have had a sudden divorce or separation. They'll get their lives put back together and we won't see them again.
At the other end of the spectrum – about a quarter of the people – are those who are unmarried and in real trouble and go on welfare very young. If you don't get hold of those people very quickly and work very hard and put a lot of resources into them, you have a spoiled life. And their children have fairly chancy prospects.
When you know these things, the problem doesn't seem quite so overwhelming. You don't have to change the way people behave, because nobody knows how to change the way people behave. But you've got to make more equitable arrangements in areas like child support.
Endnotes:
worked : http://www.nytimes.com/1987/02/19/us/washington-talk-q-a-daniel-patrick-moynihan-welfare-and-the-politics-of-poverty.html
1996 Welfare Reform Act: http://www.welfareinfo.org/reform/
highest level of poverty: http://www.sacbee.com/news/politics-government/capitol-alert/article2916749.html
According to the Lucille Packard Foundation: http://www.kidsdata.org/topic/518/free-school-meals-eligible/table#fmt=675&loc=2,127,347,1763,331,348,336,171,321,345,357,332,324,369,358,362,360,337,327,364,356,217,353,328,354,323,352,320,339,334,365,343,330,367,344,355,366,368,265,349,361,4,273,59,370,326,333,322,341,338,350,342,329,325,359,351,363,340,335&tf=73
EdSource: http://edsource.org/2015/schools-help-families-enroll-in-covered-california-medi-cal/74097#.VN4cd_nF_h5
interview : http://www.nytimes.com/1987/02/19/us/washington-talk-q-a-daniel-patrick-moynihan-welfare-and-the-politics-of-poverty.html
Source URL: https://calwatchdog.com/2015/02/13/schools-signing-up-families-for-covered-ca/
---