CA "community solar" fight looms on subsidy issue
by Chris Reed | March 11, 2015 3:53 pm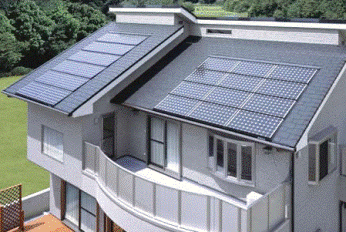 Hawaii's boom in residential solar power is inspiring advocates of the alternative energy resource to push hard in states across the U.S. for rooftop solar power, both for personal use and as part of the larger electricity grid. One in 10 homes in the 50th state now has solar power panels.
But this rapid growth is slowing as Hawaiian Electric Co., Hawaii's sole power utility, increasingly objects to policies that require it to buy excess power from these homes at rates it sees as overly generous. This report is from last month[1]:
In a filing with the state Public Utilities Commission last month, HECO argued that solar system owners can end up paying nothing to the utility, yet still rely on its grid daily, drawing electricity at night and when clouds pass. That means grid operation and maintenance costs are "increasingly being shifted from those who have solar to those who don't," wrote HECO in the filing.
This foreshadows a big battle that lies ahead in California: whether and/or how much residential solar installations should be encouraged with de facto or direct subsidies. So far, according to the utilitydive.com website tracking utility news around the U.S., California's regulators appear wary of a commitment to any subsidies, not just long-term ones.
'Costs should be borne by participants'
Last week, the website took an in-depth look at the latest version of the California Public Utilities Commission's community solar rule, which has been crafted in response to a state law[2] committing California to establishing 600 megawatts of community solar power generation. The first principle of the regulations is sure to spur criticism from politicians and advocacy groups who want California to shift even more quickly than it is away from fossil fuels:
Careful rate design and procurement can create ratepayer indifference and prevent program costs from being shifted to non-participating utility customers. …

The first finding was central for the IOUs [investor-owned utilities]. "Our program adheres to a principle that program costs should be borne by participants," noted PG&E Community Solar Program Manager Molly Hoyt. "There is no cross-subsidy paid by non-participating customers."

But in accepting the utilities' proposals for rates and contract terms, said VoteSolar Western Region Director Susannah Churchill, it is possible the commission compromised affordability.

"I am worried that affordability is going to be a problem and the limitation that customers can only subscribe to the program for a maximum of one year means that they can't lock in their credits and charges long term," Churchill explained. "That is going to create uncertainty and may be a big barrier for program uptake."

While mid-size solar projects remain more expensive than conventional generation, a small premium for renewables makes sense, she said. Many customers will be willing to pay more for 50 percent or 100 percent renewables-generated electricity.
Friendly to solar homeowners — or to state economy?
As state lawmakers gear up for successor laws[3] to 2006's landmark AB32 energy-regulation law, and as solar panels come down in price, this debate will grow ever more heated. It can be framed as whether alternative-energy policies and laws should be friendly to homeowners doing the right thing for the environment or whether they should be assessed in a cold, bottom-line fashion about their overall impact on energy costs and the economy.
Germany's experience with its national Energiewende policy, adopted in 2011, holds lessons for California regulators and politicians. This is from a 2013 Reuters story[4]:
Angela Merkel's "green revolution" risks becoming a victim of its own success.

Seduced by generous subsidies, Germans are embracing the ambitious project with such fervor — installing solar panels on church roofs and converting sewage into heat — that instead of benefiting from a rise in green energy, they are straining under the subsidies' cost and from surcharges. …

"Germany's dilemma is how to keep industry's energy prices low enough to remain competitive and meet ambitious (green) targets while also maintaining a balanced budget," said Will Pearson, head of global energy at the Eurasia Group in London. "Addressing these will pose a political challenge."

So attractive are the incentives, or feed-in tariffs, that the rapid expansion of renewable power has driven up the surcharges which fund them and are paid for by consumers. The charge rose by 47 percent this year alone.

Both households and industry are feeling the pain and exporters complain that the energy shift has driven up power prices so much that their competitiveness is being eroded.
This may portend what awaits California in coming years as environmentalists ramp up their push for renewable energy. If the effort leads to broadly higher prices, a reprise of 2010's Proposition 23[5] fight is likely. That ballot measure attempted to suspend AB32 until state unemployment was at 5.5 percent of below for 12 consecutive months. It lost 61.5 percent to 38.5 percent after being depicted as an attack on air pollution laws.
The odds of a successor measure passing would seem likely to be much higher if California residents and businesses faced a Germany-sized green-energy price shock. Supporters of the 2010 initiative didn't only include oil companies and voters who thought California shouldn't go it alone in trying to reduce the emissions believed to cause global warming. The State Building & Construction Trades Council backed Prop. 23 on the grounds that AB32 would be harmful to the state's economy.
Endnotes:
last month: http://e360.yale.edu/feature/will_new_obstacles_dim_hawaiis_solar_power_surge/2847/
state law: http://cleanpath.com/sites/default/files/pdfs/news/12.4.12%20SB%2043%20FACT%20SHEET%20FINAL.pdf
successor laws: http://www.planetizen.com/node/67509
Reuters story: http://www.reuters.com/article/2013/08/28/us-germany-election-energy-idUSBRE97R0ED20130828
Proposition 23: http://en.wikipedia.org/wiki/California_Proposition_23_%282010%29#Result
Source URL: https://calwatchdog.com/2015/03/11/ca-community-solar-fight-looms-on-subsidy-issue/
---