UC tuition battle sparks student protests
by James Poulos | March 11, 2015 9:08 am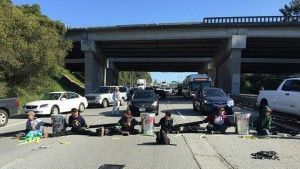 The battle over University of California tuition hikes has been raised to a new level — with shades of 1960s student protests.
Gov. Jerry Brown and state legislators have rejected the tuition hikes advanced by UC President Janet Napolitano. In response she insisted, according to the Los Angeles Times, the system "will not expand enrollment of California freshmen and transfer students in the fall unless more state revenues are appropriated and will cap enrollment of out-of-state students at UCLA and UC Berkeley."
The threat of tuition hikes led to student protests, including the six from UC Santa Cruz in the above picture who were arrested for blocking Highway 17. The activist group Change.org is insisting[1], "We demand that the DA's office drop the two misdemeanor charges, and that the Student Judicial Affairs lift the suspension so that these students can return to their homes and their lives."
Brown's opposition
The unprecedented conflict has become a thorn in the side of Gov. Brown, who has not faced such staunch opposition from fellow Democrats during his latest stint as the state's chief executive.
Napolitano, the former secretary of the U.S. Department of Homeland Security, continues to weather Brown's intense pressure to steady tuition rates. As CalWatchdog.com previously reported[2], Brown has berated the board for the hikes, reminding them the UC system is "not Wall Street" and "has as its mission public service."
Although the UC system is independent according [3]to the California Constitution, the money it receives from the state general fund must be approved by the Legislature and the governor. That sets up tension on budget matters.
Following his words with actions, Brown, also a board member, managed in January to engineer a new "select advisory committee" for the board, composed only of himself and Napolitano. Its stated aim, to "generate recommendations that will help determine appropriate state funding levels for UC in the short and long term," telegraphed[4] growing influence by Brown's camp over the final tuition numbers.
Yet the controversy has not abated. Instead, it has spread, transforming from an insider's game of wills to a statewide hot-button issue that has Democrats divided and students up in arms.
Delicate politics
The upset has taken shape as part of the educational wedge issue splitting California Democrats in recent years.
Last November's election featured an intense battle for superintendent of public instruction between two Democrats, incumbent Tom Torlakson, who was backed by state teachers' unions, and the challenger, reformer Marshall Tuck.
They split over the Vergara [5]court decision that held teacher-tenure protections discriminated against poor and minority students, but which is being appealed[6] by state Attorney General Kamala Harris, now a candidate for U.S. Senate. Torlakson took the side of the unions and supported the appeal; Tuck made sustaining the decision a keystone of his campaign.
After Torlakson beat [7]Tuck in a close election, 52 percent to 48 percent, Democrats hoped to unite on education and put their divisiveness behind them.
But UC's tuition hikes reopened the wound, putting officeholders in an awkward political position and pushing instinctively liberal students to oppose policies set by Democrats.
Casting Napolitano's intransigence as part of "a delicate, carefully staged negotiating process in Sacramento," the Times reported[8] several lawmakers dinged the UC chief for her stance:
"Assembly Speaker Toni G. Atkins (D-San Diego) said she was 'frustrated over UC's latest attempt to use students as bargaining chips.' She said that a cap at UCLA and UC Berkeley, 'while increasing out-of-state enrollment overall, does not solve the problem. UC's job is to educate California students, not wait list them.' […] Senate President pro Tempore Kevin de León (D-Los Angeles) said in a statement that California students are being offered 'a back seat' compared to those from outside the state."
Both Atkins and de León, noted the Times, have pushed for a big hike in costs for out-of-state enrollees and a freeze in in-state tuition. What Democrats in the Legislature have gotten for now is quite different — a cap on out-of-staters, and a freeze and a hike in costs for those in state.
Public disapproval
Voters also are balking. In a new USC Dornsife poll conducted with the Times, 57 percent of voters sided[9] with Brown's stance, while only 32 percent of gave the nod to Napolitano's.
As the Times reported[10] elsewhere, Brown "would increase UC funding by $120 million — but only if tuition remains frozen for a fourth consecutive year. Napolitano said UC needs $100 million beyond that to help pay for pensions, health benefits, salaries and other escalating costs."
Meanwhile, students put their own dismay into action. In addition to the Santa Cruz protest, other activism broke out.
At a joint protest by students at Berkeley and Oakland Technical High School, activists used the hikes as a symbolic pretext for assailing[11] the educational establishment in California along a whole line of grievances, ranging from student loan relief to quotas for applicants from public schools.
Endnotes:
insisting: https://www.change.org/p/cp-evc-alison-galloway-alma-sifuentes-santa-cruz-county-district-attorney-s-office-drop-the-criminal-and-student-judicial-charges-on-the-highway-17-six-students
reported: http://calwatchdog.com/2014/11/25/under-fire-feinsteins-water-bill-collapses/
according : http://www.mercurynews.com/education/ci_27078760/proposed-constitutional-amendment-could-strip-uc-its-independence
telegraphed: http://calwatchdog.com/2015/01/22/uc-president-appears-to-cave-in-fight-with-jerry-brown/
Vergara : http://studentsmatter.org/our-case/vergara-v-california-case-summary/
appealed: http://www.scpr.org/blogs/education/2014/09/02/17239/far-reaching-vergara-decision-headed-for-appeals-c/
beat : http://ballotpedia.org/Tom_Torlakson
reported: http://www.latimes.com/local/education/la-me-ln-uc-enrollment-20150303-story.html
sided: http://news.usc.edu/76707/californians-side-with-jerry-brown-in-uc-tuition-dispute/
reported: http://www.latimes.com/local/politics/la-me-pol-poll-tuition-20150228-story.html
assailing: http://www.dailycal.org/2015/03/04/uc-berkeley-oakland-high-school-students-protest-tuition-hikes-higher-education-issues/
Source URL: https://calwatchdog.com/2015/03/11/uc-tuition-battle-sparks-student-protests/
---