CA gas prices could start falling
by John Seiler | March 14, 2015 11:39 am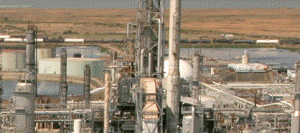 Some good news: Gas prices could start falling.
Six weeks ago gasoline in California averaged about $2.25 a gallon, the lowest price in years. Then prices zoomed up a buck and more. Today, according to GasBuddy.com[1], the average price in California is $3.38 a gallon.
That's the highest in the country, above even the usual highest state, Hawaii, which is $3.15. The lowest is South Carolina, at $2.14.
Finally, relief should be coming. California uses special blends of gas unique only to our state to reduce pollution. So a strike by refinery workers caused shortages, driving up the cost for everybody.
Now the strike is over. Reported the Los Angeles Times[2]:
The United Steelworkers reached a tentative contract with Shell Oil Co. on Thursday after more than a month of contentious talks and strikes, union officials said. …
The previous contract, which covered 30,000 refinery workers nationwide, expired at the end of January. On Feb. 1, the union called for work stoppages, which at last count included 6,500 workers at 15 facilities.
Two California plants owned by Tesoro Corp. in Carson and Martinez were affected. As a safety precaution, the company decided to idle production at the Martinez plant, half of which had already been undergoing maintenance.
Assuming the contract is ratified by workers and prices start dropping, that's just in time for some fun vacation driving during Easter Break.
Endnotes:
GasBuddy.com: http://www.gasbuddy.com/GB_Price_List.aspx?cntry=USA
Los Angeles Times: http://www.latimes.com/business/la-fi-usw-shell-contract-20150312-story.html
Source URL: https://calwatchdog.com/2015/03/14/ca-gas-prices-could-start-falling/
---