California's Beltway delegation double-dips on pensions
by Steve Miller | March 17, 2015 8:51 am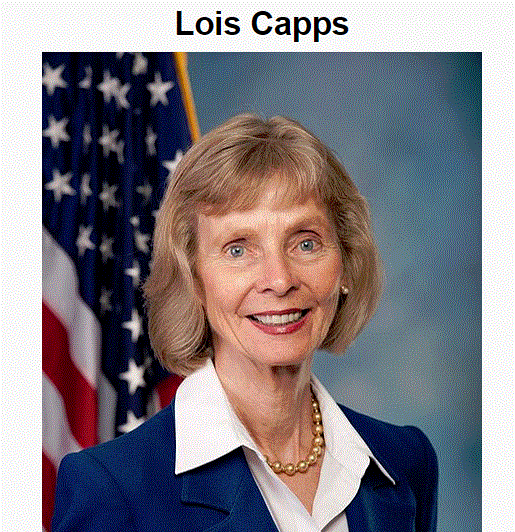 They're called double-dippers: those who take a pension payout from one government job while earning a salary doing another.
Last year 19 of California's 55 members of the U.S. Congress drew pensions from a state-backed public retirement plan, according to a CalWatchdog.com analysis of financial disclosures for the year 2013.
Payments from 2013 – the last reported year available – came from municipal, education and state pension funds and ranged from annual payouts of $3,800 to $70,000. Four members take payments from two or more public pension funds.
The top recipient was Rep. Lois Capps, who collected a total of $70,049 in 2013 – $20,615 from the California State Teachers Retirement System and $49,434 from the University of California Retirement System. [1]
The 77-year-old lawmaker from Santa Barbara is a former instructor at Santa Barbara City College. Capps has been receiving the dual pensions since 1998[2], when she first was elected.
Members of Congress receive a salary of $174,000[3]. They are not prohibited from taking their taxpayer-subsidized retirement while serving in Washington.
Taking a state pension while serving in Congress is hardly noticed "because it happens in so many different layers that people aren't tracking it," said Steve Ellis, vice president for the Washington D.C.-based Taxpayers for Common Sense[4].
"And besides, the people who are getting this kind of information are the people who would be getting these payments in the future."
He added that the system has no rules prohibiting what detractors call "double-dipping."
"All of us are paying two sets of employees, one working and one retired," Ellis said.
Executive benefits
But pensions are part of the compensation package, like any job in the private sector, insists Steve Maviglio, a California political consultant who represents unions that back public pensions.
"It's like an executive who hops from one job to another," Maviglio said. "Should they have to give up the benefits from a previous job?"
Besides, he said, "We're trying to attract the best and the brightest to be public servants and if they are forced to give up the benefits they've earned at a previous job, it would kill that incentive [to serve]."
In addition to the 19 pensioners in the state's Washington delegation, nine members note on their disclosures that they hold an interest in a public pension but are not yet taking the money.
The pension funds tapped include the County of San Mateo[5], which paid Rep. Anna Eshoo $12,020[6] for her time on the board of supervisors from 1982 to 1992; and Marin County[7], where Sen. Barbara Boxer drew $4,456 [8]for serving on the county board of supervisors from 1976 to 1982. Boxer has announced her retirement beginning in Jan. 2017.
Rep. Scott Peters, 56, who served on the San Diego City Council from 2000 to 2008, noted on his disclosure[9] that he received a $20,703 annual pension from the San Diego City Employees' Retirement System[10], but donated it to the San Diego Library Department.
CalPERS and CalSTRS
The majority of the pension draws came from the state's California Public Employees' Retirement System, which administers the Legislators' Retirement System[11]. CalPERS[12] covers members of the statehouse first elected prior to Nov. 1990, when voters passed Proposition 140[13]. The initiative canceled pensions for future legislators and imposed term limits. The California Public Employees' Pension Reform Act of 2013[14] took effect in January 2013 and greatly altered the plan, as well as major educator pension arrangements.
The California State Teachers Retirement System[15] also is a major provider of pension income for U.S. lawmakers. And some, such as Rep. Michael Honda, get something from both sources.
Honda, 73, reported income[16] of $38,135 from CalSTRS and $13,393 from CalPERS, plus $12,754 from the teacher system as part of a deceased-spouse family allowance.
Still others have not yet tapped their pension funds and report the accrued benefits as unearned income or an asset. Those funds are allowed to be reported in a broad range as the asset is seen with the potential for growth or reduction.
Rep. Judy Chu reports her pension[17] with CalSTRS has a value of between $100,001 and $250,000 and her CalPERS fund between $1,001 and $15,000.
Chu, 61, served on the Monterey Park City Council and taught in the Los Angeles Community College District.
Rep. Tony Cardenas reported he will receive a pension from the city of Los Angeles when he turns 55[18], in 2018. His payout, he noted, is an "undetermined amount."
Some members of the California delegation have seen their payments grow over the years at a rate outpacing standard interest returns for their funds.
Sen. Dianne Feinstein's $55,690 pension payout in 2013[19] from her days as a member of the Board of Supervisors and mayor of San Francisco has grown 36 percent since 2002, when she collected $40,929.[20] Her draw is based on 18 years of work ending in 1988[21]. Her 2002 pension pay was equal to between $53,000 and $62,500 in 2013, according to a relative-worth calculation.[22]
Feinstein, 81, first was elected to San Francisco city office in 1969.
Then there are the benefits that are too good to give up.
Even though federal lawmakers are privy to some generous health insurance, including dental care[23], former Rep. Lynn Woolsey, who retired in 2013 after 20 years in Congress, reported she still carried her vision and dental care[24] from her days as a member of the Petaluma City Council from 1984 to 1993.
Steve Miller can be reached at: 517-775-9952 and [email protected][25]. His website is: http://avalanche50.com/[26].
Endnotes:
$20,615 from the California State Teachers Retirement System and $49,434 from the University of California Retirement System. : https://www.scribd.com/doc/258810974/Lois-Capps
receiving the dual pensions since 1998: https://www.scribd.com/doc/258642408/Lois-Capps-Amended-Filing-Showing-Pension
receive a salary of $174,000: http://www.senate.gov/CRSReports/crs-publish.cfm?pid=%270E%2C*PL%5B%3D%23P%20%20
Taxpayers for Common Sense: http://www.taxpayer.net/
County of San Mateo: http://www.samcera.org/
$12,020: https://www.scribd.com/doc/258958979/Anna-Eshoo-financial-disclosure
Marin County: http://www.mcera.org/depts/rt/main/index.cfm
Sen. Barbara Boxer drew $4,456 : https://www.scribd.com/doc/258960000/Barbara-Boxer
noted on his disclosure: https://www.scribd.com/doc/258653181/Scott-Peters-Financial-Disclosure
San Diego City Employees' Retirement System: https://www.sdcers.org/
Legislators' Retirement System: http://www.calpers.ca.gov/index.jsp?bc=/about/benefits-overview/retirement/lrs-benefits.xml
CalPERS: http://www.calpers.ca.gov/
Proposition 140: http://ballotpedia.org/California_Term_Limits,_Proposition_140_%281990%29
California Public Employees' Pension Reform Act of 2013: http://knowledgecenter.csg.org/kc/content/californias-public-employee-pension-reform-act-2013
California State Teachers Retirement System: http://www.calstrs.com/
Honda, 73, reported income: https://www.scribd.com/doc/258798425/Michael-Honda-financial-disclosure-for-2013
reports her pension: https://www.scribd.com/doc/258798739/Judy-Chu-financial-disclosure-2013
when he turns 55: https://www.scribd.com/doc/258799946/U-S-Rep-Tony-Cardenas-financial-disclosure
$55,690 pension payout in 2013: https://www.scribd.com/doc/258799373/Dianne-Feinstein-2013-State-Pension
when she collected $40,929.: https://www.scribd.com/doc/258799542/Dianne-Feinstein-2002-Financial-Disclosure
based on 18 years of work ending in 1988: http://transparentcalifornia.com/pensions/2013/sfers-san-francisco-employees-retirement-system/feinstein-dianne/
according to a relative-worth calculation.: http://www.measuringworth.com/uscompare/result.php?year_source=2002&amount=40929&year_result=2013
including dental care: https://fas.org/sgp/crs/misc/R43194.pdf
she still carried her vision and dental care: https://www.scribd.com/doc/258802929/Lynn-Woolsey-Final-Filing
[email protected]: mailto:[email protected]
http://avalanche50.com/: http://avalanche50.com/
Source URL: https://calwatchdog.com/2015/03/17/californias-beltway-delegation-double-dips-on-pensions/
---