Threat to vulnerable CA House Democrat comes, seemingly goes
by Chris Reed | March 17, 2015 7:08 am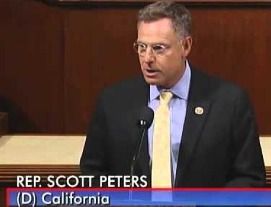 Rep. Scott Peters, D-La Jolla, represents a wealthy district ranging from Coronado to Carmel Valley to rural estates in Rancho Bernardo and Poway. The Duke and New York University law school graduate narrowly beat San Diego Councilman Carl DeMaio, a libertarian Republican firebrand, in 2014 after trailing on election night. He won his first term in 2012 after defeating GOP incumbent Brian Bilbray, who suffered when redistricting made his district far more Democratic and independent.
Peters is still considered hugely vulnerable. While he was on the San Diego City Council from 2000-2008, the city plunged into a financial crisis over decisions to intentionally underfund pension payments for retirees. This led to national ridicule and the 2005 resignation of Mayor Dick Murphy. Peters' defensive framing of his behavior during the scandal — blaming his staffers and a media allegedly devoted to inventing scandal — flabbergasted even some of his supporters.
After their huge success in the past three House elections, national GOP operatives have been hunting for a San Diego Republican to take on Peters in 2016 in the belief that the centrist Democrat was one of the relatively few incumbents vulnerable in a national election — one in which Barack Obama would no longer help spike voter turnout among minorities and young whites.
Monday afternoon, it appeared they thought[1] they had their man: a San Diego Republican who stomped Peters in the 2008 primary to be San Diego's city attorney:
National Republicans are in talks with a potential challenger to California Rep. Scott Peters[2], whose tossup district makes him a perennial target.
San Diego City Attorney Jan Goldsmith is slated to have a phone conversation soon with Rep. Richard Hudson[3], R-N.C., recruitment chairman at the National Republican Congressional Committee, according to a source with knowledge of the discussion.
The NRCC doesn't overtly play in primaries, but an aide there said Goldmith is "a candidate of interest" to run against Peters in the 52nd District. The Democrat was one who got away last cycle, as Republicans picked up seats in the House and Senate across the country.
"He definitely is a candidate whose bio is appealing to us, and somebody we are interested in talking to," the NRCC aide said when reached by CQ Roll Call.
Within an hour, Goldsmith's spokesman ridiculed Congressional Quarterly's report as simply wrong. His language seemed categorical:
He has, "No plans to run. No plans to make plans. If nominated, he will not accept. If elected, he will seek a recount," said Gerry Braun, communications director for the San Diego City Attorney's office.
Borrowing from William F. Buckley's jokes[4] in his 1965 run for mayor for New York City may make some smile, but the national GOP won't be happy. So their hunt will resume for a good 52nd district candidate.
Unless Goldsmith changes his mind. In 2008, when the state judge, former Poway mayor and former state assemblyman ran for San Diego city attorney, he defeated incumbent Mike Aguirre and Peters in the primary and then trounced Aguirre in the runoff.
After his 32 percent to 20 percent defeat of Peters in a head-to-head election in 2008, Goldsmith may not see Peters as particularly formidable.
Endnotes:
they thought: http://atr.rollcall.com/republican-challenger-scott-peters-surfaces/
Scott Peters: http://www.rollcall.com/members/45315.html
Richard Hudson: http://www.rollcall.com/members/44602.html
William F. Buckley's jokes: http://cityroom.blogs.nytimes.com/2008/02/27/remembering-buckleys-1965-run-for-mayor/?_r=0
Source URL: https://calwatchdog.com/2015/03/17/threat-to-vulnerable-ca-house-democrats-comes-seemingly-goes/
---