Special Election: Moorlach wins, Glazer advances to run-off for CA Senate
by John Seiler | March 18, 2015 9:09 am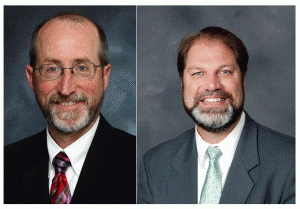 Two reformers, one a Republican the other a Democrat, won yesterday's contested races for the California Senate. But the Democrat will face a difficult runoff.
With 100 percent of precincts "partially reporting," according to the California Secretary of State, here are the results:
Senate District 7: [1]
Orlinda Mayor Steve Glazer (pictured on the left), 32.8 percent.
Assemblywoman Susan Bonilla, 24.9 percent.
Former Assemblywoman Joan Buchanan, 22.6 percent.
All are Democrats. Glazer and Bonilla will face off in a May 19 runoff election. Rounding out the field were Michaela M. Hertle, a Republican, 17 percent; and Terry Kremin, a Democrat, 2.8 percent.
Senate District 37[2]:
John Moorlach (pictured above on the right), a former Orange County Supervisor, 51.4 percent.
Assemblyman Don Wagner, 45.1 percent.
Naz Namazi, 3.5 percent.
All are Republicans. Because Moorlach got a majority, there will be no runoff — pending any unlikely changes in the vote tallies.
Senate District 21[3]:
Former state Sen. Sharon Runner, a Republican, ran unopposed. As CalWatchdog.com reported [4]in January, Runner declining to seek reelection in 2012 due to a life-threatening autoimmune disease. After a double lung transplant, she was proclaimed a "walking miracle" and now has successfully reclaimed her Senate seat.
Glazer
Glazer, as CalWatchdog.com reported yesterday, is a major ally of Gov. Jerry Brown, having been the top political strategist [5]for Brown's 2010 gubernatorial bid and Proposition 30[6], Brown's $7 billion tax-increase initiative in 2012.
The state's public-employee unions fear Glazer would bring Brown's pension-reform penchant to the Senate. But union support was split, as the California Federation of Teachers backed Buchanan, while the Democratic Party organization mainly backed Bonilla.
For the May 19 runoff, it is likely that union forces will join and back Bonilla against Glazer.
This looks to be a close-fought race over the next two months. Hertle, the Republican, had urged her supporters to back Glazer, yet she still got 17 percent. Add that to Glazer's 32.8 percent, an the total is 49.8 percent, tantalizingly close to a majority.
Then add together Bonilla's 24.9 percent and Buchanan's 22.6, and the total is 47.5 percent, also close to a majority.
Of course, the actual tally will be affected by many other factors, including voter turnout, different sets of voters in May than March, Republican reaction to not having one of their own on the ballot and the conduct of the actual Glazer and Bonilla campaigns.
With the Republican Party still struggling in California, it is races like this that show how democracy is bifurcating the Democratic Party to give voters a choice on state policies.
The election in Senate District 7 continues to shape up as a significant one for the future of the Democratic Party, the state Senate and California.
Moorlach
Moorlach is best known for warning in 1994 about Orange County's impending bankruptcy as he ran for county treasurer-tax collector against incumbent Democrat Bob Citron. Moorlach pointed to risky investments of county funds, but was not heeded.
Shortly after Citron won the election that November, the county's finances collapsed, Citron resigned and the county Board of Supervisors appointed Moorlach in his place. Citron later pleaded guilty to six felony counts of financial fraud, although not for personal financial gain.
In the year's campaign, Wagner pulled in three times the campaign cash as Moorlach, according [7]to the Orange County Register. Several flyers sent to voters by Wagner painted Moorlach as a greedy supervisor who goosed his own county pension. The website TheRealMoorlachRecord.com[8] — labeled at the bottom, "Paid for by: Don Wagner for Senate 2015" — attacked him for similar themes as the flyer: "Career politician John Moorlach doesn't like it when you talk about his record. He'd rather voters focus on what he says, not what he does."
It attacked Moorlach for "rasing fees," which Moorlach pointed out where for county services, such as parks, for which the tab otherwise would have been picked up by taxpayers.
The Wagner attacks didn't stick. When he ran for supervisor in 2006, Moorlach was attacked for the opposite reason by local public-employee unions: for seeking to reduce their pensions. He was opposed by union-backed Stanton Councilman David Shawver, but easily won the election.
On the Board of Supervisors for eight years, Moorlach was known for warning of the dangers of excessive spending, especially for pensions.
Republicans, of course, are in the minority in the Senate. But Moorlach's fiscal expertise still will be valuable as pensions become even more important in the coming years.
Endnotes:
Senate District 7: : http://vote.sos.ca.gov/returns/state-senate/district/7/
Senate District 37: http://vote.sos.ca.gov/returns/state-senate/district/37/
Senate District 21: http://vote.sos.ca.gov/returns/state-senate/district/21/
reported : http://calwatchdog.com/2015/01/15/state-senate-21-runner-seeks-to-reclaim-seat/
top political strategist : https://web.archive.org/web/2/http://www.sacbee.com/2012/02/18/4273149/steve-glazer-advises-jerry-brown.html
Proposition 30: http://elections.cdn.sos.ca.gov/special-elections/2015-sd7/certified-list.pdf
according : http://www.ocregister.com/articles/percent-654579-republican-ballots.html
TheRealMoorlachRecord.com: http://www.therealmoorlachrecord.com/
Source URL: https://calwatchdog.com/2015/03/18/special-election-moorlach-wins-glazer-advances-to-run-off-for-ca-senate/
---