Big twist in San Diego stadium saga
by Chris Reed | March 22, 2015 8:15 pm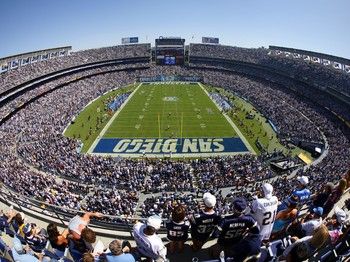 A stadium task force named by San Diego Mayor Kevin Faulconer has been holding a rapid-fire series of meetings with football, development and finance officials about the challenge facing California's second-largest city in keeping the Chargers from bolting town for Los Angeles after the 2015 season.
This has led to optimism about the prospects of San Diego keeping its NFL team with an inventively financed billion-dollar stadium. Some local CEOs wrote in the U-T San Diego[1] about their confidence the public would help out:
Recent stadium projects in midsized cities such as Atlanta, Detroit, and Minneapolis are being financed with public sources between 35 and 50 percent. The Strategic Roundtable believes that the public funding should not exceed 50 percent of the total project costs, including land and infrastructure improvements. This realistic and pragmatic approach must be embraced by all sides to gain the public's support.
Some believe that San Diego city or county residents would not be willing to give $50 million to the Chargers, much less $350 million to $500 million. Support for taxpayer subsidies [2]is only 29 percent.
On Saturday, the chair of the stadium task force recognized this reality[3]:
In San Diego, the mayoral committee assigned to find a location and financing plan for a new stadium for the Chargers has decided it will not ask for a tax increase.
Meeting the two-thirds vote of the public needed for a tax increase is not realistic, committee Chairman Adam Day said.
Instead, the committee will look at assembling a financial plan that includes naming rights, personal seat licenses, contributions from the NFL and the Chargers, parking fees, concession fees and profits from any mixed-use development on the 166-acre, city-owned site that includes Qualcomm Stadium.
The committee is set to deliver its financing plan to Mayor Kevin Faulconer by May 20. Faulconer has said that the issue will be presented to voters even if that is not legally necessary.
That is from the L.A. Times. This has the feel of the end game for San Diego and the Chargers. If a realistic financing plan could have been assembled without public subsidies before now, it would have been.
That presumes the Spanos family wants to stay in San Diego, a presumption some folks no longer buy. Even if they were one of two NFL teams in Los Angeles, the Chargers would likely be worth $1 billion more in America's second-biggest metro area than in San Diego, which is no. 17 on the list of largest U.S. metro areas.
Endnotes:
U-T San Diego: http://www.utsandiego.com/news/2015/mar/21/tackling-funding-questions-key-to-stadium-success/
taxpayer subsidies : http://www.10news.com/sports/poll-san-diegans-weigh-in-on-chargers-stadium-plan-02012015
reality: http://www.latimes.com/local/lanow/la-me-ln-san-diegos-new-stadium-committee-will-not-ask-for-tax-increase-20150321-story.html?track=rss
Source URL: https://calwatchdog.com/2015/03/22/big-twist-in-san-diego-stadium-saga/
---