Brown's drought battle heats up Sacramento
by James Poulos | March 25, 2015 7:41 am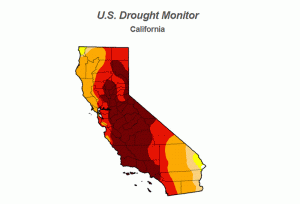 Running out of water, California officials have decided to open the taps on another resource: money. Joined by leading legislators, Gov. Jerry Brown has announced[1] a fresh round of relief proposals totaling some $1 billion.
Not all the funding was targeted to short-term relief, however, on the assumption that California's water challenges would continue far into the future. In addition to money[2] for some of the state's hardest-hit communities, and food and housing assistance for some of those harmed directly, the package included[3] cash for more complicated undertakings.
Prominent among the more ambitious measures were irrigation assistance, flood control and water desalinization and recycling. Yet the majority of the new initiative "would accelerate spending that voters have approved for water and flood projects," CBS San Francisco reported[4]:
"That includes $128 million in expenditures from the governor's budget to provide direct assistance to workers and communities impacted by drought and to implement the Water Action Plan. The legislation would also accelerate $272 million in Proposition 1 Water Bond funding for safe drinking water and water recycling and $660 million from Proposition 1E for flood protection in urban and rural areas."
A bipartisan push
The measures were likely to shape up as two separate potential pieces of legislation, both of which would require majority approval in Sacramento. Although, as NBC Los Angeles reported[5], Republicans had not yet been briefed on the particulars, Brown was able to muster adequate bipartisan support to give the funding initiative the appearance of a fully unified front.
He was joined at his Capitol news conference not only by the Democratic leadership: state Senate President Pro Tem Kevin de Leon, D-Los Angeles, and Assembly Speaker Toni Atkins D-San Diego. He also was joined by Assembly Republican leader Kristin Olsen, R-Modesto, and Senate Republican leader Bob Huff, R-Diamond Bar.
While Huff observed that all Californians should be asking themselves how to conserve more water, de Leon hinted that more expenditures could be on the way, according[6] to the Los Angeles Times. "This is just a down payment on our efforts to address the drought," he suggested. "This is just the first round."
Growing skepticism
Judging by the rapid reaction to the new package, de Leon's partial pledge of further support was politically well calculated. Several editorials published by prominent Northern California newspapers pulled no punches in criticizing the deal as too modest and moderate.
Calling Brown's response "lame," the San Jose Mercury-News editorial board argued[7] that "this generally forward-thinking, environmentally aware governor — one of the smartest politicians in state history — has to realize that the longer we wait to get started, the more Draconian limits on water use need to be."
The San Francisco Chronicle, meanwhile, warned[8] the deal offered "very little new money and even fewer new ideas." It said the deal didn't take on "industrial water guzzlers" like "the agricultural, oil and ranching industries. That's going to be a big fight with national repercussions — now is the time to begin."
A rock and a hard place
The criticism underscored the particularly challenging political position Brown faced because of the drought. On one side, he has had to secure a Republican buy-in, despite his vulnerability to cries from the GOP-leaning Central Valley that the Democrat-led state government has left farmers and ranchers to dry up.
On the other side, however, he has had to head off left-wing ambitions to pursue policies more in line with the San Francisco Chronicle editorial board — spending budget-busting sums and pushing vast new regulations that would make an adverse impact on some of California's biggest and most powerful employers.
One place where Brown has preserved some wiggle room is on involuntary water restrictions. Although he has long resisted imposing harsher cutbacks, he admitted[9] that could change sooner rather than later.
"If this drought continues, we'll crank it down and it will get extremely challenging for people in California," he said. Without bipartisan support for that kind of response, Brown will find himself under even greater pressure than he has so far this month.
Endnotes:
announced: http://sanfrancisco.cbslocal.com/2015/03/19/governor-jerry-brown-state-legislators-unveil-1-billion-drought-relief-plan/
money: http://www.latimes.com/local/political/la-me-pc-brown-emergency-drought-20150318-story.html
included: http://www.weather.com/science/environment/news/california-drought-governor-brown-plan
reported: http://sanfrancisco.cbslocal.com/2015/03/19/governor-jerry-brown-state-legislators-unveil-1-billion-drought-relief-plan/
reported: http://www.nbclosangeles.com/news/local/Governor-Jerry-Brown-California-Drought-Relief-296861521.html
according: http://www.latimes.com/local/political/la-me-pc-brown-emergency-drought-20150318-story.html
argued: http://www.mercurynews.com/opinion/ci_27769766/mercury-news-editorial-jerry-browns-lame-response-californias
warned: http://www.sfchronicle.com/opinion/editorials/article/California-s-drought-needs-strong-action-from-6148751.php
admitted: http://www.sacbee.com/news/politics-government/capitol-alert/article15381434.html
Source URL: https://calwatchdog.com/2015/03/25/browns-drought-battle-heats-up-sacramento/
---