Brown's fracking defense sparks green fury
by Chris Reed | March 29, 2015 4:40 pm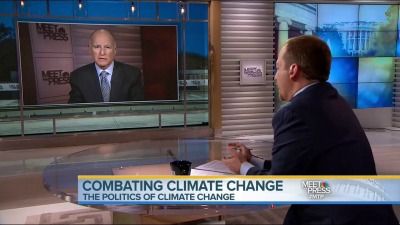 Gov. Jerry Brown's nationally televised defense of fracking's safety last Sunday on "Meet the Press" is making waves among state environmentalists and inspiring fury from liberal bloggers.
Here's the Bakersfield Californian's account:
Brown launched a no-nonsense defense of hydraulic fracturing on "Meet the Press" Sunday, dismissing host Chuck Todd's concerns that the practice uses too much water and could be dangerous. Brown noted California oil companies have been fracking for decades, safely, and that the practice does not use excessive amounts of water. He also reminded Todd that California imports 70 percent of its annual oil consumption, and banning it would hardly make a dent in consumption but force the state to import yet more oil on rail cars.
New York Gov. Andrew Cuomo, in sharp contrast, has accepted the contention of greens that fracking is a grave environmental threat. That California's governor parts with Cuomo and sides with energy companies led liberal bloggers Jerry Roberts and Phil Trounstine to vent on their Calbuzz blog. This is from an item[1] entitled, "Say It Isn't So: Is Jerry Brown Really A Fracking Whore?"
On the one hand, he calls for – and even leads – a "crusade to protect our climate"; on the other he allows oil companies to engage in a practice that science and common sense insist is destructive, wasteful and unsafe to the environment and to Californians.
So, more in sadness than in anger, we must ask: Why is Brown acting a fracking whore?
Quid Pro Quo? Oh No. Surely, it can't be that Occidental Petroleum gave $500,000 in 2012 to help Brown pass his crucial Proposition 30, which raised taxes on wealthy Californians and increased spending on public education. That would seem oh too quid quo pro for this political Jeremiah who self-righteously thunders that climate change denial "borders on the immoral."
And yet, whenever he is challenged on his approval of fracking – he called it a "fabulous economic opportunity" in May 2013 – Brown slips the punch by citing all the other good stuff he's set in motion to combat climate change.
Governor blasted for 'lack of integrity'
On Friday, a Huffington Post writer — Paul Y. Song, a California physician who once helped advise[2] the Brown administration — weighed in with a post[3] headlined,"Governor Brown, We Urge You to Do What Is Right for Our Water and Our Environment!"
The Governor stated[4] on Meet the Press last Sunday that, despite overwhelming evidence to the contrary, the drought is no reason to ban fracking.
Worse, while Gov. Brown called out Senator Mitch McConnell for advocating on behalf of coal development amid concerns about climate change and drought, Brown refuses to stand up to fossil fuel development in California in the face of irrefutable evidence that fracking wastes California's water. In so doing, Governor Brown sells out the needs of the people of California in order to serve the greed of the oil industry.
The consequences of Gov. Brown's failure to halt fracking and protect California's fragile water supply does not just represent a lack of political integrity, but bears dire consequences for California's future.
Neither the Calbuzz or Huffington Post pieces noted that President Barack Obama and his administration have a long record of arguing that fracking is safe and welcoming its success[5] in triggering the brown energy boom.
The administration is also in the process of adopting rules to govern fracking on leased federal lands.
In a January interview with KQED[6], Interior Secretary Sally Jewell specifically knocked California fracking critics as misinformed.
Endnotes:
item: http://www.calbuzz.com/2015/03/say-it-ain-so-is-brown-really-a-fracking-whore/
advise: http://www.huffingtonpost.com/paul-y-song-md/
post: http://www.huffingtonpost.com/paul-y-song-md/governor-brown-we-urge-you-to-do-what-is-right-for-our-water-and-our-environment_b_6950750.html
stated: http://www.nbcnews.com/meet-the-press/meet-press-transcript-march-22-2015-n328146
success: http://www.bloomberg.com/news/articles/2012-01-25/obama-backs-fracking-to-create-600-000-jobs-vows-safe-drilling
KQED: http://blogs.kqed.org/science/2015/01/02/interior-secretary-local-fracking-bans-are-wrong-way-to-go/
Source URL: https://calwatchdog.com/2015/03/29/browns-fracking-defense-sparks-green-fury/
---