State is owed millions in allegedly unpaid fees from Verizon
by Steve Miller | April 6, 2015 9:49 am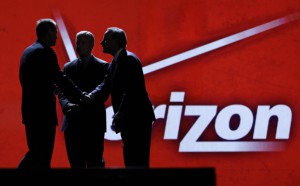 Verizon owes $11 million to a state fund to help the poor, the hearing-impaired and people in rural areas access telecommunications service, according to a draft document from the state's Public Utility Commission.
The fees are owed on service to prepaid wireless customers in California from 2005 to 2012. The money is earmarked for the state's public purpose program[1], which applies subsidies and discounts to six designated groups and programs.
The telecom giant has agreed to pay the $11 million, which includes accrued interest. The commission has twice this year considered the issue, then dropped it at the last minute.
Verizon for years has disputed the debt, although the company in 2009 made a payment of $44,957, records show.
The plain fact is that Verizon "didn't think that the surcharges applied to them," said Christopher Chow, a spokesman for the Public Utility Commission. "This is a proposal that they provided to satisfy any claim the [commission] has. And this would avoid further action from the commission."
Verizon declined to comment.
Disputed user fees
The fee in question shows up on a customer's phone bill as a surcharge of varying percentages for each of the six programs the money subsidizes. That percentage ranges from 2.4 percent to provide discounted or free services to low-income households to .35 percent for a fund aimed at ensuring phone service costs are the same in rural and urban areas.
The latter fee was established in 1996 with the goal of "promoting affordability of basic telephone service in high cost areas."
An Associated Press inquiry found in 2007 that the arrangement forced cell users to subsidize land-line phone service even in upscale areas like Malibu.
At that time, a representative of the utility commission's ratepayer advocacy office said that particular subsidy should be eliminated.
The dispute between the state and Verizon began when a state audit in 2008 discovered the utility had failed to remit some user fees, including those collected on prepaid wireless services. Verizon claimed those revenues were not taxable. According to a utility commission narrative of the case:
"Although Verizon submitted a partial payment in response to the audit findings, Verizon refused to pay the unpaid surcharges for its prepaid wireless services. Verizon continued to maintain that prepaid wireless services were exempt from surcharges as concluded by the … audit."
It is the provider's responsibility to remit collected fees to the state and does so using an web-based filing system.
Others on the hook for public purpose fees
As the state notified Verizon, it also became aware that TracFone had failed to remit public purpose money.
TracFone's fracas with the state dates back to 2003, when it claims it was told the sale of prepaid wireless phone cards were not subject to public purpose fees.
The state came back in 2009 and advised that the cards, used for intrastate calls, were indeed subject and that TracFone owed money for unpaid public purpose fees since 2003.
After prolonged negotiations, the Public Utility Commission found in 2012 that TracFone was on the hook for the money – $24 million in back fees.
Verizon agreed shortly after that decision that it would pay its money owed, according to state spokesman Chow.
TracFone has paid the $24 million but has asked the utility commission for a rehearing on its case. No meeting has yet been scheduled.
For Verizon, the pending payment – which has not yet been disclosed to investors, according to a review of SEC filings and investor meeting transcripts – is one more hit in California.
Last month Verizon agreed to pay $3.4 million to the Federal Communications Commission to settle a complaint about a service outage in northern California that left 750,000 residents without 911 services for several hours in April 2014. The commission estimated that 6,600 911 calls went unanswered, "although, fortunately, it  appears that no one died as a result," the agency noted in a report.
Nationally, Verizon tops the list of service disagreements with customers that end in arbitration.
Ratepayers "pick up the slack"
Wireless users in California pay 16.04 percent in taxes and other fees, the 25th highest in the U.S., according to mywireless.org, a consumer advocacy group.
Verizon's failure to remit its fees means "other ratepayers have to pick up the slack," said Chris Ungson, program manager at the state's ratepayer advocacy office.
"What happens is that the rates, which are set every year, are set higher because of that failure to remit."
A representative for mywireless, the Washington, D.C.-based group that claims to represent wireless users, declined to comment.
Endnotes:
 public purpose program: http://www.cpuc.ca.gov/PUC/Telco/Public+Programs/
Source URL: https://calwatchdog.com/2015/04/06/state-is-owed-millions-in-allegedly-unpaid-fees-from-verizon/
---